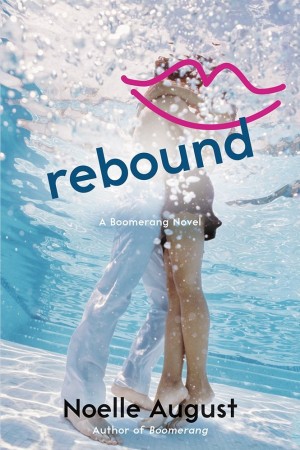 Rebound
by
Noelle August
Series:
Boomerang #2
Published by
HarperCollins
,
William Morrow Paperbacks
Publication date:
February 10, 2015
Genres:
New Adult
,
Romance
304 pagesFormat:
eARC
Source:
ARC via publisher
Hooking up is only the beginning of the fun in this sexy and irresistible second installment of the thrilling New Adult series, Boomerang.

Adam Blackwood has it all. At twenty-two, he's fabulously wealthy, Ryan Gosling-hot and at the top of the heap in the business world. His life is perfect, until a scandal from his past resurfaces and knocks the tech wunderkind down, throwing his company, Boomerang, a hook-up site for millennials, into chaos.

Three years ago, Adam married his high school love—and then lost her in a tragic accident. Now, the heartbreak and guilt he's tried to bury with work and women begins to take over his life.

Alison Quick, the twenty-one-year-old daughter of a business tycoon—and the very ex-girlfriend of Boomerang's former intern, Ethan—has a problem of her own. She's got one chance to prove to her father that she deserves a place in his empire by grabbing control of Boomerang and taking Adam down.

But as Alison moves in on him, armed with a cadre of lawyers and accountants, she discovers there's much more to Adam and Boomerang than meets the eye. Will earning her father's approval come at the price of losing her first real love? It appears so, unless Adam can forgive her for wrecking his life and trying to steal his livelihood. But Alison hopes that old adage is right. Maybe love can conquer all.
Affiliate Disclosure: This post contains affiliate links. In plain English, this means that I may receive a small commission (at no cost to you) if you purchase something through the links provided. This small income goes back into my blog, so I can continue to create fun content for you. I appreciate my readers and make it my goal to be upfront and honest. Thank you for supporting my blog!
Book Review:
Boomerang was one of my favorite feel-good romances of 2014. I couldn't wait to get my hands on REBOUND!  I loved this book! Rebound was a sexy, romantic, tension-filled, happy romance (all the things!!) that left me smiling at the end. Veronica Rossi and Lorin Oberweger are such a great writing duo. I hope they keep working together because they are making me a very happy reader. They are taking the new adult genre to a wonderful place.
While Boomerang centered on Ethan and Mia, REBOUND focused on Adam Blackwood and Allison Quick. Adam is the incredibly hot twenty-three-year old businessman and CEO of Boomerang, an online dating site that just hit it big. Wanting to take his business to the next level, he has his sights on the film industry, planning to launch Blackwood Entertainment with his best friend Brooks. But he needs a wealthy investor to make his dream a reality.  Enter Alison Quick, daughter of a Graham Quick, a very wealthy investor. Before Graham decides to invest in Adam's company, he sends his daughter and a team to Boomerang headquarters to learn more about the man they'll be throwing their money at.
Before Adam and Alison meet, both attend a Halloween party planned by the Boomerang company. At the party, Zorro and Catwoman share a heated and passionate exchange filed with kisses that is totally scorching hot. I mean, really!!!
"I shouldn't be here, in the back of this car, with this gorgeous stranger. Should definitely not wrap my legs around his and pull him hard against me. Shouldn't bring my lips down to his so I can feel his sweet warm breath again, draw his tongue into my mouth, feast on his taste, which is honey and whiskey and salt.

But I'm all in, already."
Their connection is instantaneous with Zorro sharing personal things with Catwoman that he doesn't share with anyone. Their little bubble bursts when Cookie (yes, she's back!) walks in on them, quite literally pulling the masks off both of them. To their horror, Adam and Alison realize that they went too far, unknowingly crossing the professional line. Now they are forced to work together in a professional environment, knowing they can't act on any of their attraction.
I was hooked on this book from the very beginning.  Adam and Alison's tryst at the Halloween party set the perfect tone for the rest of the book, laying this palpable romantic tension that really moved the story along. I was dying to learn more about Adam and his past after reading Boomerang. The reader finds out what happened to him in Rebound.  It was so heartbreaking and really added a lot of depth to his character.
So many times in new adult, the focus is so much on the romance and the character development gets lost. This isn't the case here. The authors beautifully explore Alison and Adam's pasts, making the reader understand the characters and the choices they make. Knowing their background and the character's interests made the characters three dimensional.
…it feels like Ali and I are the only people in the world, and I don't want to let go of that feelings. Then something changes inside me, and fear starts scratching at my chest. Fear that if I walk away she won't be here when I come back, because life change like that. In a matter of seconds. I know it can.
Alison tilts her head questioningly, responding to my mood.
"I don't like leaving you," I hear myself say.
I was a little worried about how Alison would come across since she was portrayed as the woman who broke Ethan's heart. But I loved her! The authors did a great job of redeeming her character in this book. It was clear that Alison harbored a lot of guilt for how things ended between her and Ethan and I liked that that whole situation was explained from her side. I really respected her character by the end of the novel for what she did for Adam and how she treated him.
"I get what it's like to be in on the first stages of something great. In this moment, with all of these people, I want so desperately for Adam to have everything he wants. I just hope, more than ever, that I don't discover anything that gets in the way of that dream."
What I loved about this book was that even though Adam and Alison bonded so quickly and had strong sexual chemistry, it didn't feel like insta-y. It felt real. Their relationship was actually a very slow build. The authors spent a lot of time spent letting the characters get to know each other and emotionally fall for one another, which I loved.  Like in Boomerang, this book was sexy without being raunchy. All of the steamy moments were done tastefully but it was still hot, and I really appreciated that.
I also loved all of the secondary characters. Getting to meet Adam's brother was a huge bonus, since Bounce, book three in the series, is about him and Mia's friend Skyler. And of course, I loved Cookie. Though her scenes were brief she made an impression.
I highly recommend this series to fans of New Adult. REBOUND is sexy, fun, and so addictive!
 4 stars
*I received a copy from the publisher in exchange for an honest review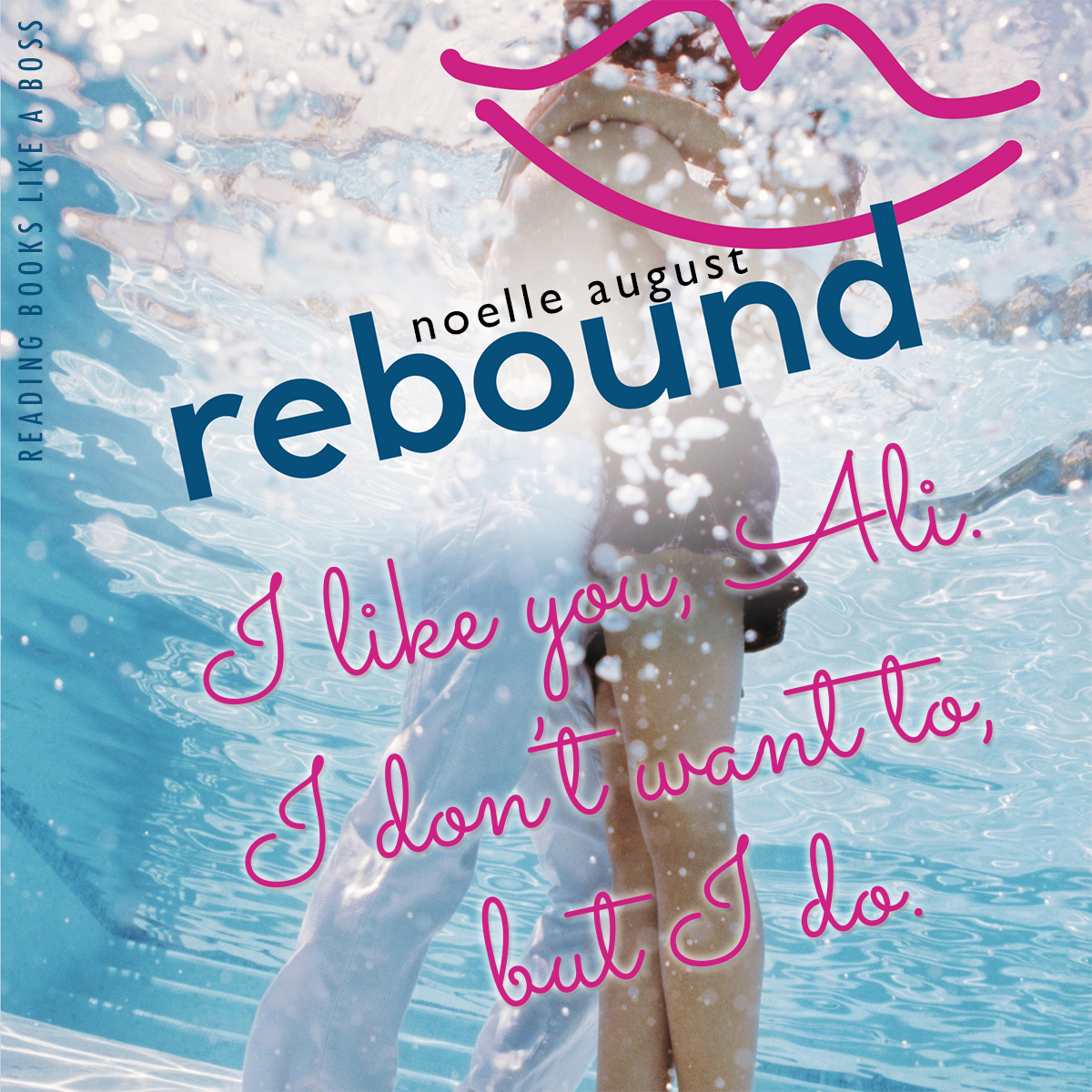 Excerpt:
Ali laughs. Her gaze feels like sunshine on my back, but I don't turn around. I pull my wetsuit up to my waist, adjusting myself so I'm comfortable. The cool Neoprene layer feels familiar and my body responds, my heart thumping hard, anticipation rushing through my veins. The prospect of the ocean always does this to me. This has nothing to do with the girl behind me.
"Adam?"
Ali's voice is close. Turning, I almost bump into her.
Her wetsuit is all the way on, which is good. And terrible.
"What's up?" I ask.
She smells like suntan oil and peaches. This close, I see that her cheeks are turning slightly pink from the sun. With her hair pulled back, no makeup, and the wetsuit covering her completely, she looks better than she has all week at the office. Better than she did in the Catwoman costume. There's something powerful about her now. The way her slender legs are planted firmly on the swaying boat, like she's not trying at all. She's at home on the water. This from an admitted equestrian. I can only imagine what she's like with her horses.
"Sorry, but . . ." She smiles and points at her back. "My zipper's jammed." She turns around and pulls her ponytail up. "Can you help me out?"
"Sure. You want this on, right? Just want to be sure."
I can't see her face, but I know she's smiling. "Yes. On please."
I allow myself a moment to enjoy the way she looks right in front of me. Then I take the zipper leash, letting my knuckles drift over her back, just above the knot of her bikini.
If I weren't completely focused on her, I'd have missed the way she curls slightly toward me.
Focus, Blackwood. Zip the wetsuit up.
BOUNCE, the last installment in the BOOMERANG series, will be on sale in August 2015!
GIVEAWAY
William Morrow Books is giving away three copies of Rebound!
Enter in the Rafflecopter below for a chance to win.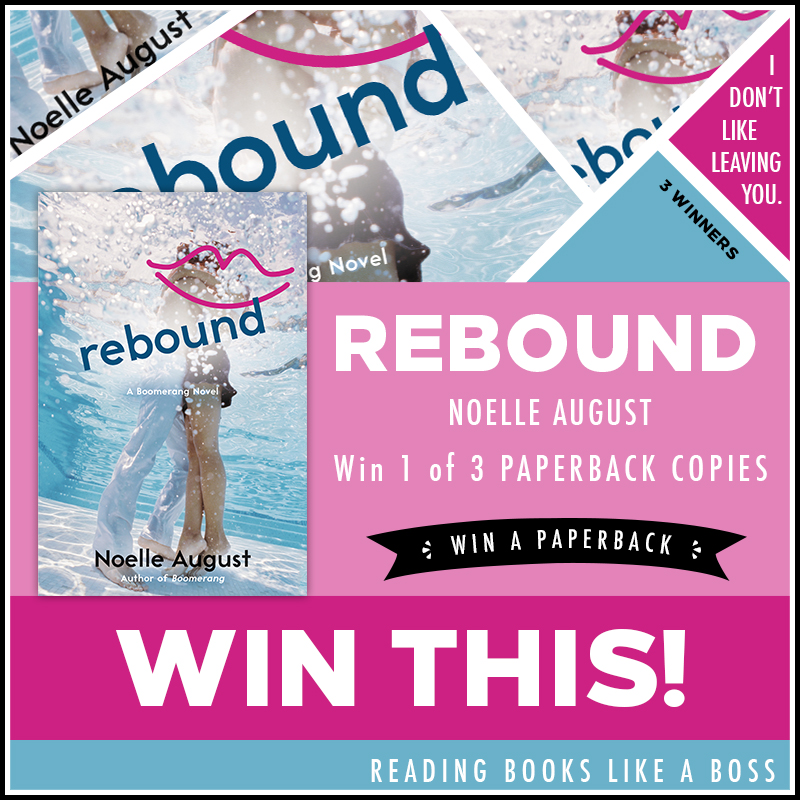 About the Authors:
NOELLE AUGUST is an anagram for Veronica Rossi and Lorin Oberweger. Just kidding, it's a pen name!
VERONICA ROSSI is the author of the New York Times Best-selling UNDER THE NEVER SKY trilogy for young adults. The books are available in more than thirty countries and the film rights have been optioned by Warner Bros. Veronica completed undergraduate studies at UCLA and lives in Northern California with her husband and two sons. She is fond of dresses with pockets, fluffy dogs, and cheese and chocolate — but not together.
LORIN OBERWEGER began her storytelling career by captivating her first-grade class with tales of her summers on a kibbutz in Israel. Lorin had never been to Israel. While teacher/parent night put an end to her first experiments in fiction, she'd already caught the bug and eventually made a career of all things story. As a long-time independent editor and story development guru, Lorin's client successes range from small press publications to major bestselling novels. She's an award-winning author and has also worked behind the scenes as a ghostwriter on a variety of projects. Her work has received starred Kirkus reviews and glowing mentions in The New York Times. Oh, she did get to see a kibbutz, eventually, and found out she had it pretty much right all along.
Veronica and Lorin met at a writing workshop and just knew they were destined to create awesome things together.
Noelle August can be reached via social media: Facebook & twitter: @noelle_august