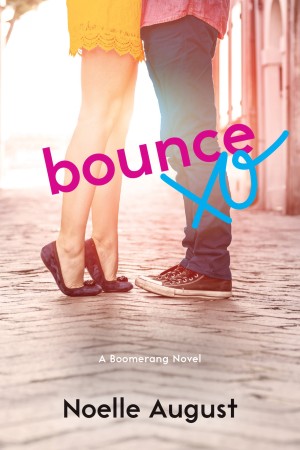 Bounce
by
Noelle August
Series:
Boomerang #3
Published by
HarperCollins
,
William Morrow Paperbacks
Publication date:
August 25, 2015
Genres:
New Adult
,
Romance
Length:
8 hrs and 50 mins
304 pagesFormat:
eARC
Source:
ARC via publisher
Playing the occasional club gig just isn't cutting it for twenty-two-year-old cellist Skyler Canby, who's trying to support herself and her mother back home in Kentucky. Persuaded by her best friend Beth to accompany her on an audition for the first feature film launched by Blackwood Entertainment, she figures why not? Beth's a shoe-in for the lead, but maybe Skyler's newly dyed pink hair will help her stand out enough to score a small speaking part.

Never in her wildest dreams does Skyler imagine she'll land the lead role or that she'll have her shoes knocked off her feet by the kiss her audition partner, Grey Blackwood, plants on her—a kiss that feels very real and not at all "acted. "

After throwing a party that causes thousands of dollars of damage to his older brother's home, reckless musician Grey Blackwood gets roped into working off his debt on the set of his CEO brother's newest project. Grey spends his days fetching coffee and doing odd jobs around the studio, but he lives for nights when he performs with his band. He knows if he can stay focused, success as a singer is just around the corner. But that's tough with a distracting pink-haired girl occupying his every waking thought.

Skyler and Grey have every reason to resist each other. But, like a song neither of them can get out of their minds, they have no choice but to go where the music takes them.
Affiliate Disclosure: This post contains affiliate links. In plain English, this means that I may receive a small commission (at no cost to you) if you purchase something through the links provided. This small income goes back into my blog, so I can continue to create fun content for you. I appreciate my readers and make it my goal to be upfront and honest. Thank you for supporting my blog!
Noelle August's Boomerang trilogy has been a delight to read. I hope Lorin Oberweger and Veronica Rossi have something else up their sleeves because I will read it. Sadly, Bounce didn't have the same special pull as the two previous books in the series, and I didn't really like it.
We met Grey, Adam Blackwood's brother, in Rebound. He is kind of in the middle of an identity crisis.  After throwing a crazy party while Adam was away, he wakes to pure pandemonium and a very angry brother. The apartment is a destroyed. Adam makes Grey work for him as both punishment and to fulfill payment for the clean-up costs. Meanwhile, Grey is angry because it takes him away from his beloved band, which is on the verge of breaking into the music scene.
As part of his punishment, Grey is roped into helping with auditions for  Blackwood production's remake of Jane Austen's Emma. The moment Skyler walks into the audition Grey can't keep his eyes or his lips off of her. Their fake audition kiss turns into a hot and heavy make out session. It's too bad Adam and Brooke already have their leading man chosen because WOWZA the physical chemistry between Skyler and Grey is there!
I liked Sky's character. She's just a girl who came to Los Angeles chasing her dream to become a successful cellist. In the book Skyler's style blends the classical with the modern day pop tunes with crazy and it kind of reminds me of these two dudes. SO AWESOME! But she ends up winning over all of the movie folks at her very first acting audition
This book had a great palette! Two musicians. One in a rock band and one classically trained cellist turned actor, on the verge of being a breakout star. The chemistry between Grey and Sky was there, but after a decent beginning the chemistry and momentum fizzled out. Most of the book was really slow, and I didn't really root for these characters at all. I was bored. I felt really apathetic towards them, to be honest. I wanted more relationship development instead of just pining and longing.
I really didn't care for Grey's character. There was growth in him over the course of the novel, but I found him to be kind of whiney. He didn't fight for Sky and tended to mope around. Instead of taking the initiative and pursuing her, he just assumed she wasn't interested when he sees her with another guy.
The thing that brought Grey and Sky together in the end was contrived. View Spoiler »The diet pills Sky didn't realize she was taking throughout the movie shoot catch up to her and she collapses. Grey rushes in, missing his band's showcase he has been preparing for for months, to be with her. « Hide SpoilerSweet but prior to this, there was very little interaction between Grey and Sky, save a few late night hangouts and text messages.
I liked that both characters in this book had to overcome family obstacles and issues. The issues they faced were real issues and appreciated that they worked through those together. However, since this is a romance, I can't give it a very favorable rating. It kills me that this book didn't work for me, since I've been such a cheerleader for Boomerang and Rebound.
1 star
*I received a copy from the publisher in exchange for an honest review.
Books in the Boomerang Series: