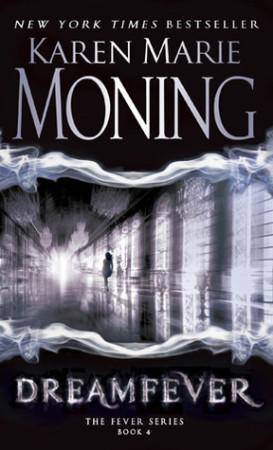 Dreamfever
by
Karen Marie Moning
Series:
Fever #4
Published by
Delacorte Press
,
Random House
Publication date:
August 18, 2009
Genres:
Romance
,
Urban Fantasy
400 pagesFormat:
eBook
Source:
Purchased
MacKayla Lane lies naked on the cold stone floor of a church, at the mercy of the erotic Fae master she once swore to kill. Far from home, unable to control her sexual hungers, MacKayla is now fully under the Lord Master's spell.…In New York Times bestselling author Karen Marie Moning's stunning new novel, the walls between human and Fae worlds have come crashing down. And as Mac fights for survival on Dublin's battle-scarred streets, she will embark on the darkest—and most erotically charged—adventure of her life.

He has stolen her past, but MacKayla will never allow her sister's murderer to take her future. Yet even the uniquely gifted sidhe-seer is no match for the Lord Master, who has unleashed an insatiable sexual craving that consumes Mac's every thought—and thrusts her into the seductive realm of two very dangerous men, both of whom she desires but dares not trust.

As the enigmatic Jericho Barrons and the sensual Fae prince V'lane vie for her body and soul, as cryptic entries from her sister's diary mysteriously appear and the power of the Dark Book weaves its annihilating path through the city, Mac's greatest enemy delivers a final challenge.…

It's an invitation Mac cannot refuse, one that sends her racing home to Georgia, where an even darker threat awaits. With her parents missing and the lives of her loved ones under siege, Mac is about to come face-to-face with a soul-shattering truth—about herself and her sister, about Jericho Barrons…and about the world she thought she knew.
Affiliate Disclosure: This post contains affiliate links. In plain English, this means that I may receive a small commission (at no cost to you) if you purchase something through the links provided. This small income goes back into my blog, so I can continue to create fun content for you. I appreciate my readers and make it my goal to be upfront and honest. Thank you for supporting my blog!
Review:
The books in this series get better and better. They're like a drug, addictive and all-consuming. I can't get enough.  Thankfully, I had a long weekend and was able to read, read, read.  The ending of Faefever was one of the most painful endings of a book I have ever read.  To see one of your beloved book characters go through something so indescribably horrific makes you hurt right along with them.
Faefever taketh and Dreamfever giveth and then taketh away.  If you've read the books, you know what I'm talking about. If you haven't read them, then you need to read them.  Now.  The series has been building to this one moment, this one thing and at the end of Faefever it happens, bringing darkness and unimaginable destruction with it. The consequences of this ripples throughout the world, impacting everyone that we have met thus far.  The entire game changed in this books.  Everyone's plans fell part the moment this darkness infested Dublin.
For reasons I won't get mention for the sake of spoilers, we get bits and pieces of Dani O'Malley's point-of-view.  Dani is a sithe-seer like Mac, but she has a super power.  And she doesn't let you forget it.  She has the ability to move at superspeed, making it easy for her to take on just about any evil Unseelie being.  I wasn't in love with her character. While I think Moning meant for her to be immature, I found her to be a bit annoying at times.  Iced and the upcoming seventh novel in the series, Burned, are her stories. I will read those closer to when Burned comes out but I'm not in any hurry.  But I digress.
"I dreamed my life back."
Mac was a little—shall I say—out it for a bit.  And while she was "out of it", I was all up in what Moning was putting out for us. I ate it up.  I was parched for something to happen between Barrons and Mac. Those particular scenes made up for all of Barrons cool indifference, his hard exterior, and the moments when you were wondering if he cared for Mac at all.  Even though those particular scenes quenched my thirst, I felt a little robbed as to how those moments came about.  But I think that's what Moning intended you to feel. I think she wanted you to have a thread tied to Mac and feel deprived of what she deserved and should have gotten.
"You're leaving me, Rainbow Girl."
Again, Moning giveth and Moning taketh away.  The sexual tension between Barrons and Mac continued to grow, it felt like a character all of its self.  The desire, the want, the need, this almost tangible breathing something was a living breathing creature sucking the air out of every scene with Mac and Barrons.  I loved it! I lived for it! I couldn't get enough.  See?  A drug.
"Do you miss fucking me, Ms. Lane?"
"Wouldn't you just love to know? You want more of me, don't you, Barrons? I got under your skin deep. I hope you got addicted to me. I was a wild one, wasn't I? I bet you never had sex like that in your entire existence, huh, O Ancient One? I bet I rocked your perfectly disciplined little world. I hope wanting me hurts like hell!"
Mac continues to dance the trust Tango with Barrons, V'lane, and Rowena.  Of course the tango with Barrons is the dance that I give "10" ratings to. Their game of cat and mouse is the most alluring.  Though, as I read Faefever, I still really like V'lane, not for a romantic partner, but as a character and someone for Mac to talk to.  Barrons was a locked fortress surrounded by a moat, impenetrable to anyone he didn't want in, while V'lane gave pieces of himself to Mac more willingly.  And Rowena? Well, let's just say that I didn't have a strong opinion of her from the get go. I think Mac just needs to spear her already.
"I was hot and cold, shaking. I felt like I was in some fevered dream, a nightmare from which I couldn't escape. I could feel myself detaching from the world around me turning to stone inside, shutting down all emotion."
Mac is one of the strongest female characters I have ever had the pleasure of reading.  She is strong, fierce, and doesn't let anyone get in her way.  Not even a mysterious book store owner who has the ability to kill her at any moment or a death-by-sex Fae who is there to help her at every turn.  What happened to her was not something she dwelled on, she dealt with it and moved on.  It made her stronger and it turned her into this dark fighter with new abilities. Mac is always evolving and someone who adapts to spontaneous situations very well.
There are moments in my life when I feel like I'm exactly where I'm supposed to be, doing exactly what I'm supposed to do. I pay attention to them. They're my cosmic landmarks, letting me know I'm on the right path.
As I write this review, I have finished the series.  I tried so hard to stop between each book and put my thoughts in writing.  But after reading the ending of Dreamfever, it was a physical and emotional impossibility not to go right into the next book. If I had to quantify the level of difficulty of stopping on a scale of 1-10, I would put it at a level eleventy billion.  I rarely comment on cliffhangers because, honestly, I don't mind them.  But I have comment on this one.  Dreamfever ends on one of the most gut-wrenching, heart-pounding, jaw-dropping "how will I live without the next book" cliffhangers.  I would like to pin a reading medal of honor to all of those brave souls who to wait for Shadowfever to come out.  Seriously, you all deserve some kind of aware because I don't think I could do it.
5 stars