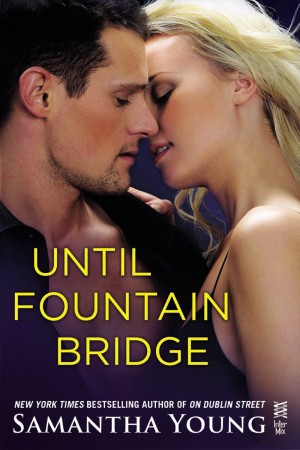 Until Fountain Bridge
by
Samantha Young
Series:
On Dublin Street #1.5
Published by
Intermix
,
Penguin
Publication date:
June 18, 2013
Genres:
New Adult
,
Romance
111 pagesFormat:
eBook
Source:
Purchased
Ellie Carmichael had a crush on Adam Sutherland, her brother, Braden's, best friend, for years, and although Adam treated her with proprietary concern he made it clear he thought of her only as a little sister.

Over the years, as Ellie's crush develops into love, her romantic idealism makes it difficult for her to move on. To make matters worse, as she's gotten older, Adam's attitude has changed toward her. His affection for her is now joined by attraction, but his loyalty to Braden, and his fear of losing the only family he has, stops him from claiming Ellie the way she wishes he would.

But one night his attraction is put to the test, and as much as Adam would like things to remain the same everything changes between them in a simple brush of the lips.

Soon lust, love, jealousy and heartbreak combine to force change upon their relationship… and Adam discovers the hard way that life is too damn short to spend it on regret.
Affiliate Disclosure: This post contains affiliate links. In plain English, this means that I may receive a small commission (at no cost to you) if you purchase something through the links provided. This small income goes back into my blog, so I can continue to create fun content for you. I appreciate my readers and make it my goal to be upfront and honest. Thank you for supporting my blog!
Book Review:
One of my reading goals for this year was to get caught up in the On Dublin Street series. I loved On Dublin Street so much (review here), and was dying to get caught up with the rest of gang's love lives.
Adam and Ellie's love story was one of the secondary storylines in On Dublin Street and when I saw that Samantha Young was writing a short novella to give us all the dirty details, I was so freaking excited.  Ellie Carmichael is one of the most endearing book characters. She's so incredibly sweet and easy to love. I can see how hard it must have been for Joss to try to push her away.
Ellie has been in love with Adam for years. As one of her big brother's best friends, Adam kept his distance from Ellie until life made it to where he couldn't stay away from her. It's just an unspoken rule that you don't go for your best friend's little sister. This rule frustrated Ellie to no end for years as she waited on the sidelines for Adam to make his feelings known.
The history of their love story is told in a series of diary entires that Ellie had kept from her teen years through the events in On Dublin Street, which I enjoyed reading. One of my favorite moments of the book was seeing the night Ellie went to Adam's apartment and was sent home unsatisfied and angry. Ellie spoke about it in On Dublin Street but I had always wanted to see that scene through Ellie's eyes.
This book was a lot of fun to read, even though it was just them reminiscing. I'm glad Young didn't make their story a completely novel, the novella was the perfect length to share their story with the reader.
3 stars
Amazon: US • UK • CAN | iBooks | GR