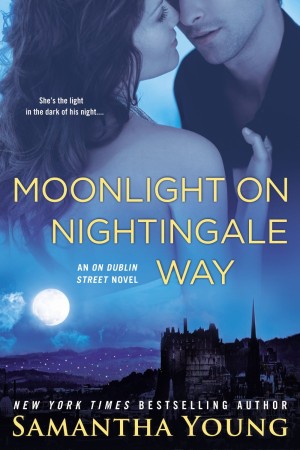 Moonlight on Nightingale Way
by
Samantha Young
Series:
On Dublin Street #6
Published by
NAL
,
Penguin
Publication date:
June 2, 2015
Genres:
Contemporary Romance
Narrator:
Elle Newlands
Length:
10 hrs and 51 mins
351 pagesFormat:
eARC
Source:
ARC via NetGalley
Logan from Echoes of Scotland Street is back with his own smoldering story, as the New York Times bestselling On Dublin Street series returns…

Logan spent two years paying for the mistakes he made. Now, he's ready to start over. He has a great apartment, a good job, and plenty of women to distract him from his past. And one woman who is driving him to distraction…

Grace escaped her manipulative family by moving to a new city. Her new life, made to suit her own needs, is almost perfect. All she needs to do is find her Mr. Right—or at least figure out a way to ignore her irresistible yet annoying womanizer of a neighbor.

Grace is determined to have nothing to do with Logan until a life-changing surprise slowly begins turning the wild heartbreaker into exactly the kind of strong, stable man she's been searching for. Only just when she begins to give into his charms, her own messy past threatens to derail everything they've worked to build…
Affiliate Disclosure: This post contains affiliate links. In plain English, this means that I may receive a small commission (at no cost to you) if you purchase something through the links provided. This small income goes back into my blog, so I can continue to create fun content for you. I appreciate my readers and make it my goal to be upfront and honest. Thank you for supporting my blog!
Review:
Samantha Young's On Dublin Street series concludes with Logan and Grace's story in Moonlight on Nightingale Way. While I didn't love every book, each love story is unique and had its heartwarming moments.
This book is kind of  a next door neighbor hate-to-love story. At first, posh Grace is very upset over her new neighbor sexual escapades and the volume of their bedroom antics, not to mention the "gifts" left on her doorstep. She isn't afraid to confront him either, which I totally enjoyed. Logan, on the other hand, is quite amused at this proper English girl giving him a piece of his mind.
Logan is an ex-con who just got out of prison. Thanks to Braden Carmichael, he has a nice place to live and a good job. One thing he wasn't planning on showing up on his doorstep was a girl named Maia claiming to be his daughter and who fled her drug-addicted mom's home in hope of a better life. Coming from a family whose parents didn't love her, Grace understands Maia's situation and offers to help.
What I liked about this book was the idea that the word "family" has a fluid meaning. It doesn't always mean blood relatives. Sometimes the people you love the most and who love you back in the best way are not your blood family. Grace had a to make a family for herself with her friends from University, all of whom protected her with a ferocity that many envy. I really liked that Grace was strong enough to do that and I loved that message in this book.
The love story started out really well. I liked the budding friendship and the sort of co-parenting thing that was going on between Logan and Grace. They and Maia became like a family unit even though there really wasn't any romance yet, just attraction. But after Grace and Logan share a heated moment in the kitchen, he says it was a mistake, which hurt Grace deeply. It crushed her, but then once he realized just how badly it scarred her, he wants her back. And claims he loves her. The pacing of their romantic relationship seemed out of place and a bit awkward.
I can't wait to read One King's Way (the final novella in the series) coming out in November!
2 stars
* I received a copy from the publisher in exchange for an honest review.