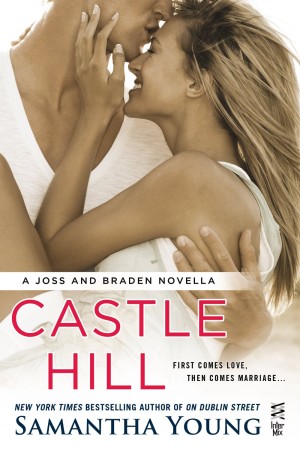 Castle Hill
by
Samantha Young
Series:
On Dublin Street #2.5
Published by
Berkley
,
Penguin
Publication date:
December 3, 2013
Genres:
Contemporary Romance
,
New Adult
,
Romance
Narrator:
Paula Costello
Length:
2 hrs and 41 mins
97 pagesFormat:
Audiobook
Source:
Purchased
A Joss and Braden Novella

Braden Carmichael never imagined he'd fall as hard and as fast as he did for Jocelyn Butler. He also could not have anticipated how difficult it would be to convince her to give in to love. But now that he has her, he's never letting go. He's got it all planned—the passionate proposal, the dream wedding, the sexy Hawaiian honeymoon—even the perfect family they'll start.

After trying to flee from her painful past, Joss is finally allowing herself to embrace the future. But when things start moving faster than she anticipated, she finds herself panicking over something Braden can't understand. After everything they've been through, Joss is sure that their love can survive even her worst fears. But, this time, she may push Braden too far—and risk losing everything all over again...
Affiliate Disclosure: This post contains affiliate links. In plain English, this means that I may receive a small commission (at no cost to you) if you purchase something through the links provided. This small income goes back into my blog, so I can continue to create fun content for you. I appreciate my readers and make it my goal to be upfront and honest. Thank you for supporting my blog!
Audiobook Review:
I just about fell off my chair last year when I saw that Samantha Young was going to revisit one of my most beloved book couples, Paula and Paula…er….uh I mean Braden and Joss.  On Dublin Street is one new adult novel that will always stay with me because it was so well done. The characters, the setting, the relationship development was everything I look for in a new adult romance. Since I read it back in 2012, I have read/listened to it so many times that I can quote parts of it word for word.
"You look stunning, sweetheart, but deep breaths. This is just you and me."
For the most part, Castle Hill is a continuation of On Dublin Street and I really enjoyed it.  Young does go back and shares the big proposal and wedding scenes that we didn't get to see in On Dublin Street.  I freaking loved them. It made me positively giddy to see Braden and Joss so happy and so in love.  I always make a fuss about Braden, but I also love Joss. She is such a great character. She's a strong female character, sassy and funny, and is so much fun to read.
"I love you. You're my favorite person. And if you ever tell anyone I cried during this moment I will withhold sex for a year."
Braden Carmichael is one of the most romantic, sweet, and sexy book characters.  He stuck by Joss in On Dublin Street when all she did was push him away.  But there were times in this book where I wanted to give his beautiful face a little bit of a slap.  Instead of Joss being the screw up, Braden is the one to jump to conclusions.
All in all I loved seeing one of my favorite book couples together again. I loved seeing their sexual banter and their sexual escapades, especially the whole airport scene.   If you're worried that some of spark between them have fizzled out since we last saw them, you shouldn't be afraid. They're just as hot as they were on On Dublin Street.
I slid my arms around his shoulders as he pressed his hard body against mine. "We are so getting kicked out of first class."
His hand caressed my ass before coasting down my thigh and then back up under my dress. His talented fingers slipped beneath my panties and as he whispered hoarsely, "Then let's make it worth it."
Sure, there was a bit of manufactured drama in this book, but it worked for me.  The conflict in this book is a pretty fundamental issue for the two of them and it caused a bit of a rift between my favorite couple.  But the way the eventually worked through their issue showed growth in their relationship and made me happy for them.  Young left them in a good place at the end, and I can't wait to see glimpses of them in future On Dublin Street books!
"There will be times when we don't like each other very much, but I need you to know that I will never stop loving you."
Audiobook Comments:
Attention all authors:  Paula Costello needs to narrate more books.  Hire her.  I love Paula Costello if you didn't already know.  She is a natural at acting and performing.  She delivers Braden and Joss's lines with pure perfections, infusing her voice with the characters' personality and mannerisms.  While I have not been around many Scottish people, I think her accent is so freaking good. Her accent for Braden is just perfect.  Sometimes it's weird when a female narrator tries to make her voice sound masculine but Paula does the male voice with such finesse and ease.  I'll admit it, I'm a little attracted to Braden/Paula.  If you haven't heard Paula narrate a book, check out her narration of On Dublin Street!!
4 stars