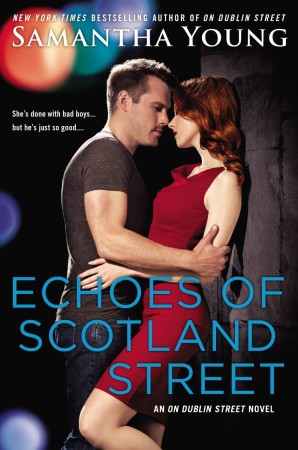 Echoes on Scotland Street
by
Samantha Young
Series:
On Dublin Street #5
Published by
NAL
,
Penguin
Publication date:
October 7, 2014
Genres:
New Adult
,
Romance
331 pagesFormat:
eARC
Source:
ARC via NetGalley
From the New York Times bestselling author of On Dublin Street comes a seductive story of forgiving the past and making up for lost time.…

Shannon MacLeod has always gone for the wrong type of man. After she drifted from one toxic relationship to the next, her last boyfriend gave her a wake-up call in the worst possible way. With her world shattered, she's sworn off men—especially those of the bad-boy variety.

Cole Walker is exactly the sort that Shannon wants to avoid—gorgeous, tattooed, charming, and cocky. But his rough exterior hides a good man who's ready to find "the one." He's determined to pull Shannon from her self-imposed solitude to win her heart.

As Shannon opens up in the face of Cole's steady devotion, the passion between them ignites to blazing levels. But when Shannon's past comes back to haunt her, her fears may destroy the trust Cole has built between them—and tear them apart for good.…
Affiliate Disclosure: This post contains affiliate links. In plain English, this means that I may receive a small commission (at no cost to you) if you purchase something through the links provided. This small income goes back into my blog, so I can continue to create fun content for you. I appreciate my readers and make it my goal to be upfront and honest. Thank you for supporting my blog!
Book Review:
I did it! I'm all caught up on the On Dublin Street series and ready for Moonlight on Nightingale Way releasing in June 2015! I know I am way late to the ODS party, but I was belatedly excited when I finally met Cole in Down London Road and then realized the Echoes on Scotland Street was his book. I really liked him as a kid and couldn't wait to see what he would be like as an adult. Unfortunately, this book a little disappointing and the characters lacked that special spark found in some of the other previous stories.
We first met Cole in Down London Road as Jo's little brother, all angsty and artistic. Growing up, his dad wasn't around and his mom was a drunk, so he largely depended on Jo. After Jo and Cam got together, Cam took Cole under his wing, enrolling him in judo and encouraging his art. How adorable. Echoes on Scotland Street takes place nearly nine years after Down London Road. Our little Cole is all grown up and one of the top tattoo artists in Scotland.
Cam and Shannon couple met years ago as teens on Scotland Street, a moment that neither of them forgot. As fate would have it, they meet again when Shannon MacLeod moves to Edinburgh and walks right into the same tattoo shop Cole works, INKarnate. After a string of abusive relationships, Shannon decides to turn over a new leaf in a new city with new friends.
This book had a good beginning. New girl in town with sad past meets boy, wrongly judges boy based on looks and past experiences, pisses boy off, cue tension. The chemistry between Cole and Shannon was way off for me in this book. I didn't feel that spark and connection that I felt with couples in previous books. After Shannon pushed Cole away, she began really seeing him for who he was — a nice guy. But all of her remarks about how attractive Cole was seemed overdone. Overall, their relationship seemed forced to me. Further, so many of the sex scenes were borderline cheesy and lacked that signature Samantha Young tension.
What I did like about this book was seeing where everyone is so many years after the beginning of this series. Braden's hair is graying and Joss (or should I say J.B. Carmichael) is a bestselling author. All of our beloved couples have kids and Cole is doing so well. I love that Elodie and Clark still have Sunday dinners Each new person who joins them has an instant family – I loved that. Their family is truly a family that sticks together, even if most of them are not blood.
* I received an advanced copy from the publisher in exchange for an honest review. This did not affect my opinion of the book in any way.
2 stars
Amazon: US • UK • CAN | iBooks | GR