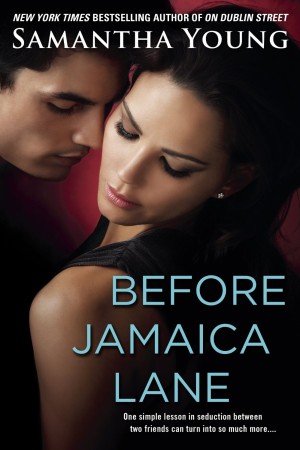 Before Jamaica Lane
by
Samantha Young
Series:
On Dublin Street #3
Published by
NAL
,
Penguin
Publication date:
January 7, 2014
Genres:
New Adult
,
Romance
432 pagesFormat:
eARC
Source:
ARC via publisher
Despite her outgoing demeanor, Olivia is painfully insecure around the opposite sex—usually, she can't get up the nerve to approach guys she's interested in. But moving to Edinburgh has given her a new start, and, after she develops a crush on a sexy postgrad, she decides it's time to push past her fears and go after what she wants.

Nate Sawyer is a gorgeous player who never commits, but to his close friends, he's as loyal as they come. So when Olivia turns to him with her relationship woes, he offers to instruct her in the art of flirting and to help her become more sexually confident.

The friendly education in seduction soon grows into an intense and hot romance. But then Nate's past and commitment issues rear their ugly heads, and Olivia is left brokenhearted. When Nate realizes he's made the biggest mistake of his life, he will have to work harder than he ever has before to entice his best friend into falling back in love with him—or he may lose her forever….
Affiliate Disclosure: This post contains affiliate links. In plain English, this means that I may receive a small commission (at no cost to you) if you purchase something through the links provided. This small income goes back into my blog, so I can continue to create fun content for you. I appreciate my readers and make it my goal to be upfront and honest. Thank you for supporting my blog!
The On Dublin Street read-a-thon continues! I am on a roll and having a blast blowing through these fun reads! Before Jamaica Lane has been my favorite behind On Dublin Street so far. Samantha Young writes "falling in love" so well. Nate and Olivia's story was so sweet yet so very sexy at the same time. I cannot wait to read the next one now!
I feel like I need to make a little PSA about these books.  Each book can be read as a standalone, since it deals with a different couple but I would urge you to read them in order. The main characters, in this book especially, aren't even introduced until middle of Down London Road (book #2), so you may be a bit lost as to who some of these people are. Okay, end of PSA about this series.
So we met Olivia in Down London Road. She's Jo's American half-sister. She and her father (who was born and bred in Scotland) have just moved back to Edinburgh to be closer to Jo and her little brother. Olivia was a very relatable character. She has insecurities like most women do and lacks self-confidence in many things, including her love life. In a new city, she is essentially starting over with her career. Armed with a degree in library science and her quick wit, Olivia gets a job at the local university's library. There she meets the man of her dreams, Benjamin, only she's too chicken to actually carry on a conversation with him.
Enter Nate, Cam's best friend and resident ladies' man of the group. Nate is known to not stick around one lady too long. He's the jester of the crowd and the over-confident one. He and Olivia bonded really quickly over their mutual love for all things geeky.
The book picks up quite some time after Down London Road ends. Nate and Olivia are best friends and have confided in each about things they haven't told other people. Olivia decides she wants to learn how to date and seduce a guy so she asks Nate to teach her how to do sexy right. *claps hands* This is a recipe for all kinds of blurred lines.  And boy do things get blurry.
I LOVED NATE AND OLIVIA! And I love this type of trope. It's in the same vein of On Dublin Street and I thought this book was done really well for the most part. Nate and Olivia were friends first and lovers later and I loved seeing the feelings develop between the both of them. My main complaint with this book was that I thought the back and forth between Nate and Olivia went on a bit long towards the end. It was so obvious to the reader that they were head over heels. There was no question, so I tired of their shenanigans.
* I received a copy from the publisher in exchange for an honest review.
Amazon: US • UK • CAN | iBooks | GR