What I'm Digging is a weekly feature in which I share my bookish finds with you. This can range from jewelry to clothes to home decorations. I find so many neat bookish things on Pinterest, Etsy, and elsewhere. I thought I would share my finds with you. Who doesn't love book-related goodies?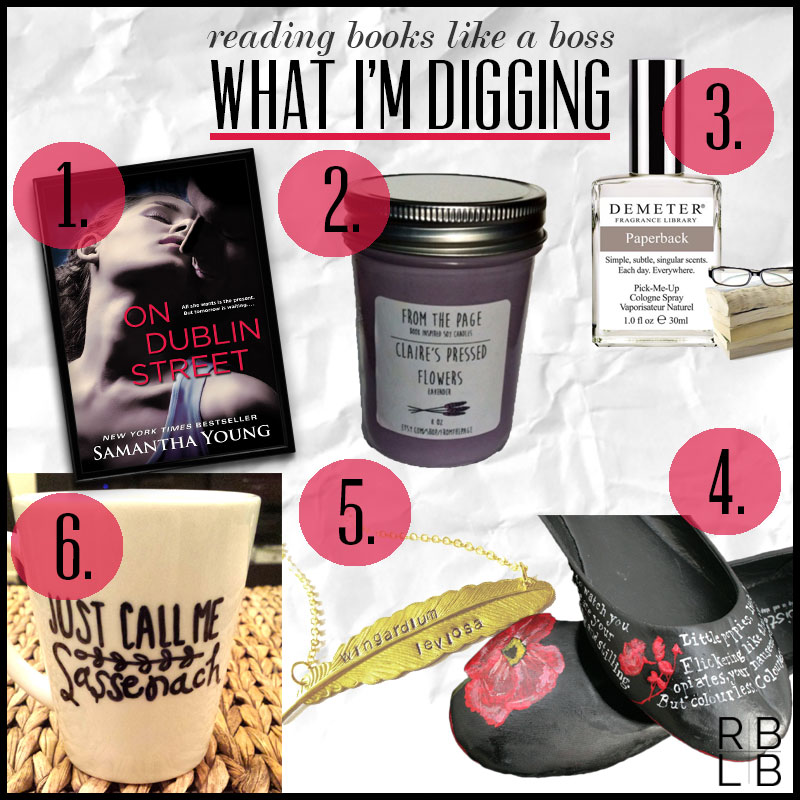 1.) On Dublin Street by Samantha Young
I'm sure most of you have met Braden Carmichael, but if you haven't then you need to read this book NOW! This book is one of my absolute favorite new adult novels.  I'm very picky with my alpha males, but Braden is just amazing.
Add on Goodreads
$5.99,  Amazon
2.) Outlander Candle
Outlander fans, maybe this candle will assist you in your quest to travel back in time to find your own Jamie Fraser. This lavender-scened candle smells like Claire's pressed flower collection.
$10.00, Etsy (seller: FromthePage)
3.) Smell like a PAPERBACK!
Do you love the smell of a good book? Do you want to smell like one?  This fragrance has hints of violet mixed with your favorite paperback smell.
1 oz. – $20.00, Dementer Fragrance Library
4.) Hand-Painted Sylvia Plath Flats
I've featured this seller's items before and stumbled upon these.  These flats are hand-painted and feature Sylvia Plath's poem "Poppies in July".
$18.00, (seller: LeadFootLucy)
5.) Hand-Stamped Harry Potter necklace
"The necklace features a highly detailed "levitating" gold brass feather hand stamped with the words "wingardium leviosa" and hangs from a dainty high quality gold plated chain."
$45.00, Etsy (Seller: dreamsbythesea)
6.) Sassenach Mug
This is the perfect mug gulp win out of and watch (or rewatch) your favorite Outlander episodes.
$15.00, Etsy (Seller: SincerelyEunice)
Which of my picks this week would you choose?  Have you found any fun book-related goodies lately?