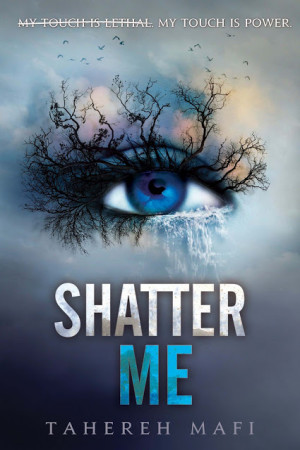 Shatter Me
by
Tahereh Mafi
Series:
Shatter Me #1
Published by
HarperCollins
Publication date:
November 15, 2011
Genres:
Dystopian
,
Young Adult
Narrator:
Kate Simses
Length:
9 hrs and 12 mins
357 pagesFormat:
eBook
Source:
Purchased
"You can't touch me," I whisper.

I'm lying, is what I don't tell him.

He can touch me, is what I'll never tell him.

But things happen when people touch me.

Strange things.

Bad things.

No one knows why Juliette's touch is fatal, but The Reestablishment has plans for her. Plans to use her as a weapon.

But Juliette has plans of her own.

After a lifetime without freedom, she's finally discovering a strength to fight back for the very first time—and to find a future with the one boy she thought she'd lost forever.
Affiliate Disclosure: This post contains affiliate links. In plain English, this means that I may receive a small commission (at no cost to you) if you purchase something through the links provided. This small income goes back into my blog, so I can continue to create fun content for you. I appreciate my readers and make it my goal to be upfront and honest. Thank you for supporting my blog!
Book Review:
I first read Shatter Me a little over three years ago before I started blogging. Several of my friends have been dying to talk to this book about me, so I decided it was time to finish the series.
The novel begins with our heroine locked in an insane asylum, without a soul to talk to for over 200 days. But she's not insane, not insane, not insane. Then one day, someone is thrown into her cell, a friend from her past named Adam. What I loved about this book was how fast-paced it is. From page one, I was sucked in to what was going to happen to Juliette, how she was going to get out of the solitude of the four walls surrounding her. I wanted to know who this mysterious prisoner was and why he was put there.
Once she gets out of the psychiatric institution, Juliette meets Warner, the nineteen-year-old leader of Sector 45, part of the rezoning of the land mandated by the Reestablishment, a movement that aims to create social and economical order. He lives behind walls laden with gold and more food than the common person could ever dream of, while the outside world is starving, dying, and, working their fingers to the bone for a glass of water. And he does that without regret.
Why does he want Juliette? What caused him to research her, dig into her medical records, her past, and carefully observe her actions? Why go through all of this trouble for her? He wants to use her unique gift for a weapon to further gain control of society.
Juliette's touch can kill.
I've heard everyone talk about Warner and how they're on his team, which has piqued my interest to say the least. I found his character much more interesting than the sweet and swoony Adam, perhaps because there is more mystery and intrigue surrounding him. But I did like Adam's character and how determine he was to get Juliette out of Warner's hands and into safety.
You can't talk about this book without talking about the Mafi's writing style. Juliette has a unique and distinctive voice that is all her own. The fact that Mafi wrote this when she was in her early twenties is so impressive. While the writing was beautiful, I did feel like the poetic style was overdone at times. It was like the author was trying really hard to create lyrical prose.
I'm so looking forward to Warner's novella!
4 stars