"This and That" is a feature meant to showcase books that I think sound similar or have similar themes and would recommend to someone who is a fan of the "this book."  I may not have read the "that" book, but I think fans of the "this" book might like it.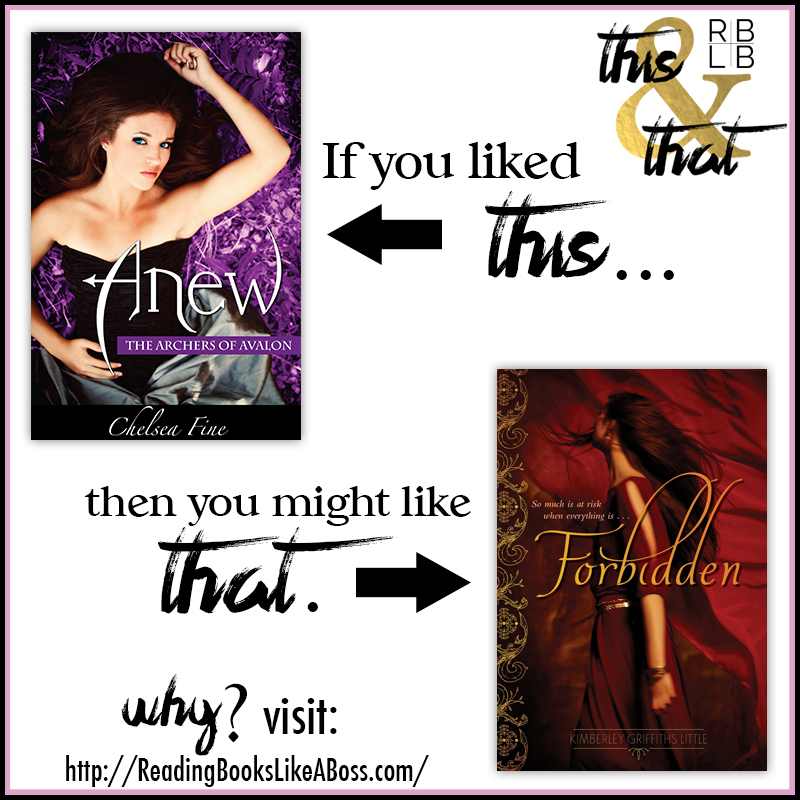 The Why:
I read Anew by Chelsea Fine almost two years ago, I believe.  I freaking enjoyed this book. It's the first in her Archers of Avalon series.  Two years prior to the beginning of the book, Scarlet woke up in a forest with no memory of how she got there. Throughout the novel she runs into a guy named Gabriel who takes an interest in her.  But his twin brother is the one she's drawn to for some reason. This book has a forbidden and potentially deadly romance served with a hint of historical romance (later in the series).  The romance is so well-done.  I LOVE TRISTAN SO MUCH! OMG!!
ANEW by Chelsea Fine – Goodreads | Amazon 
My friend Nereyda showed me this book awhile back!  Forbidden by Kimberley Griffiths Little is a historical romance set in Mesopotamia.  Jayden is betrothed.  "But while this union with Horeb, the son of her tribe's leader, will bring a life of riches and restore her family's position within the tribe, it will come at the price of Jayden's heart." Jayden is in love with someone else, the mysterious and brooding Kadesh. "Jayden and Kadesh will leave readers absolutely breathless as they defy the odds and risk it all to be together."
FORBIDDEN by Kimberley Griffiths Little – Goodreads | Amazon
Out November 4, 2014
While Anew is more a paranormal YA with a hint of historical thrown in, I still think that lovers of forbidden romances will enjoy these two books.