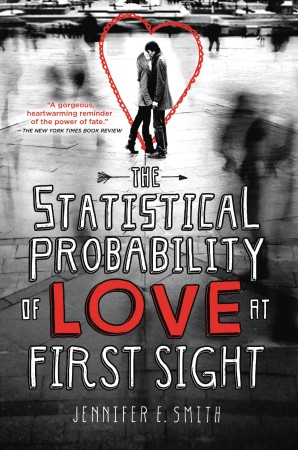 The Statistical Probability of Love at First Sight
by
Jennifer E. Smith
Published by
Hachette
,
Poppy
Publication date:
January 2, 2012
Genres:
Contemporary Romance
,
Romance
,
Young Adult
Length:
5 hrs and 17 mins
236 pagesFormat:
eARC
Source:
ARC via NetGalley
Four minutes changes everything. Hadley Sullivan 17 misses her flight at JFK airport, is late to her father's second wedding in London with never-met stepmother. Hadley meets the perfect boy. Oliver is British, sits in her row. A long night on the plane passes in a blink, but the two lose track in arrival chaos. Can fate bring them together again?
Affiliate Disclosure: This post contains affiliate links. In plain English, this means that I may receive a small commission (at no cost to you) if you purchase something through the links provided. This small income goes back into my blog, so I can continue to create fun content for you. I appreciate my readers and make it my goal to be upfront and honest. Thank you for supporting my blog!
Book Review:
The Statistical Probability of Love at First Sight was really freaking cute! This is my first Jennifer E. Smith book and I'm anxious to get to her other books now. While it was adorable, it also dealt with some pretty deep issues. But in the end, it left me with a smile.
Hadley misses her flight to London out of Connecticut by a mere four minutes. This sets off a chain of events that changes the trajectory of the Hadley's future. Do you believe in fate? Do you believe that the slightest shift of time, a missed connection, can change your path?
Hadley's not all that sad about missing her flight. She's going to London to see her father marry a woman Hadley's never met. The woman her father left her and her mother. The woman who Hadley strongly dislikes. Minutes after missing her flight, she meets Oliver, a charming British boy also going to London. With him, he's carrying a suit. Could he be going to a wedding also? Soon they're both chatting like old friends. And the gloom and dread that Hadley once felt about flying and about her dad's nuptials melts away.
As fate would have it, they end up sitting next to each other on the flight to London where they share more about themselves. Hadley tells Oliver about her father's affair and how she dreads meeting Charlotte. It seems that Oliver has his own problems with his father. Growing up, his father was an advocate of tough love and they were never close. When the plane lands in London, they must part ways. Will this be the last time they see each other?
Oliver was really charming, adorable, and smart (he goes to Yale. He gets hot boy points for that). I think one of the reasons I enjoy young adult so much is because many of the heroes in that genre are so dang sweet. Oliver is definitely one of the sweet ones. And I just felt so bad for him (if you've read this, you'll know why). I loved how attentive he was to Hadley's emotions. It just made me like him more.
This novel didn't really have any over-the-top drama, which made it an easy read without the fuss. Hadley's situation was one that any number of teens might go through and for that reason the story was relatable. I would have liked to have gotten more resolution with Hadley and her father because the conflict between was kind of resolved rather quickly. I didn't find that to be very believable at all considering the amount of heartache he caused her and her mom.  Much of the was really slow for me. It took awhile for me to get lost in the story, which is why I didn't rate it higher.
And the romance? Well, it was such a quiet and sweet romance will a bit of tension here and there. While there is romance in this one, the focus really is more on the characters' family issues, which was really great.
3 stars
* I received a copy from the publisher via NetGalley in exchange for an honest review.