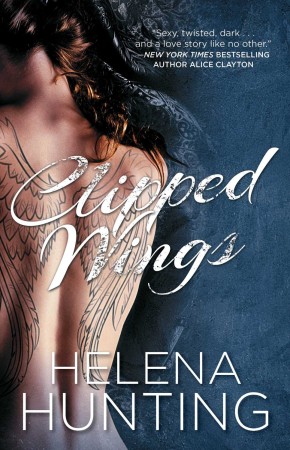 Clipped Wings
by
Helena Hunting
Series:
Clipped Wings #1
Published by
Gallery Books
,
Simon & Schuster
Publication date:
March 4, 2014
Genres:
New Adult
,
Romance
Narrator:
Elizabeth Louise
,
Jason Carpenter
400 pagesFormat:
Audiobook
Source:
ARC via publisher
An emotional love story that follows the touch-and-go relationship of Hayden and Tenley; two young people who desperately want to love and be loved but are afraid to completely let go of their pasts.

As Hayden and Tenley navigate their newfound but slightly unstable relationship, they want to trust each other, but Hayden is hiding a dark and shameful past that he doesn't ever want Tenley to find out about. And Tenley has secrets of her own that could make Hayden run away forever. When Tenley asks Hayden to put a beautifully elaborate tattoo across her back, the two form what they thought was an unshakeable bond. But when Tenley's past shows up on her doorstep, will Hayden stand by her side...or run?
Affiliate Disclosure: This post contains affiliate links. In plain English, this means that I may receive a small commission (at no cost to you) if you purchase something through the links provided. This small income goes back into my blog, so I can continue to create fun content for you. I appreciate my readers and make it my goal to be upfront and honest. Thank you for supporting my blog!
Book Review:
Clipped Wings had been on my to-read list for a long time. I fell in love with the covers and am always on the hunt for a fun new adult read.  This book just didn't work out for me the way I had hoped. Overdramatized and at times cheesy, Clipped Wings sadly missed the mark.
Tenley just moved to town to start graduate school at Northwestern for sociology. She lives above a bookstore across the street from a popular tattoo shop called, Inked Armor. One of the tattoo artists caught her eye immediately. Hayden, the bookstore owner's nephew, is also notices Tenley and practically falls all over himself whens he comes over to visit her friend.
Hayden and Tenley are both victims of troublesome pasts. Both are fraught with horrifying loss and intense pain.  At first, neither of them are aware of how much their pasts truly link them together.  As a way to memorialize those she lost, Tenley decides to get a large wing piece on her back and she wants Hayden to do it. In preparation for this tattoo, they spend more time together, the sexual tension between only increases. The one thing in that it's Inked Armor's policy that they can't sleep with their customers.
I like how sweet Hayden was and how in tune he was to Tenley. He seemed to sense that she had this enormous pain and knew what he needed to do to help her through that.
What I didn't like was the message of sexual healing in this book (and I am not a fan of that). While Hayden didn't really know exactly what happened in Tenley's past she revealed to Hayden that she suffers from nightmares, which is presumably as a result of post-traumatic stress disorder. There were repeated instances of Tenley telling Hayden how much being with him made her feel better and whole.
Tenley and Hayden instantly lusted after one another and I just couldn't jump on board with their romance, especially considering the fact that they're both so messed up. I love characters with flaws, it's part of what makes them more real. But as a reader, I tire of seeing heroes and heroines who have every problem under the sun (i.e. controlling and aggressive, criminal history, traumatic past, multiple mental disorders). I'm not saying these things aren't realistic (trust me, I see people with severe mental illnesses and traumatic pasts in my day job). What I'm saying is that this has been the trend in new adult for awhile and I would like to see more nuanced characters. 
I also felt the book was entirely too long and repetitive. I got so bored with Tenley struggling to reveal her past to Hayden. The narrative and dialogue was borderline cheesy at times.
But I knew that the moment he walked out my door, his armor would be back up, reinforced and fashioned out of titanium, nothing like the shattered glass cage I tried to hide inside.
In that moment our connection surpassed anything I'd ever known. He wasn't looking at me, but through me, inside, straight into my soul.
I thought the prequel was okay but this book just didn't keep me interested enough to continue the series despite the ending.
Audiobook Comments:
I've mentioned before that I'm not a huge Jason Carpenter fan. I didn't find his voice to be right fit for Hayden. His overly pronounced narration style wasn't for me. I really liked Elizabeth Louise though. She is very consistent with the quality of her narration and I love the sound her voice.
*I received an audiobook from the publisher in exchange for an honest review.
2 stars