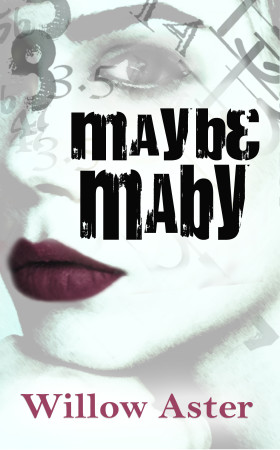 Maybe Maby
Publication date:
July 13, 2014
Format:
eARC
I'm having a meltdown. Not the put-her-in-the-loony-bin kind, but the rock-in-the-corner-so-I-can-breathe kind. Maybe they're one and the same and I really do need to be put away, but I think I just need a little air. I'm bone tired. My eyes look like I haven't slept in weeks. I'm eating my feelings and developing a pudge that isn't gonna go anywhere if I keep binging on chocolate, nachos and wine.
I'm 28 and everyone has left me. I have no friends. My boyfriend left. My mom died, so technically she left me too. I hate my job.
I get this overwhelming oh my God, is this what my life is gonna be? feeling and I want to die.
Curl up and die.
And since I don't feel my heartbeat fading or my breathing getting even slightly faint, I panic that I'm gonna have to live.

Maybe Maby is a heartbreaking, and at times, hilarious story about coping with loss, finding love in New York, and learning to recognize hope in the middle of it all.
Affiliate Disclosure: This post contains affiliate links. In plain English, this means that I may receive a small commission (at no cost to you) if you purchase something through the links provided. This small income goes back into my blog, so I can continue to create fun content for you. I appreciate my readers and make it my goal to be upfront and honest. Thank you for supporting my blog!
Review:
I went into this book rather blind.  I had read the synopsis awhile ago, but other than that I didn't know what I was in for.  There were some parts I liked but between the writing style, the plot and the characters it didn't completely work for me.
Maby Armstrong has seen her fair share of tragedies in her 28 years.  Her mother was murdered and her boyfriend Dalton cheated on her.  With all the stress, she ended up temporarily committed.  Now a year after her mother died, Maby is trying desperately to get back on her feet.  After not speaking to her for a year, Dalton crawls back to her begging for her forgiveness and his best friend Saul admits that he wants to be with her. To make matters worse she suffers from Obsessive Compulsive Disorder, which torments her on a daily basis.
On top of all of that, her thankless job is a high stress environment.  Maby works her friend Anna's business and is essentially the person who keeps the business running on a daily basis.  Saul and Maby's interactions are hot and cold. Dalton is incessantly trying to win back her affections.  And then Maby meets Coen, the sweet barista at Maby's usual coffee spot.  They start seeing each other.  All of her life's stressors begin to implode, leading Maby to decide what's important in her life.  What does she want?
My favorite moments in this book were the interactions between Maby, Coen and Coen's family.  When she broke up with Dalton, she was left without any friends since most of the friends she had were Dalton's friends. She lives mostly alone; her one friend is her boss and she doesn't exactly treat Maby with love and respect.
"Being with you makes me forget who I really am."
I did enjoy the progression of Maby's emotional and harrowing journey and can appreciate Aster's careful development of her character.  Her inner strength, resilience, and sassy personality are qualities I love in a herione.  What she went through was horrific and is something I hope to never encounter.  Not to mention, her daily internal and external battle with her OCD has to be completely crippling.
For me I didn't think the addition of that disease added much to Maby's character.  It seemed the disease was a plot device and was used to propel Maby towards a breakdown.  That breakdown was then a catalyst towards Maby's self-discovery.  The fact that Maby's mother was brutally murdered and her boyfriend cheated on and left her is enough to make anyone break down.
This book is hard for me to rate because I liked the constituent parts.  I liked Maby, I liked Coen and his family, and I liked watching them fall in love.  But the way the story unfolded with the addition of two other men didn't work for me.   I wanted either more focus on Maby (like more character study) or more plot.  Something was missing to propel the story forward for me.
*I received a copy from the author in exchange for an honest review.
3 stars