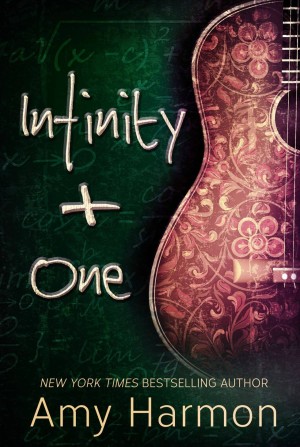 Infinity + One
by
Amy Harmon
Published by
Self-Published
Publication date:
June 8, 2014
Genres:
New Adult
,
Romance
327 pagesFormat:
eARC
Source:
ARC via author
When two unlikely allies become two unwitting outlaws, will two unforgettable lovers defy unbeatable odds?

Bonnie Rae Shelby is a superstar. She's rich. She's beautiful. She's impossibly famous. And Bonnie Rae Shelby wants to die.
Finn Clyde is a nobody. He's broken. He's brilliant. He's impossibly cynical. And all he wants is a chance at life.
One girl. One boy. An act of compassion. A bizarre set of circumstances. And a choice – turn your head and walk away, or reach out your hand and risk it all?
With that choice, the clock starts ticking on a man with a past and a girl who can't face the future, counting down the seconds in an adventure riddled with heartbreak and humor, misunderstanding and revelation. With the world against them, two very different people take a journey that will not only change their lives, but may cost them their lives as well.
Infinity + One is a tale of shooting stars and fame and fortune, of gilded cages and iron bars, of finding a friend behind a stranger's face, and discovering love in the oddest of places.
Affiliate Disclosure: This post contains affiliate links. In plain English, this means that I may receive a small commission (at no cost to you) if you purchase something through the links provided. This small income goes back into my blog, so I can continue to create fun content for you. I appreciate my readers and make it my goal to be upfront and honest. Thank you for supporting my blog!
Review:
Infinity + One is the first book I've read by Amy Harmon. So many of my trusted book friends have recommended Making Faces and A Different Blue to me, so I was really excited to jump into this one. I enjoyed reading this Bonnie and Clyde themed romance about a famous country star running away from her hectic life and a man trying find his own life.
"I want you in here with me, even if it isn't pretty, even I don't invite you."
Bonnie Rae Shelby met Infinity "Finn" Clyde when she was at her lowest. Her rise to stardom and booming country music career sucked all the life out of her. Her grandmother/manager pushed her to the brink of depression. After finishing one of her shows she cuts off her long blonde hair and decides to stand on the edge of a bridge. What would it be like to fall free for just a few seconds? Would those few seconds seconds of freedom make up for the years of being chained to her career? That's what Bonnie wanted to know. But she meets Finn and he convinces her to live.
Finn is brilliant. Numerical patterns and mathematical equations invade his every thought. One would call him a genius. His past is troubled. He took the fall for someone he loved and lost. Now he's free trying to find his freedom, a life outside the walls. Just like Bonnie. I really liked Finn. I get so tired reading books with jerks. Finn is a really nice guy and sometimes he doesn't like being the nice guy. It would have been easier to be a jerk and say, "The hell with you, Bonnie. I'm leaving you here. Deal with your own rich-girl problems." But he didn't. He came after her when she ran time and time again. He didn't give up on her.
"One of these days, a girl is going to come along, and you won't even see her comin'. And she'll rock your world."
The two embark on a cross-country excursion that brings forth both a friendship and a budding romance. I really liked that you got to see both of their feelings develop through their alternating points of view.
"…Finn just looked at me, a smile on his lips and my eyebrows raised, and I almost moaned right out loud, closing my eyes against the desire that had to wait, just a little bit longer. I felt simultaneously weightless and endless, floating there beside him, as if he held me on a string."
I love stories that involve a road trip. I don't know what it is about this particular type of story that draws me in. Perhaps, it's my own desire to go on a road trip across the U.S. of A. Or maybe it's reading about the characters' self-discovery and introspective realizations that seem to be so prevalent in road trip books. All I know is that I really enjoy reading these stories and watching how the character change and evolve. That's one of the things I liked in this book.
I had a few issues with this book however. I felt like the story was a bit slow in places. My biggest issue was the pace of the relationship between Bonnie and Clyde. The book had the feel of a slow-burning romance, for which I was grateful. But the length of the couple's relationship before things progressed was something that I did not enjoy. Even though it didn't feel like instalove, it was instalove. Though, this did not keep me from finishing the book.
Amy Harmon is a talented writer. She has some chops and I cannot wait to get to her other novels. This one just wasn't a favorite book of mine. I would recommend this book to lovers of sweet road trip romances and sweet respectful heroes.
UPDATE: It's been almost 2 1/2 years since I read this book. If I were to read this book today, I'd probably give it a 2-star rating, based on my current rating system. The story wasn't memorable to me and the characters didn't stand out.
* I received a copy from the author in exchange for an honest review.