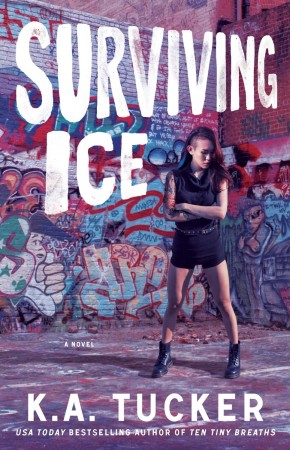 Surviving Ice
by
K.A. Tucker
Series:
Burying Water #4
Published by
Atria
,
Simon & Schuster
Publication date:
October 27, 2015
Genres:
New Adult
,
Romance
,
Romantic Suspense
Length:
11 hrs and 17 mins
352 pagesFormat:
eBook
Source:
Borrowed
Ivy Lee, a talented tattoo artist who spent the early part of her twenties on the move, is looking for a place to call home. She thinks she might have finally found it working in her uncle's tattoo shop in San Francisco. But all that changes when a robbery turns deadly, compelling her to pack up her things yet again.

When they need the best, they call him. That's why Sebastian Riker is back in California, cleaning up the mess made after a tattoo shop owner who resorted to blackmail and got himself shot. But it's impossible to get the answers he needs from a dead body, leaving him to look elsewhere. Namely, to the twenty-something-year-old niece who believes this was a random attack. Who needs to keep believing that until Sebastian finds what he's searching for.

Ivy has one foot out of San Francisco when a chance encounter with a stranger stalls her departure. She's always been drawn to intense men, so it's no wonder that she now finds a reason to stay after all, quickly intoxicated by his dark smile, his intimidating strength, and his quiet control.

That is, until Ivy discovers that their encounter was no accident—and that their attraction could be her undoing.
Affiliate Disclosure: This post contains affiliate links. In plain English, this means that I may receive a small commission (at no cost to you) if you purchase something through the links provided. This small income goes back into my blog, so I can continue to create fun content for you. I appreciate my readers and make it my goal to be upfront and honest. Thank you for supporting my blog!
Book Review:
K.A. Tucker brings on the action in Surviving Ice, the final installment of her Burying Water series. Much like the first book in the series, I was hooked from the first page of this one and read most of this book in just a matter of hours.
This book had that same forbidden love vibe that the first two books in the series had, which I totally enjoyed. Sebastian, a former Navy SEAL turned private security firm contractor, is hired to investigate—and kill if necessary, Ivy. Her uncle's death could be linked to some bad business. His plan is to befriend her and get close to her to find out as much information as he can, and hopefully, not put a bullet in her. But what he finds is this completely independent, beautiful mess of a woman he doesn't want to leave or harm. Which says a lot considering he hasn't stayed in one place for over six years.
The hardened and tough Ivy finally met her match in Sebastian Riker, the elusive and mysterious man who appeared out of nowhere. In the acknowledgements, Tucker briefly mentions how important it was to find someone who was Ivy's equal and could crack her shell. I think Sebastian was the perfect choice.
Not long ago, I wrote a blog post called "Book Plots/Situations I Want to Read Now" and I was thrilled to find out that this book (sort of) fit into one of my situations!
Both Ivy and Sebastian were complex characters with whole heck of a lot internal struggle. They didn't easily divulge anything about themselves and both had their reasons for being so aloof and distant. But the two of them together were just perfect for each other. I think that's what made the love and respect that developed between the two of them more real to me.
It took me a long time to warm up to Sebastian, and by the end, I still wasn't quite sure of him. But for Ivy, I think he was her person. I couldn't really get past Sebastian's penchant for sleeping with prostitutes around the world or the fact that Ivy didn't ask about his sexual history before they had sex without a condom. But perhaps we're supposed to believe that she trusted him enough to know that he wouldn't have done that without a thorough check.
Even though both were physically attracted to each other from the get go, they weren't looking for anything resembling a relationship. Though, that's exactly where they ended up. I that sort of "I don't want this but I want this" tension!
I wanted more explanation as to why Ivy left Ireland so suddenly. There was definitely something going on between Ivy and Rowen, even Ivy admits that. Though it appeared she left Dublin soon after he was injured in the bombing, leaving Rowen with a broken heart. It seems like the readers were asked to believe that Ivy just got the itch to move again and/or didn't want to actually experience the pain of dealing with someone she cared about hurt and mangled. I wanted that to be explained a little bit more because without it Ivy kind of looked like a jerk.
I really enjoyed this book. My complaint with all the books in this series is how quickly they end. There is a ton of action and heartbreak until 90% and then everything gets wrapped up really quickly. I want just a little more time for my heart to settle into these characters' happiness before I say goodbye. Each couple went through so much to get to their destination and wanted a little more time with them.
K.A. Tucker has a special gift of writing addictive stories with a vivid setting and interesting characters that will pull you in. I am currently reading her upcoming release, He Will Be My Ruin and will post my review when I finish. 🙂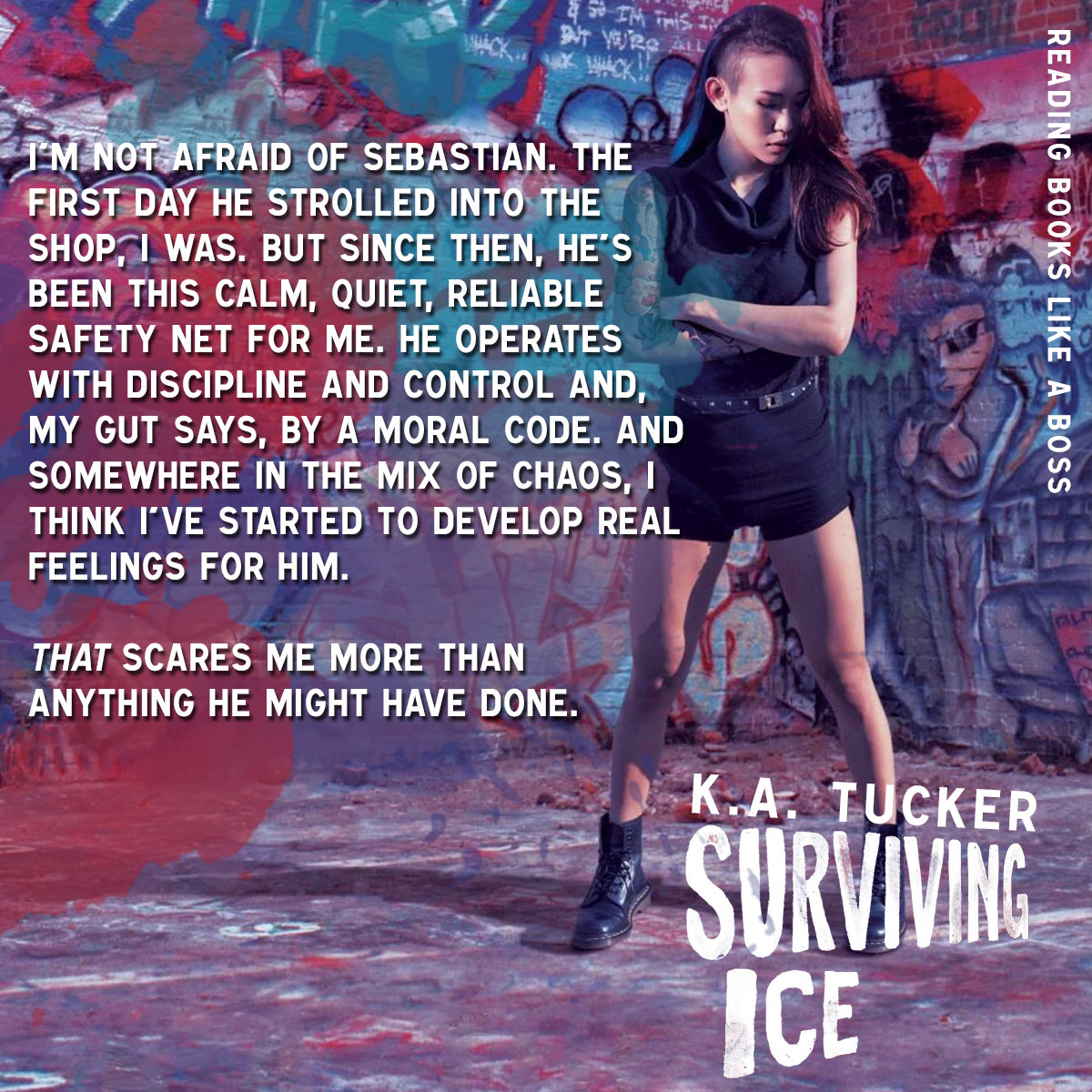 * I borrowed this book from my local library.