"Waiting On" Wednesday is a weekly event, hosted by Breaking the Spine.
IN HER WAKE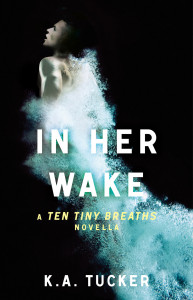 In Her Wake
by
K.A. Tucker
Series:
Ten Tiny Breaths #0.5
Published by
Atria
,
Simon & Schuster
Publication date:
September 1, 2014
Genres:
New Adult
,
Romance
Before you knew him as Trent in Ten Tiny Breaths, he was Cole Reynolds—and he had it all. Until one night when he makes a fatal, wrong decision…and loses everything.

When a drunken night out at a Michigan State college party results in the death of six people, Cole must come to terms with his part in the tragedy. Normally, he'd be able to lean on his best friends—the ones who have been in his life since he could barely walk. Only, they're gone. Worse, there's the shattered body of a sixteen-year-old girl lying somewhere in a hospital bed, her entire life ripped from her because of a case of beer and a set of keys.

Everyone assures him that they know it wasn't intentional, and yet he can't ignore the weight of their gazes, the whispers behind his back. Nor can he shake the all-consuming guilt he feels every time he thinks of that girl who won't so much as allow him near her hospital room to apologize. As the months go by and the shame and loneliness festers, Cole begins to lose his grip on what once was important—college, his girlfriend, his future. His life. It's not until Cole hits rock-bottom that he can begin to see another way out of his personal hell: forgiveness.

And there's only one person who can give that to him…
Affiliate Disclosure: This post contains affiliate links. In plain English, this means that I may receive a small commission (at no cost to you) if you purchase something through the links provided. This small income goes back into my blog, so I can continue to create fun content for you. I appreciate my readers and make it my goal to be upfront and honest. Thank you for supporting my blog!
Expected Release Date: September 1, 2014
Add on Goodreads
Why I'm waiting:  K.A. Tucker's Ten Tiny Breaths series is one of my favorites.  I am for In Her Wake to read about that missing piece and Trent's life before Kacey Cleary.
QUESTION:
What books are you waiting for this week?