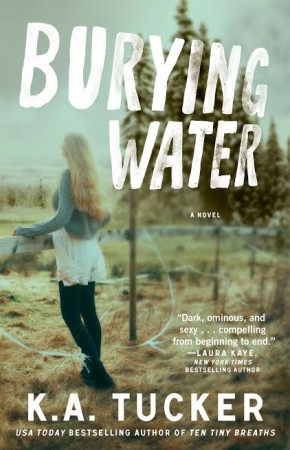 Burying Water
by
K.A. Tucker
Series:
Burying Water #1
Published by
Atria
,
Simon & Schuster
Publication date:
October 7, 2014
Genres:
New Adult
,
Romantic Suspense
Length:
11 hrs
369 pagesFormat:
eARC
Source:
ARC via NetGalley
The top-selling, beloved indie author of Ten Tiny Breaths returns with a new romance about a young woman who loses her memory—and the man who knows that the only way to protect her is to stay away.

Left for dead in the fields of rural Oregon, a young woman defies all odds and survives—but she awakens with no idea who she is, or what happened to her. Refusing to answer to "Jane Doe" for another day, the woman renames herself "Water" for the tiny, hidden marking on her body—the only clue to her past. Taken in by old Ginny Fitzgerald, a crotchety but kind lady living on a nearby horse farm, Water slowly begins building a new life. But as she attempts to piece together the fleeting slivers of her memory, more questions emerge: Who is the next-door neighbor, quietly toiling under the hood of his Barracuda? Why won't Ginny let him step foot on her property? And why does Water feel she recognizes him?

Twenty-four-year-old Jesse Welles doesn't know how long it will be before Water gets her memory back. For her sake, Jesse hopes the answer is never. He knows that she'll stay so much safer—and happier—that way. And that's why, as hard as it is, he needs to keep his distance. Because getting too close could flood her with realities better left buried.

The trouble is, water always seems to find its way to the surface.
Affiliate Disclosure: This post contains affiliate links. In plain English, this means that I may receive a small commission (at no cost to you) if you purchase something through the links provided. This small income goes back into my blog, so I can continue to create fun content for you. I appreciate my readers and make it my goal to be upfront and honest. Thank you for supporting my blog!
Book Review:
I've been really excited about starting K.A. Tucker's Burying Water series since finishing her Ten Tiny Breaths series last year. Burying Water was romantic, suspenseful, and mysterious, and at times, intense!
Jesse finds the love of his life lying in a pool of her own blood in the middle of the woods, brutally attacked and raped. She wakes and remembers nothing of the man who showed her love like she'd never experienced with her husband. With the help of the doctor who saved her and the sheriff who brought her to the hospital, she starts a new life in a small Oregon town. But there is something magnetic about the couple's son, Jesse, who just moved back in. What she doesn't know is that he is the man she was wildly in love with. He slowly integrates himself into her everyday life and allows her the space to start her new life and try to remember her old one with him in it.
What I liked most about this book was the "double love story." It felt like you were getting a double dose of the "falling in love" goodness, even though it was the same couple. One of my favorite things about reading romance novels is the build up and with this story you got double build up. I give that two thumbs up. I liked the moments in the past chapters where certain "trigger words" show up in the present scenes (like the fact that Alex loved blueberries, so Jesse bought her blueberries in the present day). It brought the two time periods together in a nice way.
Alex was brutally assaulted in the opening scenes of the book. Though, I didn't really feel like the rape was even necessary to the plot here. I didn't really see Water trying to come to terms with being sexually violated. Rather, it was mostly her trying to recover from the physical injuries and the emotional trauma of being physically injured and robbed of her memories. The rape didn't really seem to be something that was essential to this particular storyline nor was it really brought up.
Water's internal dialogue constantly spoke of the fact that she didn't have her memory. As a reader, I didn't need to be reminded so frequently of the fact that due to her memory problems she didn't know how to cook or whether she liked the color purple or if she preferred the mountains over the city. I understand that Tucker was likely trying to stay true to the voice of someone experiencing this mental issue but reading the constant textual reminders felt distracting and like she was spoonfeeding the reader information that can be easily gleaned from the text.
I had a hard time really truly believing that Alex would fall in love with a man who is both old and creepy as hell at eighteen. It's explained that she thought she would be given a better life than what she had, but I just didn't buy it.
Even though I had a few issues, this book was super addictive and emotional. The mystery of what happened to Water and the two love stories happening simultaneously in the past and present chapters created this great momentum that propelled the story forward and kept me turning the pages.
3 stars
* I received a copy from the publisher in exchange for an honest review.
Amazon: US • UK • CAN | iBooks | GR