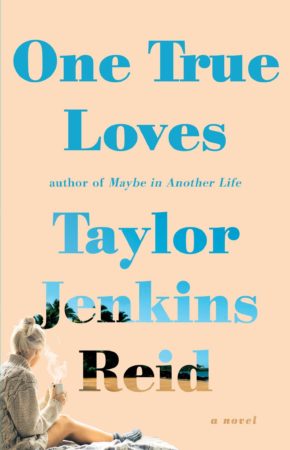 One True Loves
by
Taylor Jenkins Reid
Published by
Washington Square Press
Publication date:
June 7, 2016
Genres:
Romance
,
Women's Fiction
352 pagesFormat:
eARC
Source:
Publisher
In her twenties, Emma Blair marries her high school sweetheart, Jesse. They build a life for themselves, far away from the expectations of their parents and the people of their hometown in Massachusetts. They travel the world together, living life to the fullest and seizing every opportunity for adventure.

On their first wedding anniversary, Jesse is on a helicopter over the Pacific when it goes missing. Just like that, Jesse is gone forever.

Emma quits her job and moves home in an effort to put her life back together. Years later, now in her thirties, Emma runs into an old friend, Sam, and finds herself falling in love again. When Emma and Sam get engaged, it feels like Emma's second chance at happiness.

That is, until Jesse is found. He's alive, and he's been trying all these years to come home to her. With a husband and a fiancé, Emma has to now figure out who she is and what she wants, while trying to protect the ones she loves.

Who is her one true love? What does it mean to love truly?

Emma knows she has to listen to her heart. She's just not sure what it's saying.
Affiliate Disclosure: This post contains affiliate links. In plain English, this means that I may receive a small commission (at no cost to you) if you purchase something through the links provided. This small income goes back into my blog, so I can continue to create fun content for you. I appreciate my readers and make it my goal to be upfront and honest. Thank you for supporting my blog!
As much as I have enjoyed Reid's previous novels, One True Loves missed the mark. Despite having ample opportunity to take the reader on an emotional journey, exploring the depths of the situation, the novel only explored the surface of its potential and carried too much frustration.
At the heart of all of Reid's novels is a central question or theme. In After I Do, she explored a couple's failing marriage. In Maybe in Another Life, Reid spoke on how your choices can change the trajectory of your life. In One True Loves, Reid introduces readers to Emma and the two men who love her. Jesse was her first love and Sam was her second. What would happen if your husband is taken from you? How do you move on from that? What do you do when, after you do move on romantically, your husband shows up and you're a completely different person?
This premise of this novel is ripe for emotional exploration, ready to be mined and drained of its rich literary minerals. But the emotional impact this novel could have had was left largely unrealized. It seems Reid wanted the reader to feel invested in Jesse and Sam equally because that's how Emma feels. But the emotional connection I was supposed have towards one of the men was not there. From the beginning, the reader is given a clear choice as to who Emma should end up with. There was never really a question in my mind.
When Jesse comes back and Emma is left to sort through her feels, the novel took a turn. It was here that things started to fall apart. The author had the opportunity to really delve into the mental impact three and a half years of solitude had on Jesse and how that would affect Jesse's motivations, thoughts and actions. Instead, the focus is entirely on how Jesse can get Emma back and the love story. This did not ring true at all.
There was so much potential for the reader to truly feel Emma's internal struggle, one that didn't last just a few days after Jesse gets back. But one that would really have her look inside of herself. Everything felt rushed and glossed over, especially the decisions Sam makes. This could have been achieved by focusing much more on the women's fiction story here rather than the "which guy should I choose" romance.
As a reader, perhaps one of the most frustrating parts about the book was Emma's oblivious nature. We are in her head the whole time, in a first-person narrative. She is feeding us the story of her life, complete with her telling the reader about her personal metamorphosis from the woman she was with Jesse to the woman she is with Sam. We get all of that information from her. So why is it that it takes her half the book to realize that she has changed?
All of that combined with the fact that Emma was sleeping with one guy one day and in the arms of the other the next really bothered me. I couldn't look past it.
There were some moments I enjoyed, like watching Emma and Sam fall in love in the most normal and natural way. Reid always injects her love stories with the normal and seemingly mundane, which only makes them feel more real.
* I received an advance copy from the publisher in exchange for an honest review.
Amazon: US • UK • CAN | iBooks | GR