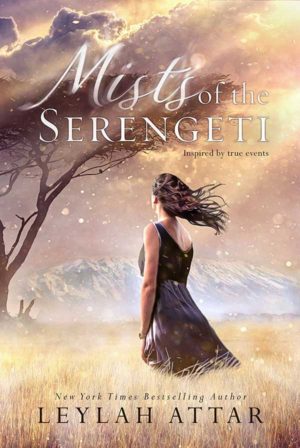 Mists of the Serengeti
by
Leylah Attar
Published by
Self-Published
Publication date:
January 29, 2017
Genres:
Fiction
,
Romance
,
Women's Fiction
360 pagesFormat:
eARC
Source:
ARC via author
Once in Africa, I kissed a king...

"And just like that, in an old red barn at the foothills of Mount Kilimanjaro, I discovered the elusive magic I had only ever glimpsed between the pages of great love stories. It fluttered around me like a newborn butterfly and settled in a corner of my heart. I held my breath, afraid to exhale for fear it would slip out, never to be found again."

When a bomb explodes in a mall in East Africa, its aftershocks send two strangers on a collision course that neither one sees coming.

Jack Warden, a divorced coffee farmer in Tanzania, loses his only daughter. An ocean away, in the English countryside, Rodel Emerson loses her only sibling.

Two ordinary people, bound by a tragic afternoon, set out to achieve the extraordinary, as they make three stops to rescue three children across the vast plains of the Serengeti—children who are worth more dead than alive.

But even if they beat the odds, another challenge looms at the end of the line. Can they survive yet another loss—this time of a love that's bound to slip through their fingers, like the mists that dissipate in the light of the sun?

"Sometimes you come across a rainbow story—one that spans your heart. You might not be able to grasp it or hold on to it, but you can never be sorry for the color and magic it brought."

A blend of romance and women's fiction, Mists of The Serengeti is inspired by true events and contains emotional triggers, including the death of a child. Not recommended for sensitive readers. Standalone, contemporary fiction.
Affiliate Disclosure: This post contains affiliate links. In plain English, this means that I may receive a small commission (at no cost to you) if you purchase something through the links provided. This small income goes back into my blog, so I can continue to create fun content for you. I appreciate my readers and make it my goal to be upfront and honest. Thank you for supporting my blog!
Leylah Attar's MISTS OF THE SERENGETI takes readers on a African adventure to a coffee farm in Tanzania and through the vast expanse of the Serengeti, introducing readers to Rodel and Jack and their quest to save children in danger.
Leylah Attar's ability to bring readers right into the story is evident in Mists, painting a scene and making you feel you're in the middle of the action. This is especially true in this novel with her picturesque descriptions of the African setting. The subject matter Attar's novels sets her apart from the pack, which I appreciate immensely. She chooses topics and settings that are completely unique.
The qualities in her writing in 53 Letters for My Lover is still there in Mists, partly. However, there were problems present throughout the novel that I couldn't overlook or ignore, including self-indulgent purple prose, clunky metaphors, narrative that felt cheesy at times, and passages with quotes that felt entirely out of place.
The prose in Mists, while at times lovely, was entirely too descriptive, often packed with metaphor after metaphor. The comparisons in many instances didn't really make sense. It was like the author was trying to make her prose more literary to elevate it. I am one who appreciates the art in lyrical writing and prose evoking emotion. But I don't like prose to be filled with unnecessary descriptors, which was what I felt happened in Mists.
Jack's blond hair is described as "a jungle of beautiful chaos." His demeanor is described as follows: as if "he had just thrown up an electric fence. Against the backdrop of dark, stormy clouds, he stood like Thor, glaring at me with lightning in his eyes." His voice is described as "delicious." At the thought of Rodel leaving he says he'll miss her "Like a dream that starves and curls beneath my bones." I'm not even sure what that last one even means.
Aside from the writing, the romance in this novel didn't evoke any emotions in me. It felt forced and unnatural. There are repeated mentions in the narrative of the air between Jack and Rodel being charged with "electricity," "sparks," "lightning," "rigged with dynamite," and feeling "locked and loaded." But these things failed to make me feel the romance blossoming between these two. I felt like the reader was being asked to believe these things but what was lacking was real relationship development. This is unfortunate because the plot itself was ripe for a great harrowing romance that blossomed from tragedy and formed under the umbrella of danger and peril.
Rodel is with Jack a mere 5 days before she is professing her love. While that can (and has happened to several people) in real life, my issue with it here is that the author didn't take me deep enough into their story to make me believe it, which is my problem.
Many passages were borderline cheesy, while others jumped right into cheesy territory. The first romantic scene between Jack and Rodel was almost painful to read with "the soul sonnets" they left in each other's mouths, the "jolts of liquid fire," Rodel "clutch[ing] the tendons in the back of Jack's neck," Rodel's confession of her virginity, and Jack's growling.
Like many other readers, I enjoyed the secondary characters so much. Bahati was a comedic relief in moments that were heavy with emotion for the characters. Scholastica was a ray of sunshine and played a part in bringing Jack to life after horrible loss. I also really enjoyed Jack's grandmother, Goma. She was a firecracker and didn't let her age slow her down in any way. I liked the way Goma took everyone under her wings and made everyone around her feel welcome and loved.
Let me be clear here, I don't delight in writing this review. I didn't enjoy The Paper Swan, but I did take note of her writing. After her last novel, I wanted to give her another try, hoping that it was just an anomaly. While I did enjoy Mists a little more than her previous novel, the flowery language and poor relationship development was entirely too problematic and troublesome for me to overlook.
* Thanks to the author for providing me with an early copy for review.