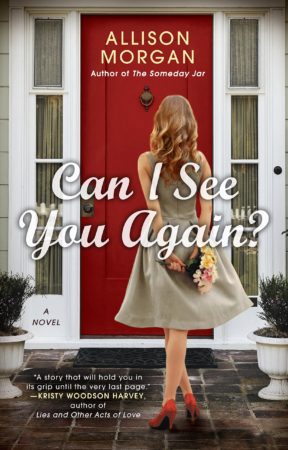 Can I See You Again?
by
Allison Morgan
Published by
Berkley
Publication date:
August 9, 2016
Genres:
Contemporary Romance
,
Women's Fiction
384 pagesFormat:
eARC
Source:
Publisher
The author of The Someday Jar delivers a witty and warm novel about a matchmaker whose love life is a disaster.

Bree Caxton is a matchmaker with a 98% success rate, a book about love about to hit the stands, and a boyfriend who rocks her world. Until, that is, he gets cold feet about their future and runs from their relationship. Because who will buy a self-help book about love from a woman whose love life is a mess?

To avoid utter humiliation, Bree begs her one matchmaking failure, Nixon Voss, to pose as her boyfriend. But when Bree's ex decides he wants her back and a newspaper presents a challenge that could expose her secret, she will have to find the courage to embrace what is, or risk losing something much bigger than her reputation: her heart.
Affiliate Disclosure: This post contains affiliate links. In plain English, this means that I may receive a small commission (at no cost to you) if you purchase something through the links provided. This small income goes back into my blog, so I can continue to create fun content for you. I appreciate my readers and make it my goal to be upfront and honest. Thank you for supporting my blog!
Can I See You Again is the type of contemporary romance I've been looking for. Allison Morgan pens a sweet and cute romance with emotional depth that left me smiling until the very end. I just have one question for the author: Ms. Morgan, Can I See You Again?
Bree is a matchmaker with a near-perfect success rate. Her one failure, Nixon Voss, is a high-powered businessman who can't seem to find the right woman to win his heart. Bree's debut novel, Can I See You Again, is set to hit shelves soon and her publicist has a massive campaign in the works. The only problem is that her publicist wants to do an interview series about Bree's own love life but her boyfriend just broke up with her. Her solution is a creative one: Get Nixon to pose as her fake boyfriend. With her career and her heart on the line, Bree's situation is complicated further when her grandmother's house is at risk of being lost, making the success of her novel even more vital.
What I liked most about this book was how it made me feel. It had this sweet charm to it that left me feeling happy from the first page to the last. The novel was cute overall, but it was also funny and had level emotional depth that was refreshing to see. I've been searching for a good contemporary romance that had characters I felt attached to but wasn't filled with dramatics. This was just the book for me and it came at just the right time.
"You're not here because your mom said so. You're here because you're a thirty-five year-old man with no one to share your life. Your house is cold and sterile. There's probably expired milk in your fridge. And more than likely, gray hairs are sprouting up in inappropriate places. Your comfort zone is shrinking and, at the end of the day, you're alone."
"Shit, Bree. Don't sugarcoat it. Give it to me straight."
The chemistry between Nixon and Bree was there from the get go. Nixon knew exactly how to push Bree just enough to make her see a different perspective. I love it when an author takes the reader along with the characters as they get to know each other. The way Morgan built the romantic connection between the characters was great, which made me believe in the romance.
"I've learned what it's like to kiss a man with every bit of my body and mind. To be stilled by his touch, silenced by his breath on my skin, honored by his smile. I've learned what it's like to feel."
"Maybe you didn't hear me. I'm not getting on this [motorcycle]."
"I heard you."
"I don't want to die."
"That makes two of us." He hands me my jacket, then crams my sweatshirt and toothbrush into a saddlebag fixed to the side of the bike.
"Tell you what, I'll walk."
"Fine. Head north. I'll see you in a hundred and twenty miles."
At the heart of this story is Bree finding out what she wants and who she wants to be.  She has to repair her past wounds and get past her own heartache to move forward. I really liked that this wasn't just a love story but also a family story—one that took Bree back to her childhood and made her face some difficult things. I really liked Bree's relationship with her grandmother, Jo.
"Who needs 'em? I always say, if plan A fails, you have twenty-five letters left."
There were a few things that bothered me in this book. At one point, Bree gets an attorney without her grandma's knowledge in hopes of saving her grandma's house from being sold on the courthouse steps. I didn't find this entirely accurate or believable, as no attorney would talk to a third party (Bree) without the client's consent first or without proper legal documentation (like a guardianship or power of attorney). Bree's internal monologue was sometimes a bit over-the-top but it wasn't enough to affect my enjoyment of the book. Lastly, I wish the book hadn't ended so abruptly. I wanted a little bit more time to exhale before that final period.
Bottom Line: Recommended for readers looking for a lighthearted love story full of emotional depth and sweet moments without over-the-top dramatics.
* I received an advance copy from the publisher in exchange for an honest review. This did not affect my opinion or my rating of this book.