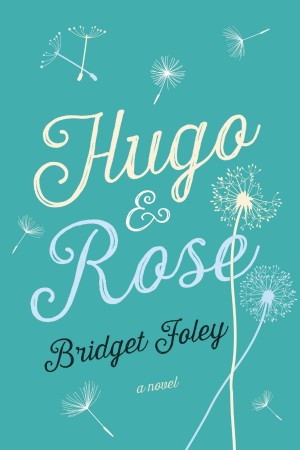 Hugo & Rose
by
Bridget Foley
Published by
Macmillan
,
St. Martin's Press
Publication date:
May 5, 2015
Genres:
Adult
,
Women's Fiction
352 pagesFormat:
eARC
Source:
ARC via publisher
A beautifully imagined women's fiction novel about a housewife who's dreamt of the same man every night her entire life - until she has a chance meeting with him in the real world.

Rose is by most qualifications an ordinary housewife, except for her dreams. Since childhood, she has always dreamt of the same island, with the same imaginary companion: a brave, heroic boy named Hugo. Rose's own children now live for tales of Hugo and Rose's adventures, battling giant spiders and bouncing on the pink sand of the Blanket Pavilion. And each night, after putting her sleepy children to bed, Rose escapes from the monotony of diapers and cracker crumbs to become a more perfect, fully-realized version of herself.

Until one day, Rose stumbles across Hugo in real life, and everything changes. Here is the man who truly knows her, who grew up with her, even if they aren't what either one imagined. Their chance encounter begins a cascade of questions, lies, and a dangerous obsession that threatens to topple everything she knows. Is she willing to let go of everything she holds dear to understand their extraordinary connection? And will it lead her to discover who she truly wants to be?
Affiliate Disclosure: This post contains affiliate links. In plain English, this means that I may receive a small commission (at no cost to you) if you purchase something through the links provided. This small income goes back into my blog, so I can continue to create fun content for you. I appreciate my readers and make it my goal to be upfront and honest. Thank you for supporting my blog!
Book Review:
You dream the same dream your whole life. You're on a magical beach with a beautiful man who saves you from the dangers and treachery the island hides. A city filled with castles is seen in the distance but after years of trying you can't quite reach it. Then one day you see the man in real life. He sees you and it makes you question your reality, your life.
That's the premise of Hugo & Rose. I was so intrigued by it and just had to pick up the book. It took me a really long time to get into the book, and by the end, I really think the book didn't live up the book as a whole.
Rose is a mother to three kids and happily married to Josh, an ER doctor. Rose is in the trenches of motherhood. Her point-of-view is brutally honest. She loves her children, but she has no time to herself. Her once fit figure has changed due to having children and she's ashamed of her outward appearance. She doesn't feel desirable to her husband and her kids annoy her most days. During the day she's barely holding it all together, but at night escapes to her dreams with an adventurous man who slays life-size spiders and who's an expert at grass sword-fighting. Her Hugo.
Then she sees a man who looks eerily similar to her dream Hugo. A little pudgier and aged, this man is Hugo. His mannerisms, his eyes. It shakes her and leads her down a dark path that makes her question her sanity, her reality, and her life.
I read a few early reviews of this book, many of which say that the synopsis is slightly misleading. I don't know if I would use the word "misleading" because that word implies you were told one thing but you got another. I think the conclusion I drew from the cover and the summary was a much lighter feel. But I was pleasantly surprised when I got deeper into the book and it was actually a much darker read in tone. Everyone in this book goes a little crazy and that part of the book was entertaining and propelled me to keep reading (once I got to the crazy).
This book was really slow for awhile and it took awhile for it to stick. While Rose is an unlikable character, the author made me understand her plight and the darker thoughts she has about her children and her husband. The dream sequences, with the exception to the ones towards the end, were mostly filler and I wasn't interested in reading them. I found myself skimming many parts of this book. I wasn't truly hooked until things started going terribly wrong in the latter half of the book.
For me, the book didn't hold my attention at all times and I was not impressed with it as a whole. If you're looking for a unique women's fiction novel combined with a bit of a thriller vibe, you might pick this one up. I didn't really love it though.
2 stars
* I received an advanced copy from the publisher in exchange for an honest review.
Amazon: US • UK • CAN | iBooks | GR