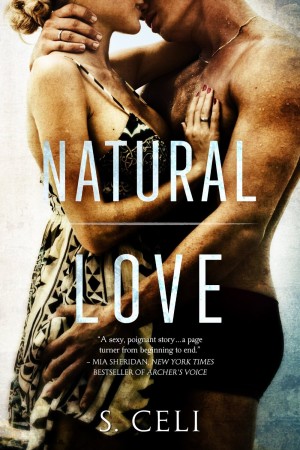 Natural Love
Publication date:
December 9, 2014
Format:
eARC
My whole life, I wanted one thing: to be the perfect son.

Growing up, I did everything my father required. Straight A's in school. Perfect manners. I forced myself to live up to his standards--standards that pushed the Chadwick family name to the highest rungs of society.

Over the years, we climbed so high that my father hoped we'd never fall.

If only he'd been right. With each successful year, the Chadwick family skeletons grew bolder and darker. Every lie threatened to undo us.

The secret Avery Jackson and I shared was the worst one of all.

She was the one person I shouldn't love--the one person I couldn't love. But I did. I loved Avery Jackson. I wanted her, even though a romance with her threatened everything.

It all felt so natural.

And that was exactly the problem.
Affiliate Disclosure: This post contains affiliate links. In plain English, this means that I may receive a small commission (at no cost to you) if you purchase something through the links provided. This small income goes back into my blog, so I can continue to create fun content for you. I appreciate my readers and make it my goal to be upfront and honest. Thank you for supporting my blog!
Book Review:
If you tell me a book has a forbidden love story contained in its pages, I will be on it like white on rice. Add in an intriguing synopsis and I will count the days until release. Throw in a pretty cover and I'm all in.  That was the case for this book. It had all of those things. Unfortunately, this book missed the mark for me. I felt nothing for the characters and, to be honest, a little bored by the plot.
Spencer Chadwick hasn't been back in his hometown of Cincinnati, Ohio for two years. After a DUI and car accident, his father forced him into the Peace Corp and off he went to South Africa. Born into wealth and privilege, Spencer is set to take over his father's construction company if he can get in his father's good graces. It would seem Spencer has it all going for him. But he wants the one person he can't have, Avery Jackson.
Avery Jackson is View Spoiler »his stepsister « Hide Spoiler. He has missed her the most out of everyone. Now that he's back he realizes his feelings for her have only intensified, especially after she confesses her feelings for him. Spencer can only resist her for so long. He's caught between a rock and a hard place when he's forced to choose between making his father happy and carrying on the Chadwick legacy and being with the girl he shouldn't want to have.
I wasn't expecting the View Spoiler »brother/sister « Hide Spoiler storyline. And I didn't dislike the book due to that extra element. I just don't think this book was executed as well as it could have been. There was absolutely no subtlety to the writing, no nuance or beauty. When I read a book, I like to experience the emotions the characters are having. And part of what makes that possible is the author's ability to pull me into a fictional world with their words.  I wasn't able to escape into this book.
Like I said earlier, I was bored. I didn't connect with the story or the characters. I know a lot of people use the phrase "I couldn't connect" but that truly is what happened here.  In Natural Love, the characters lacked depth. Everything the characters felt, the forbidden romance that blossomed between them, was told to me rather than allowing me to truly experience it as a reader.
For me, plot is the least important element of a book. If the writing is excellent and the characters are three-dimensional, I can deal with a lackluster plot. Here, those first two elements were not strong enough to make this plot hold the book together. Very little happened to move to plot forward. The first 35%-40% of the book was Spencer trying to fight his feelings, staring at her ass, and internally telling himself he shouldn't and to take a cold shower. There was so much repetition in this story that made the plot seem stagnant.
The last 5-10% was the final nail in the coffin that solidified my rating. There was a trauma in Avery's past that reared its ugly head at the very end. I was wondering what role this event was going to play. When the trauma was revealed it put the whole book into perspective for me and I realized that it was completely used as a plot device and really held no bearing to her character at all. I didn't like the way it was used.
Hardcore forbidden romance junkies may like this book for that element alone, but it didn't work for me at all.
1 star
* I received a copy from the author in exchange for an honest review.