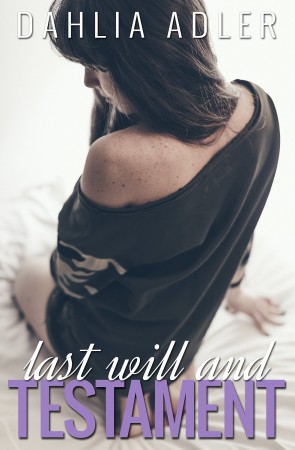 Last Will and Testament
by
Dahlia Adler
Publication date:
December 9, 2014
Lizzie Brandt was valedictorian of her high school class, but at Radleigh University, all she's acing are partying and hooking up with the wrong guys. But all that changes when her parents are killed in a tragic accident, making her guardian to her two younger brothers. To keep them out of foster care, she'll have to fix up her image, her life, and her GPA—fast. Too bad the only person on campus she can go to for help is her humorless, pedantic Byzantine History TA, Connor Lawson, who isn't exactly Lizzie's biggest fan.

But Connor surprises her. Not only is he a great tutor, but he's also a pretty great babysitter. And chauffeur. And listener. And he understands exactly what it's like to be on your own before you're ready. Before long, Lizzie realizes having a responsible-adult type around has its perks... and that she'd like to do some rather irresponsible (but considerably adult) things with him as well. Good thing he's not the kind of guy who'd ever reciprocate.

Until he does.

Until they turn into far more than teacher and student.

Until the relationship that helped put their lives back together threatens everything they both have left.
Affiliate Disclosure: This post contains affiliate links. In plain English, this means that I may receive a small commission (at no cost to you) if you purchase something through the links provided. This small income goes back into my blog, so I can continue to create fun content for you. I appreciate my readers and make it my goal to be upfront and honest. Thank you for supporting my blog!
Book Review
As a forbidden love junkie, I'd wanted to read Last Will and Testament for a long time. If you're a fan of student/teacher love stories with loads of "but we can'ts" and "but I want to's" then you should totally check this out. Even though there were parts that didn't completely work for me, I thought it was a fun read with good dialogue and sexy sweetness.
The author does a great job of hooking you right from the beginning. Lizzie has become accustomed to coasting in college instead of working hard to maintain her GPA, so when she has to buckle down for the sake of her brothers she leans on her History TA, Connor, for extra help. And here's where things get hot, you guys.
Connor is French-Canadian and speaks French. Let that sink in for a second. (All you Canadian people are probably rolling your eyes at me right now). Mix his hot bilingual abilities with his bad fashion sense and geeky humor and you have basically the most adorable guy ever. I thought he was super hot. Connor was so easy to like and I couldn't help but fall in love with him. He was more than willing to help Lizzie when she needed it.
The story read really quickly and fluidly. Like I said earlier, the author did a really great job pulling you into the story and it had this great magnetic momentum. The dialogue was funny and felt natural. I could feel the sexy tension between the two main characters, the struggle between professionalism and heart. If you're wondering about the age gap: she's 18 and he's 25 and in grad school.
I wish that the author would have slowed down the pacing of the romantic relationship. I feel like it got started way too soon, which then led to the obligatory back-and-forth in order to drum up tension and conflict between the characters.
Connor went from being this shy slightly awkward guy to being a semi-sex god. He knew all the moves and I just found it to be a little inconsistent with who he was as a character. I'm not saying that just because a hero is shy means he needs to be shy between the sheets, but I just couldn't see Connor's character going all alpha in bed like he did. Also, some of the sexual dialogue between them was repetitive and over-the-top which detracted from the sweet nature of their relationship.
I didn't love the resolution in the ending. I feel like it sort of nullified everything that Lizzie was working towards and it didn't really make me happy (no, I'm not talking about the romance). View Spoiler »She was struggling to be a mother figure to her two little brothers. Basically what happens is that one brother goes back to their hometown to live with a family and her other little brother lives with their next door neighbor. « Hide Spoiler
I will definitely be reading the next one. Details below!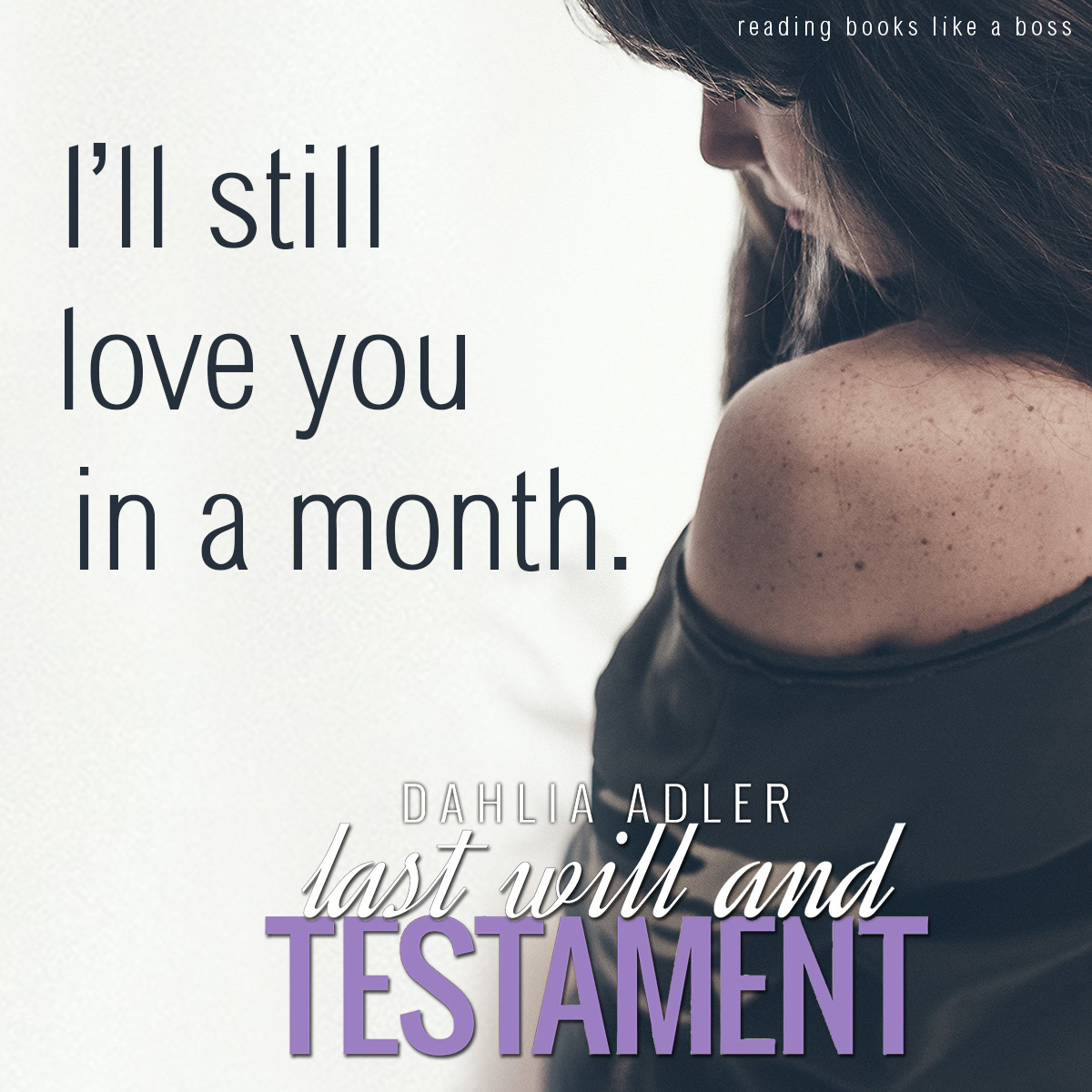 UPCOMING RELEASE ALERT — Right of First Refusal (Book #2) comes out on March 15th. It' a second chance romance. I already pre-ordered my copy because I'm such a sucker for those and I enjoyed this one.
Right of First Refusal by Dahlia Adler (second chance romance)

On the lacrosse field, Cait Johannssen gets what she wants. Off the field is another story. Because what she wants is the school's hot new basketball student-coach, Lawrence Mason, who also happens to be the guy who broke her heart in sports camp two years earlier.

But it's Cait's new roommate who's got him.

Cait and Mase agree it's best to keep their past a secret, but she doesn't expect him to completely ignore their history…or how much it'll hurt when he does. So when a friend on the basketball team asks her to pose as his girlfriend for a night, Cait can't turn down the opportunity for distraction. (Okay, and a little spite.) But what starts as an evening of fun turns into a fake relationship with more lies than the usually drama-free Cait can handle, and it's only keeping her from the one truth that's nagged at her for years: Why did Mase cut her out of his life to begin with?

And is it really too late to get him back?