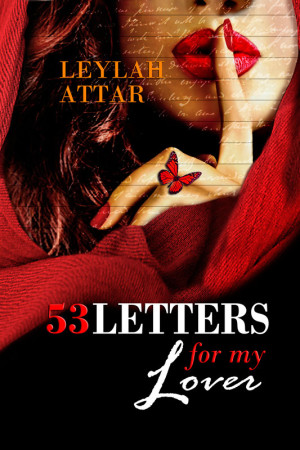 53 Letters for My Lover
by
Leylah Attar
Published by
Self-Published
Publication date:
June 17, 2014
Genres:
Adult Contemporary Romance
,
Women's Fiction
351 pagesFormat:
eARC
Source:
ARC via author
This is not your typical love story.
It's not so black and white. Lines are crossed.
Walls are smashed. Good becomes bad.
Bad becomes very, very good.

Shayda Hijazi—the perfect wife, the perfect mother, the perfect daughter. For thirty-three years, she has played by the rules, swallowing secrets, burying dreams and doing whatever it takes to anchor her family. Shayda Hijazi is about to come face to face with the one thing that can rip it all apart, the one thing her heart has always been denied: Love.

Troy Heathgate—untamed, exhilarating, dangerous—a man who does exactly as he pleases. Life bends to his will. Until he comes across the one thing he would give it all up for, but can never have.

Born on the same day in opposite corners of the world, their lives collide. And nothing is ever the same again.

Spanning three decades, 53 Letters for My Lover is a fiercely sensual, emotional ride to the heart of an epic, forbidden love that defies it all—an intimate exploration of love, loyalty, passion, betrayal, and the human journey for hope, happiness and redemption.

"Sexy, intense fiction isn't afraid to step out of the box."

Contemporary women's fiction: Ages 18+
Affiliate Disclosure: This post contains affiliate links. In plain English, this means that I may receive a small commission (at no cost to you) if you purchase something through the links provided. This small income goes back into my blog, so I can continue to create fun content for you. I appreciate my readers and make it my goal to be upfront and honest. Thank you for supporting my blog!
Book Review:
53 Letters For My Lover is a poignant, emotional and love story, showing both the painful and beautiful sides of love.  The combination of Leylah Attar's beautiful writing and the intensity of the romance is why you need to read it.  Troy and Shayda's love story spans nearly twenty years and Leylah Attar had me hanging on to Shayda's every word as she told us her story.
Somewhere in the fabric of all these years, our lives got tangled, like unruly threads pulling and snagging into impossible knots. How could we have known that one night would stay with us so long? I remember it like it was yesterday.
Shayda moved to Toronto from Tehran, Iran in the midst of the country's revolution. Now in Toronto she has very little except an arranged marriage with her future planned out for her and the promise of a new start.  Bound by the ties of her culture, she marries someone she doesn't love.
"Are you happy, Shayda?" A second. That's all it takes. A single beat of hesitation on my part.
Shayda's husband, Hafez, is a good man.  Before I started the book, I thought that maybe he was going to one of those overworked and cold men who made no time for his wife or children.  But that wasn't the case; he cared about his family and he wanted to do right by his wife.  He was just a little too late.  Due to his own pain, he was never able to physically and intimately show Shayda the kind of love that she needed, that she wanted.  Hafez's goodness was part of what exacerbated Shayda's internal turmoil and guilt and complicated her decision to either stay with her husband and her two children or leave it all for the man she loved.
Troy came into Shayda's life very quietly, but his presence made a lasting impact on Shayda.  Small moments between the two of them turned into waves, drowning out all rational thought and evoked pure passion between the two of them.
"It's always there, the fire between us, like glowing embers waiting to be stoked. One look, one kiss, one caress, and I come alive for him."
The way Attar revealed the love story was beautiful.  Intricately weaving the beginnings of their relationship with the love affair in years later, I was emotionally invested in their love story.  I wanted them to not only be together but for their families to be okay through it all.
This story had the feel of The Opportunist by Tarryn Fisher.  Like Caleb and Olivia, Shayda and Troy were inundated with obstacles and road blocks and had countless missed opportunities.  I wanted to make time stand still for Troy and Shayda, but despite my wishes the clock kept rapidly ticking.  The relationship development in this book was beautiful! I'm really picky without the author develops relationship. Through the author's words and descriptions, I like to feel the characters fall in love. In this book, I felt it.
Yes. Yes yes yes. This is what a kiss should feel like. Like nothing else exists. All yearing and dizzy and falling and flying. Great big galaxies of want and wonder spiral inside of mere.
Part of what makes the characters so memorable was the way Attar told their story and shaped their characters. There were so many funny and special moments between the two of them like the "bundt cake" moment.  They both had nicknames for one another that were ingrained in their history and held special meaning to both of them.
What I loved about this novel was Attar's beautiful writing.  Her vivid descriptions of the character's emotions drew me in and held my full attention.  I loved this line:
I looked like a powerful opera had picked me up, dragged me through every aria between elation and agitation and dropped me, exhausted but oddly sated.
The use of symbolism was prevalent in this story and only enhanced my reading experience.  Attar used the Monarch butterfly to represent transformation, change, strength and resilience.  Every year millions of Monarchs travel south, but it often takes generations of monarchs to make the whole trip.  Shayda's metamorphosis from the woman she is when she marries her husband to the Shayda we meet at the end was amazing.
I liked the ending of the book but I didn't love it.  I don't mind some things being left to my imagination and don't require everything to be so tightly wrapped up.  The family issues and "other things" worked out a little too conveniently at the end and could have done without some of the events that lead up to the characters' decisions.  Nonetheless, I fell in love with Troy and Shayda.  It's a testament to an author's writing when she makes you care deeply about the characters and Attar accomplished that and then some.  I hope Shayda's book makes the New York Times.
4 stars
*I received a copy from the author in exchange for an honest review.