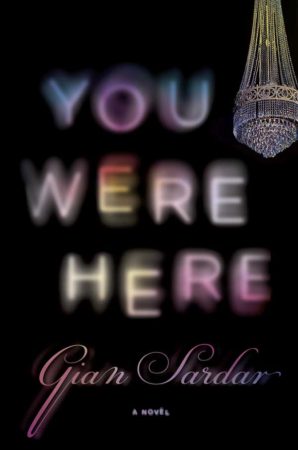 You Were Here
by
Gian Sardar
Published by
Penguin Audio
Publication date:
May 2, 2017
Genres:
Psychological Thriller
Narrator:
Cassandra Campbell
,
Emily Rankin
,
Kim Mai Guest
,
MacLeod Andrews
,
Scott Brick
Length:
12 hours and 29 minutes
384 pagesFormat:
Audiobook
Source:
Publisher
Readers of Kate Atkinson will delight in this suspenseful debut novel about a woman haunted by nightmares and her grandmother's role in a doomed love triangle almost seventy years before.

What if the past is never buried?

Death, accidental and early, has always been Abby Walters's preoccupation. Now thirty-three and eager to settle down with her commitment-shy boyfriend, a recurring dream from her past returns: a paralyzing nightmare of being buried alive, the taste of dirt in her mouth cloying and real. But this time the dream reveals a name from her family's past. Looking for answers, Abby returns home to small-town Minnesota for the first time in fourteen years, where she reconnects with her high school crush, now a police detective on the trail of a violent criminal. When Abby tries on her grandmother's mesmerizing diamond ring, a ring she always dreamed would be hers, she discovers a cryptic note long hidden beneath the box's velvet lining. What secret was her grandmother hiding? And could this be the key to what's haunting Abby? As she begins to uncover the traces of a love triangle gone shockingly wrong nearly seventy years before, we, too, see that the layers of our lives may echo a past we've never known. With mesmerizing twists and a long-buried secret that may finally rise to light, You Were Here weaves together two worlds separated by decades, asking if the mistakes made in past lives can ever be corrected in the future, and if some souls are meant to find one another time and time again.
Affiliate Disclosure: This post contains affiliate links. In plain English, this means that I may receive a small commission (at no cost to you) if you purchase something through the links provided. This small income goes back into my blog, so I can continue to create fun content for you. I appreciate my readers and make it my goal to be upfront and honest. Thank you for supporting my blog!
** This review does contain some slight spoilers. I don't give away the ending or the ultimate resolution in either storyline but I do reveal some things that happen along the way.
YOU WERE HERE tells the story of a fifty-year mystery of a love affair gone wrong and the psychic dreams a woman has years later that connects her family to the tragedy.
Blending together a mystery thriller and elements of a love story, Gian Sardar's story had moments that draw you into the story, demanding to know what happens. We meet Abby whose vivid nightmares of being buried alive come back suddenly ten years later. These dreams lead her back to her hometown in Minnesota, where a secret love affair ended in tragedy.
In the present storyline, Abby is in a relationship with Robert and she feels like they're going nowhere. She wants to get married, but he wants to wait until he sells the screenplay he's been working on for years. After going back to her hometown, she reconnects with Aidan, the subject of her teenage dreams, who is now a local cop working a slew of local murders. She enlists his help to find her grandmother's best friend after finding a cryptic message in her grandmother's old ring box, hoping it will help her find answers to her recurring nightmares.
In the past storyline, we meet Eva and William, a couple carrying on a secret love affair. Eva is head-over-heels and totally blind to just how selfish William is. He comes from money and is what would be considered "high class" while Eva works in a diner and has very little. He's asked Eva to be at his beck and call with little regard to her feelings. When William's wife Claire gives him some unexpected news, Williams abruptly ends his affair with Eva.
The story does move rather slowly until Abby gets to her hometown and then it starts to pick up a little. Abby and Aidan start to rekindle what they had as teenagers and Abby begins to ponder what her future looks like. With the past storyline, the author drops several hints that something terrible happened between William and Eva, which is a driving force for the latter part of the book. I liked that this was dangled over us, which added to the suspense.
Ultimately, the resolution at the end was unsatisfying and felt unresolved. Since we were given these two separate storylines (William and Eva, Aidan and Abby), I incorrectly assumed that there would be some unification between the past and the present storylines. Here, I was hoping that Abby would come to know that Eva and William were having an affair and what became of the two of them, as well as what happened to Claire. This was not the case here. Instead, Abby and Aidan travel to the William and Claire's home (where the reader knows something happened here connected to affair's end) but Abby and Aidan never find out. This was disappointing and made the suspenseful build up rather anticlimactic.
I did think the writing was nice and there were some beautiful descriptions. But the overall story and characters didn't allow me to be fully invested and connected to the story. To me, I was left feeling underwhelmed by the end.
Audiobook Comments:
I really enjoyed the audio production of this book. It features some really great audiobook narrator favorites, like MacLeod Andrews and Cassandra Campbell. Every narrator in WE WERE HERE was really great and put on a great engaging performance.
Emily Rankin, as Abby
MacLeod Andrews, as Aidan
Cassandra Campbell, as Claire
Kim Mai Guest, as Eva
Scott Brick, as William