PAINTED FACES
by L.H. Cosway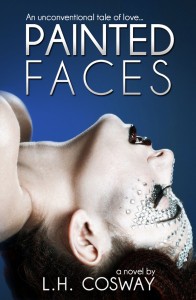 Come forth with an open mind, for an unconventional tale of love…
Dublin native Freda Wilson considers herself to be an acquired taste. She has a habit of making offensive jokes and speaking her mind too often. She doesn't have the best track record with first impressions, which is why she gets a surprise when her new neighbour Nicholas takes a shine to her.
Nicholas is darkly handsome, funny and magnetic, and Freda feels like her black and white existence is plunged into a rainbow of colour when she's around him. When he walks into a room he lights it up, with his quick wit and charisma. He is a travelling cabaret performer, but Freda doesn't know exactly what that entails until the curtains pull back on his opening night.
She is gob-smacked and entirely intrigued to see him take to the stage in drag. Later on, Nicholas asks her if she would like to become his show assistant. Excited by the idea, she jumps at the chance. Soon she finds herself immersed in a world of wigs, make-up and high heels, surrounded by pretty men and the temptation of falling for her incredibly beautiful employer.
In this story of passion and sexual discovery, Nicholas and Freda will contend with jealousy, emotional highs and lows, and the kind of love that only comes around once in a lifetime.
Buy on KINDLE | Add on GOODREADS
Read My Review
KILLER QUEEN (A Painted Faces Novel)
Releases on October 20th!
Killer Queen is a companion novel to L.H. Cosway's contemporary romance, Painted Faces. It contains scenes that take place before, during and after the original story. It can also be read as a standalone
I know what you're thinking.  You're thinking, "Drag queens, Megan?  Really?  That's so not my thing.  How can a drag queen be a hot male lead?" Like the synopsis begs, "Come forth with an open mind."  This romance is unconventional, sexy, and heartwarming.  I've read it so many times, I've lost count. It makes me happy.  So now, I present you the "The List: Why You Need to Read Painted Faces by L.H. Cosway."
The List: Why you need to read Painted Faces by L.H. Cosway
1.) Are you a friends-to-lovers romance fan?  Painted Faces has such a beautiful love story between two people who develop a friendship then FEELINGS get in the way…
2.) "Friends, huh?  But, Megan, am I going to bored with stupid back and forth crap?"  NO! Nicholas Turner is freaking sexy. I can't even put it into words.
"I was trying to respect you, but I also don't want to hurt you. You're my friend, and I could see how I was upsetting you, so I stopped. That doesn't mean I don't think about your mouth every night, about how you felt against my hand, how you moaned when I made you come."
"Nicholas, shut the fuck up," I whisper.
3.) Um…Nicholas calls Freda, Fred.  And Freda calls Nicholas, Viv, based on his stage name of "Vivica Blue."  How adorable is that? I love these two.
"Fred, you can call me Fred."
"Okay Fred, you can call me Vivica."
"Cool, if we become close friends can I call you Viv?"
"You can call me whatever you like, Frederick."
"Why thanks, I'll keep that in mind, Viv. It was a pleasure to meet you."
4.) If you're a fan of banter, then you will LOVE Freda and Nicholas. (see quote in #3)
Noted. C u in the morning sugar tits <3
To which he responds:
Sugar Tits? Really Fred? U r giving me naughty ideas.
To which I encourage:
Oh. Feel free 2 elaborate :-0
To which he answers:
I wouldn't want 2 scandalize u like I did b4 😉
To which I venture:
If I recall correctly, I quite enjoyed being scandalized 😀
To which he scolds:
U r killing me, Fred.
5.) The romance will give you all the feels, the tinglies, and the biggest smile.
"I want him so badly it hurts. But I want all of him. Not just the sex. I want his smiles and his teasing, his smouldering looks. His sad eyes when he thinks nobody's watching. Most of all, I want his heart."
6.) Nicholas can out sing, out "werk," out man everyone, all the while dressed in full drag!
He lifts one leg and settles it on the sea of the chair, imitating a very feminine seductive pose. As he lifts the mic to his mouth and begins singing the lyrics to the song, I get a flashback to the movie starring Liza Minelli. God help me but Nicholas has her every movement and gesture down pat.
He sits down on the chair, then crosses one leg over the other and twirls his high heeled foot around several times to the beat of the song. Next his leg goes up into the air as he stands, before going back down onto the floor. He thrusts his hips in, out, in, out with his hands resting on the top of the chair.

WERK, NICHOLAS!
7.) Freda is pretty much the MOST ADORABLE book character ever.
"He pulls me into the sweaty masses, and I try to lose myself in the beat. The only way I can do dancing is jokey or not at all. I cannot do serious. I cannot do sexy. I can do a good robot though, and that's what I end up doing. Yes, I do the bloody robot right there in front of the most beautiful man I've ever met. He laughs at me, at least that's something, even if it's just polite laughter."
8.) Nicholas can give you a thrill.
 "This is…dangerous," he says, eyes tracing the planes of my cheeks, the curve of my lips.
"Probably," I whisper in reply.
He leans in closer. "I want to be inside of you Freda."
9.) Painted Faces is jam packed with awesome tunes.  Like this one:
Be still my beating heart!!!!!!!!
10.) But most of all, L.H. Cosway wrote it, so you should read it.  With her books, you know you're in for something different, sexy, and swoony.  KILLER QUEEN comes out on October 20th.  It's both a continuation and a companion novel in Nicholas' point-of-view.  It can be read as a standalone, but you should read Painted Faces!!
So, are you convinced?  Tell me your thoughts in the comments!
Dedication:  I dedicate this post to Nereyda from Mostly YA Book Obsessed.  Everyone who has read this should go comment on her blog and tell her to read this book. Tell her Megan from Reading Books Like a Boss sent you. She'll like that.