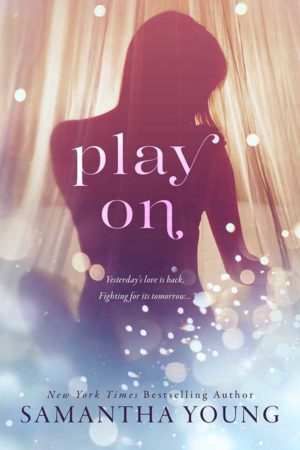 Play On
by
Samantha Young
Series:
Play On #1
Published by
Self-Published
Publication date:
September 12, 2017
Genres:
Contemporary Romance
Length:
11 hours and 33 minutes
400 pagesFormat:
eBook
Source:
Purchased
The New York Times Bestselling author of the On Dublin Street series and Hero returns to Scotland in this passionate and evocative romance about love, loss, and surviving both.

Nora O'Brien chased a dream from Indiana to Scotland, so sure it was the right thing to do. Three years later she was left in her adopted country with nothing to her name but guilt and regret.

Until Aidan Lennox entered her life.

Older, worldlier, a music producer and composer, the sexy Scot should never have made sense for Nora. But somehow in each other they found the light they were looking for, the laughter and the passion—the strength to play on despite their past losses.

But when life dealt Aidan another unlucky hand, instead of reaching for her he disappeared. The agonizing loss of him inspired something within Nora. It fired her spirit— the anger and hurt pushing her forward to take control and reach for her dreams.

Finally pursuing a career on stage while she put herself through college, everything is how Nora wants it. She's avoiding heartbreak and concentrating on her goals.

Sounds easy but it's not. Because Aidan is back. And for some reason he hates Nora.

He's determined to be at war with her.

And she has absolutely no idea why.
Affiliate Disclosure: This post contains affiliate links. In plain English, this means that I may receive a small commission (at no cost to you) if you purchase something through the links provided. This small income goes back into my blog, so I can continue to create fun content for you. I appreciate my readers and make it my goal to be upfront and honest. Thank you for supporting my blog!
Samantha Young has penned some of my favorite love stories, including On Dublin Street and Before Jamaica Lane. However, unlike those old favorites, PLAY ON, didn't capture my heart or leave an impression on me.
Nora meets and falls for the ever-charming Jim in her Ohio hometown. Jim and his friend are from Scotland who are backpacking across America. Instead of going to college like she wanted to, Nora has been forced to stay home and help her mom provide and care for her disabled and verbally abusive father. Her hard work is unappreciated by her parents and Nora longs for more. She and Jim's whirlwind romance offers such escape. When he proposes, she accepts, leaving behind her parents for a new beginning in Scotland.  The story flashes forward years later where Nora's love for her husband has faded, finding herself once again trapped.
While married, she runs into Aidan, an enigmatic and charismatic music producer, in a bar. There is an instant spark and attraction to this man that she realizes she doesn't feel for her husband, planting a seed of guilt inside of her. Her husband tragically passes away and her guilt only grows.  As luck would have it, she runs into Aidan years later at a local children's hospital. They begin a very intense relationship but something later tears them apart.
Samantha Young can write chemistry really well. Aiden and Nora definitely have it and I felt their romantic connection. But I lacked a connection to them as characters. In many ways, I felt as though Play On was almost too reminiscent of On Dublin Street: Braden-like alpha male, female character afraid of commitment, wealthy hero, secretive romantic past.
The story lacked a sense of direction and natural flow. It's told in three parts and considering how Nora and Jim's romance ended, I didn't really understand why their story was even included. Much of the novel's plot felt contrived and very heavy-handed, which pains me to say. The multiple time jumps contributed to the novel's choppy and inorganic feel.
If you're a fan of Samantha Young's romances it may be a hit for you. As a fan myself, I can't whole-heartedly recommend it.
* I purchased this book myself.