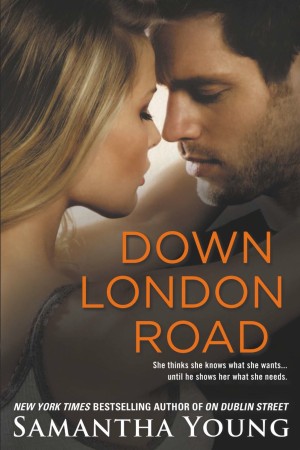 Down London Road
by
Samantha Young
Series:
On Dublin Street
Published by
NAL
,
Penguin
Publication date:
May 7, 2013
Genres:
New Adult
,
Romance
369 pagesFormat:
eBook
Source:
Purchased
Johanna Walker is used to taking charge. But she's about to meet someone who will make her lose control....

It has always been up to Johanna to care for her family, particularly her younger brother, Cole. With an absent father and a useless mother, she's been making decisions based on what's best for Cole for as long as she can remember. She even determines what men to date by how much they can provide for her brother and her, not on whatever sparks may—or may not—fly.

But with Cameron MacCabe, the attraction is undeniable. The sexy new bartender at work gives her butterflies every time she looks at him. And for once, Jo is tempted to put her needs first. Cam is just as obsessed with getting to know Jo, but her walls are too solid to let him get close enough to even try.

Then Cam moves into the flat below Jo's, and their blistering connection becomes impossible to ignore. Especially since Cam is determined to uncover all of Jo's secrets…even if it means taking apart her defenses piece by piece.
Affiliate Disclosure: This post contains affiliate links. In plain English, this means that I may receive a small commission (at no cost to you) if you purchase something through the links provided. This small income goes back into my blog, so I can continue to create fun content for you. I appreciate my readers and make it my goal to be upfront and honest. Thank you for supporting my blog!
Book Review:
If I had to say one thing about the On Dublin Street series so far is how much fun I am having reading these books. They are the perfect light romancey reads. They have heart and drama without it being over the top and Down London Road is a good full-length follow up to On Dublin Street.
The story follows the heroine, Jo. We met Jo in On Dublin Street, working alongside Joss in Club 39 as a bartender. She was the one always wanting to know how good Braden was in bed. There is more to Jo than the flirtatious waitress, however. She has a lot on her plate. At work she is carefree and flirty with the patrons, but at home it's different story. With her father out of the picture and her mother addicted to the bottle, Jo is in charge of taking care of her younger brother, Cole.
Jo makes ends meet by working two jobs, one at Club 39 and the other as a administrative assistant. But she also is a little bit of a professional gold digger. The guys she tends to go for are ones with a lot of money, and while she still is attracted to them, if they didn't have money she likely wouldn't feel the same way. They buy her expensive gifts and then she sells them on eBay to make money. Jo meets Cam at an art show her boyfriend made her go to. Cam's girlfriend is the featured artist. Cam is quick to judge Jo, calling her a gold digger. Jo hates him instantly, even though he's insanely hot.
"Has anyone told you, you are the most despicable, judgmental, self-righteous, obnoxious fuckwit that ever existed?"
I liked this book, but I didn't love. Jo and Cam's chemistry didn't rise to the level of Joss and Braden. Yes, it is a little unfair that I am comparing the couples, but it's hard not to. What I loved in this book were the moments leading up to when Jo and Cam got together. Cam's assessment of Jo's character turned out completely wrong and I loved seeing him get to know the real her, the one that is the completely opposite to what he thought.  This book had one of the sexiest scenes in that had me fanning myself while on the plane to Florida last week. Holy cow!
I didn't love Jo's character all that much. I admire her strength and determination at the face of such adversity.  But I tired quickly of Jo constantly putting herself down and the second guessing.  And Cam? Well he seemed a little obtuse. Did he really think inviting his ex-girlfriend over to his apartment was "no big deal?" Seriously? I didn't find that to be very believable at all and drifted into manufactured drama territory for me.
3 stars
Amazon: US • UK • CAN | iBooks | GR