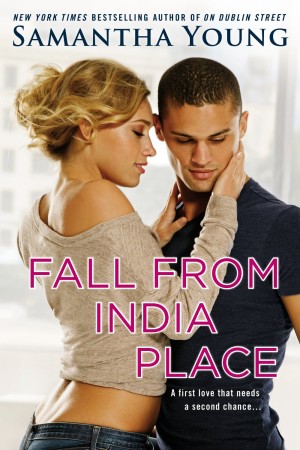 Fall from India Place
by
Samantha Young
Series:
On Dublin Street #4
Published by
NAL
,
Penguin
Publication date:
June 3, 2014
Genres:
New Adult
,
Romance
294 pagesFormat:
eARC
Source:
ARC via NetGalley
The New York Times bestselling author of On Dublin Street and Down London Road returns with a story about letting go of the past and learning to trust in the future...

When Hannah Nichols last saw Marco D'Alessandro, five long years ago, he broke her heart. The bad boy with a hidden sweet side was the only guy Hannah ever loved—and the only man she's ever been with. After one intense night of giving into temptation, Marco took off, leaving Scotland and Hannah behind. Shattered by the consequences of their night together, Hannah has never truly moved on.

Leaving Hannah was the biggest mistake of Marco's life, something he has deeply regretted for years. So when fate reunites them, he refuses to let her go without a fight. Determined to make her his, Marco pursues Hannah, reminding her of all the reasons they're meant to be together.

But just when Marco thinks they're committed to a future together, Hannah makes a discovery that unearths the secret pain she's been hiding from him, a secret that could tear them apart before they have a real chance to start over again...
Affiliate Disclosure: This post contains affiliate links. In plain English, this means that I may receive a small commission (at no cost to you) if you purchase something through the links provided. This small income goes back into my blog, so I can continue to create fun content for you. I appreciate my readers and make it my goal to be upfront and honest. Thank you for supporting my blog!
Book Review:
If you haven't noticed, I am totally bingeing on the On Dublin Street series. Even though this book was my least favorite, I'm still having a lot of fun reading these books. For me, this book suffered from too much back and forth drama (more on that later). Because of that I got reader whiplash and didn't enjoy the story as much as the previous books in the series.
Fall From India Place is set five years into the future. This time it's Hannah Nichols's turn in the spotlight. Over the last few books we've gotten to know Hannah as Braden and Ellie's little sister. We've seen little pieces of Hannah's unrequited love story in the last couple of books and now Samantha Young fills in the cracks. At twenty-two, Hannah is a busy bee in her probationary year teaching high school English during the day and helping the illiterate at night. An outsider might think she's altruistic (and she is kind-hearted), but really she is keeping herself busy to mask the hurt from the past.
Hannah Nichols has loved Marco D'Alessandro since she was fourteen. In this book we learn just how close Hannah and Marco were as teens and find out what tore them apart. Years after Marco disappeared, he shows up in Hannah's life, determined to win her over. But Hannah isn't quick to forgive him for breaking her heart.
Out of all the On Dublin Street books and novellas, Fall From India Place has been my least favorite so far. I felt like the author tried to combine all of the elements from previous ODS books into this one. Marco was Hannah's first love but her love was not returned…or so she thought (like Ellie and Adam). Something tragic in her past prevented her from moving forward despite her feelings for Marco (like Joss and Braden). For awhile, she and Marco had a sex-only type of relationship while trying to remain friends (like Nate and Olivia).
Most of all, I didn't really care for all of the back and forth "I-want-you-no-I-don't-want-you" that went on far too long. Hannah and Marco sort of reconcile early on in the book which meant they needed to break up to create some kind of conflict. And they did break up…multiple times. All of the mixed signals she threw to Marco annoyed me and trust me, it takes a lot for me to be annoyed with heroes and heroines.
What I did like was seeing where all of the couples were in their lives and marriages years since we last saw them.  Ellie and Adam, Joss and Braden, Nate and Olivia, and Cam and Jo are all extremely happy…and fertile. All of them have kids (and some have more than one!), which made the Sunday dinners at the Nicholses' so merry. I can't wait to read Echoes of Scotland Street because I have been DYING to get to Cole's story! Off I go!
2 stars
* I received an advanced copy from the publisher in exchange for an honest review.
Amazon: US • UK • CAN | iBooks | GR