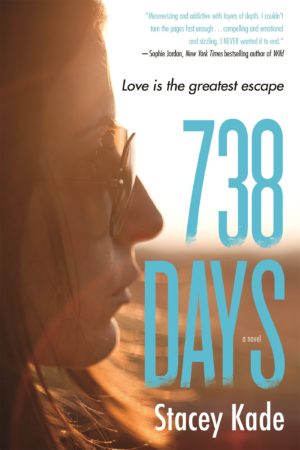 738 Days
by
Stacey Kade
Publication date:
June 7, 2016
432 pages
At fifteen, Amanda Grace was abducted on her way home from school. 738 days later, she escaped. Her 20/20 interview is what everyone remembers—Amanda describing the room where she was kept, the torn poster of TV heartthrob Chase Henry on the wall. It reminded her of home and gave her the strength to keep fighting.

Now, years later, Amanda is struggling to live normally. Her friends have gone on to college, while she battles PTSD. She's not getting any better, and she fears that if something doesn't change soon she never will.

Six years ago, Chase Henry defied astronomical odds, won a coveted role on a new TV show, and was elevated to super-stardom. With it, came drugs, alcohol, arrests, and crazy spending sprees. Now he's sober and a Hollywood pariah, washed up at twenty-four.

To revamp his image, Chase's publicist comes up with a plan: surprise Amanda Grace with the chance to meet her hero, followed by a visit to the set of Chase's new movie. The meeting is a disaster, but out of mutual desperation, Amanda and Chase strike a deal. What starts as a simple arrangement, though, rapidly becomes more complicated when they realize they need each other in more ways than one. But when the past resurfaces in a new threat, will they stand together or fall apart?
Affiliate Disclosure: This post contains affiliate links. In plain English, this means that I may receive a small commission (at no cost to you) if you purchase something through the links provided. This small income goes back into my blog, so I can continue to create fun content for you. I appreciate my readers and make it my goal to be upfront and honest. Thank you for supporting my blog!
Book Review:
The premise of 738 Days was interesting and was what made me pick up the book. Though, the quick nature of the romantic relationship and the dramatics in the latter part of the book was problematic. I felt like the author did a wonderful job in the beginning at accurately depicting a woman trying to overcome her traumatic past. Amanda's reactions to certain situations felt real and in no way felt like the author was trying to use her mental illness as a plot device, which I enjoyed.
The other thing that I really appreciated was the overarching theme of family and healing. The subplot in this book was how Amanda's abduction affected not just her, but her entire family—her mom, dad, and two sisters. For so long, Amanda had been so focused on her recovery—as so she should—that she didn't fully realize the toll it had taken on those closest to her. I really liked that the author shed light on this and the way she did it with her younger sister. It added depth and layers to the story.
But being as this is a romance, rather than a straight-up contemporary, my issues with that part of the story far outweigh the things I felt were done well. The beginning of this book had this addictive quality that keep me reading. But the plot started to go downhill and many elements started to feel cheap and shallow.
It seems lately that many of my complaints with romance novels is that the couple's relationship lacked depth or any development at all. Here, the author had laid the groundwork for a good romance—Amanda and Chase had good chemistry. I felt immediately endeared to Chase because he was just so freaking sweet and sensitive to Amanda's issues. I really liked him, and I'll admit that I was swooning a little. But the pacing of the romance made it nearly impossible for me to fully believe in it. From the time they meet until they have sex and say I love you is five days. As I've said before, I am fully aware that this happens in real life and I'm not saying it's not possible. But I didn't buy it here.
This book is 432 pages, which is quite long for a new adult contemporary romance. I think it would be easy for readers to get distracted by the length and forget that this couple has only known each other for a handful of days. But it was something that I couldn't quite overlook, especially considering Amanda's mental state in the beginning of the book (which was only about 10 days prior to the ending of the book).
Amanda went from locking herself in her bedroom closing, having full-blown panic attacks and flashback episodes in the beginning of the book to being able to face large crowds of people and paparazzi in a matter of a couple of days with little effect on her. That just didn't ring true to me, no matter the amount of pure will and self-determination.
If you really love movie star romances, you may want to give this a try. The writing is solid in parts and the romance is sweet. But you may struggle with the pacing, like I did.
* I received an advance copy from the publisher in exchange for an honest review.