I received this book for free from ARC e-book in exchange for an honest review. This does not affect my opinion of the book or the content of my review.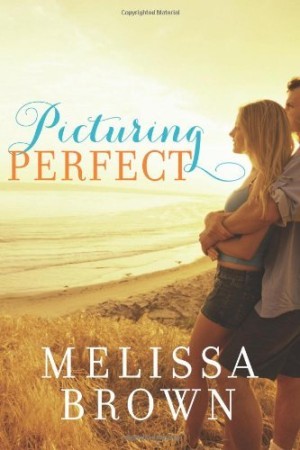 Picturing Perfect
by
Melissa Brown
Series:
Love of My Life #3
Published by
Montlake Romance
Publication date:
June 11, 2013
Genres:
New Adult
,
Romance
326 pagesFormat:
eARC
Source:
ARC e-book
Hadley Foster has always been a planner. But, since the age of nineteen, things haven't exactly gone according to plan… not at all. And the changes continue to mount when a trip to Europe with her best friend starts a domino effect in all aspects of her life. Suddenly, the future she had envisioned for herself seems unlikely to happen. It's time to make a new plan… or accept the dominoes as they fall. Jason Kelly has a great life. He's a successful self-published writer who's living his dreams. But, something is missing. Hadley Foster. Letting her slip through his fingers is one of his biggest regrets. Over time, he had to accept the idea of being without his first love as he watched her fall in love with someone else. When circumstances bring Jason and Hadley back into one another's lives, they're forced to deal with their past, their present and the possibility of a future together.

**Note from the author: You do not need to read either Bouquet Toss or Champagne Toast to follow this story. It is a stand-alone book that connects to Champagne Toast. **
Affiliate Disclosure: This post contains affiliate links. In plain English, this means that I may receive a small commission (at no cost to you) if you purchase something through the links provided. This small income goes back into my blog, so I can continue to create fun content for you. I appreciate my readers and make it my goal to be upfront and honest. Thank you for supporting my blog!
Book Review:
"Just because things aren't as you pictured them, doesn't mean they're any less perfect."
Picturing Perfect was a cute, heartwarming story and the perfect summer read.  I adored the characters in this novel and their journey to find love and happiness.  I will most definitely read the other novels in her "Love of my Life" series, especially since I know Jason Kelly will be in them.  Please note that you do not have to have read the other books to enjoy Picturing Perfect.
What I love most about Hadley is her resilience and determination.  Despite being put in rather unfortunate circumstances repeatedly, she comes out shining. Her father passed away of pancreatic cancer, which led her mother to go into a deep depression. As a result, Hadley lost her mother's comfort and friendship.
After a trip backpacking around Europe, Hadley develops a severe case pneumonia, and since she is unable to teach, Hadley is without a job. If that's not enough, her boyfriend, Tucker, (sidenote:  I can't say his name without it dripping with disgust and hatred) is a complete loser.  Tucker is more concerned with his appearances, his career, and with himself than his relationship with Hadley.  And don't even get me started on his evil mother.  Hadley, you deserve better!  Hadley ends up pregnant with his baby, and when she works up the nerve to tell Tucker (ugh), his knee-jerk reaction is to encourage her to get an abortion.
"Tucker was my safe place for three years, my secure dock in a sea of indecision as I dealt with my father's illness and death.  And now I had to sink or swim. It was time to let go and move on. Slowly, I pushed off from the dock that was Tucker Montgomery and prepared to swim…praying I wouldn't drown."
Things start looking up for Hadley after she gets a new job at a Sunnydale Association, a center that teaches lifeskills to developmentally disabled adults. What started out as a temporary job because she was too sick to return to teaching, becomes something more.  She is a natural with working with her students and becomes fast friends with her co-workers. Enter Jason Kelly.  Hadley has been in love with her Jason Kelly, her best friend, Auden's, brother since she was a teenager.  Little did she know, that Jason's feelings were reciprocated, but neither of them had a chance to tell each other how they felt.  As adults, they get their chance. Their relationship was reminiscent of Harper and he-who-shall-remain-nameless (to avoid any spoilers) in Taking Chances.  Jason Kelly is the perfect man.  There, I said it.  He stepped up to the plate when Tucker (eww) wouldn't.  He supported Hadley through her pregnancy and beyond when the child wasn't even his.  His dedication and devotion to Hadley was remarkable and incredibly touching.
"Thats the most beautiful thing I've ever read," I said. The red t-shirt simply said, "Once in a while, in the middle of an ordinary life…love gives us a fairy tale." "It's how I feel," he said, swallowing hard. "I think I"ve been in love with you since I was fifteen years old."
Sometimes life just happens and things don't turn out the way you plan.  This is something Hadley learned and the end result was more than she could likely have dreamed.  If you're looking for a cute summer read that will make you feel like you've been surrounded by a warm hug, this is for you.
* I received an copy from the author in exchange for an honest review.
About the Author

Melissa Brown is a hopeless romantic living in the Chicagoland area with her husband and their two children. Aside from writing, she enjoys reading and baking. She also has a slight obsession with actor Henry Cavill and the TV show New Girl. This is her third novel.
 Follow Melissa
Facebook | Twitter | Goodreads | Blog
Giveaway
Melissa Brown is giving away three signed paperback copies of Picturing Perfect. OPEN INTERNATIONALLY