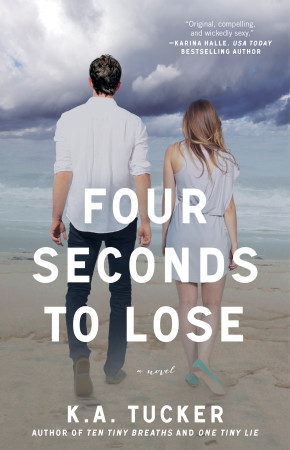 Four Seconds to Lose
by
K.A. Tucker
Series:
Ten Tiny Breaths #3
Published by
Atria
,
Simon & Schuster
Publication date:
November 4, 2013
Genres:
Contemporary Romance
,
New Adult
Narrator:
Elizabeth Louise
,
Sebastian York
Length:
12 hrs and 41 mins
345 pagesFormat:
Audiobook
Source:
Purchased
When a gorgeous young dancer walks through his door, a strip club owner must decide whether to follow his rules or his heart in the third novel by the author of One Tiny Lie and Ten Tiny Breaths.

Owning a strip club isn't the fantasy most guys expect it to be. With long hours, a staff with enough issues to keep a psych ward in business, and the police regularly on his case, twenty-nine-year-old Cain is starting to second guess his unspoken mission to save the women he employs. And then blond, brown-eyed Charlie Rourke walks through his door, and things get really complicated. Cain abides by a strict "no sleeping with the staff" rule. But being around Charlie challenges Cain's self-control…and it's been a long time since any woman has done that.

Twenty-two-year-old Charlie Rourke needs a lot of money, really fast, in order to vanish before it's too late. Taking her clothes off for men makes her stomach curl but Charlie tells herself that at least she's putting her acting and dancing skills to good use. And though her fellow dancers seem eager to nab their sexy, sophisticated, and genuinely caring boss, she's not interested. After all, Charlie Rourke doesn't really exist—and the girl pretending to be her can't get distracted by romance.

Unfortunately, Charlie soon discovers that developing feelings for Cain is inevitable, and that those feelings may not be unrequited—but losing him when he finds out what she's involved with will be more painful than any other sentence awaiting her.
Affiliate Disclosure: This post contains affiliate links. In plain English, this means that I may receive a small commission (at no cost to you) if you purchase something through the links provided. This small income goes back into my blog, so I can continue to create fun content for you. I appreciate my readers and make it my goal to be upfront and honest. Thank you for supporting my blog!
Book Review:
K.A. Tucker's Ten Tiny Breaths series has not let me down. Not once. I was thrilled to find out K.A. Tucker was going to write a book for Cain Ford, the reticent and mysterious night club owner.
Four Seconds to Lose is written in dual points-of-view. Tucker gives the reader both Charlie and Cain's perspective which I think enhanced the reading experience. Since Charlie was a completely new character, being inside her head was really important so that I could get to know her. But I also loved being in Cain's head since we really don't know much about it.
Charlie Rourke is a vulnerable, yet strong heroine who is running from her dangerous past. Tethered to some very dangerous people, she has been used to con people out a lot of money. Forced to put on a disguise and parade around as someone else, Charlie is growing tired to lying to people.  This charade is especially exhausting when she gets a job as a stripper at Penny's and meets her new boss, Cain Ford.  Sexual attraction overload commence.
Cain doesn't get involved with anyone, especially not his staff.  He's a pretty self-contained guy who doesn't put himself out there unless he has to and with Charlie he couldn't not be "involved" with her. I mean, the first time he saw her he was breathless. Cain's fascination with her grew when Charlie began stripping.  Charlie had absolutely no experience as a stripper and I found it incredibly sexy that Charlie channeled her nervous energy into something more useful—seducing Cain.
"She's the woman who stole my heart right out from me before I even realized she had her hands on it."
I loved Cain's character. He is very much a behinds-the-scenes guy. When we met Cain in Ten Tiny Breaths, I thought it was a little creepy that this young dude owned and operated a strip club. But his reasons for opening Penny's is very altruistic—he opened it as a way to help women. Using the money he earned from fighting in underground fights, he opened this strip club to ensure that the women who work for him are safe and out of harm's way.
I really liked Four Seconds to Lose. Underneath Cain's mystery exterior is a deeply caring guy who will stop at nothing to protect those close to him. Those types of heroes are my favorite! I love how Tucker revealed this story, tying in Charlie's background and peeling back Cain's layers. The building chemistry between Charlie and Cain was potent from the very beginning, which only made me devour this book more. This story was equal parts action and sexy romance. I have to say that Tucker is one of my favorite new adult authors. She always puts the right amount of steam without crossing the line in to erotica.
"His lips steal my breath completely, kissing me with demanding thirst, as if he's been waiting forever to do this and he'll be waiting forever to do it again."
4 stars
Audiobook Comments:
Elizabeth Louise and Sebastian York are a match made in audio book heaven. They can do no wrong in my opinion.  Elizabeth Louise has narrated all of the Ten Tiny Breaths books up to this point and she perfectly captures each character, including Charlie. Her voice is very age appropriate and as always, her performance is very emotional and believable. She is vulnerable at the right times, funny when Charlie is funny, and sexy at the appropriate times. I love her narration style!  And you all know how I feel about Sebastian York. Sebastian's voice is very deeply and resonant and isn't the right fit for every character.  But he was the perfect Cain Ford.
Amazon: US • UK • CAN | iBooks | GR