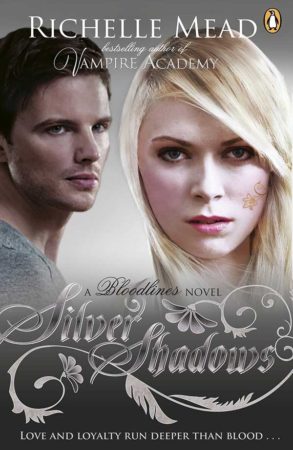 Silver Shadows
by
Richelle Mead
Series:
Bloodlines #5
Published by
Razorbill
Publication date:
July 29, 2014
Genres:
Paranormal Romance
,
Young Adult
Narrator:
Alden Ford
,
Emily Shaffer
Length:
10 hrs and 41 mins
400 pagesFormat:
Audiobook
,
eBook
Source:
Borrowed
,
Purchased
Sydney Sage is an Alchemist, one of a group of humans who dabble in magic and serve to bridge the worlds of humans and vampires. They protect vampire secrets—and human lives.

In The Fiery Heart, Sydney risked everything to follow her gut, walking a dangerous line to keep her feelings hidden from the Alchemists.

Now in the aftermath of an event that ripped their world apart, Sydney and Adrian struggle to pick up the pieces and find their way back to each other. But first, they have to survive.

For Sydney, trapped and surrounded by adversaries, life becomes a daily struggle to hold on to her identity and the memories of those she loves. Meanwhile, Adrian clings to hope in the face of those who tell him Sydney is a lost cause, but the battle proves daunting as old demons and new temptations begin to seize hold of him. . . .

Their worst fears now a chilling reality, Sydney and Adrian face their darkest hour in this heart-pounding fifth installment in the New York Times bestselling Bloodlines series, where all bets are off.
Affiliate Disclosure: This post contains affiliate links. In plain English, this means that I may receive a small commission (at no cost to you) if you purchase something through the links provided. This small income goes back into my blog, so I can continue to create fun content for you. I appreciate my readers and make it my goal to be upfront and honest. Thank you for supporting my blog!
After a rather disappointing fourth book, I'd hoped that SILVER SHADOWS would set the Bloodline series back on the path to greatness. I felt slightly more engaged reading this book when compared to its predecessor but still felt like the series has lost its drive.
The end of the The Fiery Heart was something I really felt coming from the beginning of the series. What happens sets the series in a new direction and takes the gang away from its home base in Palm Springs while they search for leads on the disappearance of one of their own.
Adrian falls back into his own habits while trying to aid in the search and forget the pain that he is feeling. His sanity starts to slip and the voice of his dead aunt reverberates in his head. This weird internal dialogue from Aunt Tatiana throughout the book didn't add anything to the story or Adrian's character, except annoyance.
Like The Fiery Heart, Silver Shadows is told in dual point of view. We get insight into Alchemist compound where Sydney and other Alchemists are being held, as well as the horrible things she endures while trapped there. I really enjoyed seeing Sydney use her magic to help everyone; she's a far cry from who she was a few books ago. This part and the breakout scene was the best part of the book because of all the action.
The main villain was a super villain with very little nuance. Sheridan is supposed to be a few years older than Sydney. While I understand that anyone who works in that building has to be hardened and horrible, Sheridan's character was too bad to be believed.
The Adrian and Sydney dynamic that was full of tension and banter in the first three books was nearly gone. At least in Vampire Academy, there was always a source of tension between Rose and Dimitri whether it be romantically or otherwise. I like having a slight sense of anxiety and anticipation. At this point in the Bloodlines series, I always know things will be okay and I'm starting to not really care about what happens.
* I purchase the ebook myself but borrowed the audiobook from my local library.