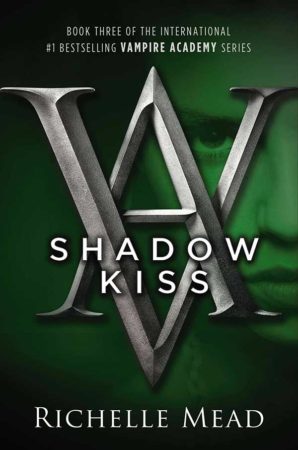 Shadow Kiss
by
Richelle Mead
Series:
Vampire Academy #3
Published by
Razorbill
Publication date:
November 13, 2008
Genres:
Paranormal Romance
,
Young Adult
464 pagesFormat:
eBook
Source:
Purchased
Is Rose's fate to kill the person she loves most? It's springtime at St. Vladimir's Academy, and Rose Hathaway is this close to graduation. Since Mason's death, Rose hasn't been feeling quite right. She has dark flashbacks in the middle of practice, can't concentrate in class, and has terrifying dreams about Lissa. But Rose has an even bigger secret . . . .She's in love with Dimitri. And this time, it's way more than a crush.

Then Strigoi target the academy in the deadliest attack in Moroi history, and Dimitri is taken. Rose must protect Lissa at all costs, but keeping her best friend safe could mean losing Dimitri forever…
Affiliate Disclosure: This post contains affiliate links. In plain English, this means that I may receive a small commission (at no cost to you) if you purchase something through the links provided. This small income goes back into my blog, so I can continue to create fun content for you. I appreciate my readers and make it my goal to be upfront and honest. Thank you for supporting my blog!
There is a moment in each of Richelle Mead's series that is designed to emotionally slaughter you. In the Vampire Academy series, that moment is in the second half of SHADOW KISS.
After suffering such a huge loss, Rose is determined now more than ever to finish school at the Academy and step into her guardian shoes. The school hosts its annual field experience for the guardian novices, which gives the dhampirs a chance at testing their skills of guarding a Moroi. But during the test, Rose starts to see the ghost of a lost loved one. Soon, she realizes that he's there to warn her of something. But what? Could danger be lurking inside the protected wards of the school or is her mental state slipping?
Just like the previous books in the series, Shadow Kiss is an exciting, fast-paced story with moments that will leave you swooning and more than a little heartbroken. So much happens in this book, things that you won't see coming. In the last quarter of the book, throw out what you thought was going to happen because Mead takes the series in a completely different direction. Even though I've read the series before, I still found myself affected by what happened.
Mead makes readers wait for Rose and Dimitri moments in this one. But I sort of love that they are few and far between because it makes the times where they are together even more special and meaningful. One of my favorite moments was when Dimitri shows up to Rose's community service. And you know he was there just so he could spend time with her and no one would question it. How sweet is that?
I've read a few of Richelle Mead's series and what I always admire about her is her storytelling. Each book has its own solid story arc but also moves along the arc for the series. Here, Shadow Kiss hints at placement for Lissa in the Royal Court, while solidifying Adrian as a possible love interest for one of the characters.
This really is a fun and campy young adult paranormal romance series. I whole-heartedly recommend it because it's so well-crafted and wildly entertaining. Up next, BLOOD PROMISE! I know it's going to hurt, too.