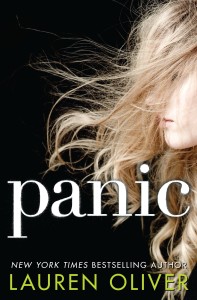 Panic
by
Lauren Oliver
Published by
Harper Teen
,
HarperCollins
Publication date:
March 4, 2014
Genres:
Young Adult
Narrator:
Sarah Drew
Length:
8 hrs and 11 mins
408 pagesFormat:
Audiobook
Source:
ARC via NetGalley
Panic began as so many things do in Carp, a dead-end town of 12,000 people in the middle of nowhere: because it was summer, and there was nothing else to do.

Heather never thought she would compete in Panic, a legendary game played by graduating seniors, where the stakes are high and the payoff is even higher. She'd never thought of herself as fearless, the kind of person who would fight to stand out. But when she finds something, and someone, to fight for, she will discover that she is braver than she ever thought.

Dodge has never been afraid of Panic. His secret will fuel him, and get him all the way through the game, he's sure of it. But what he doesn't know is that he's not the only one with a secret. Everyone has something to play for.

For Heather and Dodge, the game will bring new alliances, unexpected revelations, and the possibility of first love for each of them—and the knowledge that sometimes the very things we fear are those we need the most.
Affiliate Disclosure: This post contains affiliate links. In plain English, this means that I may receive a small commission (at no cost to you) if you purchase something through the links provided. This small income goes back into my blog, so I can continue to create fun content for you. I appreciate my readers and make it my goal to be upfront and honest. Thank you for supporting my blog!
I am such a HUGE fan of Lauren Oliver's beautiful writing style.  When I saw she was writing a standalone with the central theme of fear, I knew I had to read it.  Her Delirium series was all about love and the fight for love in a world where love is suctioned out form society drop by drop.  It was one of the most emotionally gripping novels, so I wanted to see what she would do with fear and people's reactions to their greatest phobias.
Unlike Delirium, this book is not a dystopian book, it's contemporary.  The book is told in dual point of view in third person narrative.  The story centers around a group of teenagers who have just graduated high school:  Bishop, Heather, Dodge, and Natalie.  Our two narrators are Dodge and Heather.  Bishop, Hannah, and Natalie are best friends.  Natalie is the more follower and Hannah being more the leader.  And Bishop? He just tags along.
What is Panic?
Panic is a game that happens every summer under the radar of law enforcement. The participants are recent graduates of Carp High School.  The goal of the game is to put the participants in the middle of their greatest fears.  Those who make it through the challenges move on and those who don't are out of the game.  The game is administered by a secret set of judges predetermined prior to the start of the games.  The judges are in charge of notifying the players of the location of the next challenge.  The winner of Panic gets a large sum of cash pot that the players contribute to throughout senior year.
At first, Natalie was going to be the only participant, but at the last minute Heather decides she wants to join the game.  Dodge is the sort of fourth wheel to the trio.  Prior to the games, he really didn't hang around the three of them.  But he did have a major crush on Natalie, which I found really cute.  Dodge, Natalie, and Heather are put into some terrifying situations. Through each challenge their bond strengthens.
Panic is a more young adult contemporary than a romance.  I went into this book assuming it was a romance, but it was more a coming of age novel.  As Natalie, Dodge and Hannah, are put through these fear-type challenges, they come to realizations about themselves.  Our two main characters, Dodge and Hannah, have their own set of problems outside of the Panic world that drive them to win.  I loved Dodge and Hannah's strength and determination to win.  Both had so much at stake personally with the game and they both would do almost anything to win.
Audiobook Comments:  Lauren Oliver has a cinematic way of writing.  She writes suspense and action wonderfully and it keeps me on the edge of my seat.  That combined with Sarah Drew's brilliant narration is what made me enjoy Panic so much.  I'm not sure I would have enjoyed this book as much had I not listened to it.  I listened to Oliver's Delirium series on audio and fell in love with Sarah Drew's emotional performance.  Panic was no exception.  Drew's voice sped up in the action sequences, leaving me hanging on her every word.  In the emotional scenes, she beautiful delivered the lines with so much feeling.  I hope she continues to narrate Lauren Oliver's books.  The Drew/Oliver combination is a sure thing.
* I received this audio book from the publisher in exchange for an honest review.