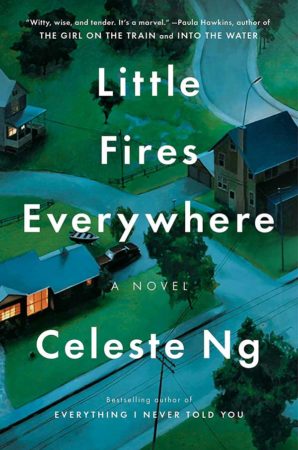 Little Fires Everywhere
by
Celeste Ng
Published by
Penguin Press
Publication date:
September 12, 2017
Genres:
Literary Fiction
Narrator:
Jennifer Lim
Length:
11 hrs and 27 mins
352 pagesFormat:
Audiobook
,
eARC
Source:
Publisher
From the bestselling author of Everything I Never Told You, a riveting novel that traces the intertwined fates of the picture-perfect Richardson family and the enigmatic mother and daughter who upend their lives

"I read Little Fires Everywhere in a single, breathless sitting." –Jodi Picoult

"Witty, wise, and tender. It's a marvel." – Paula Hawkins

In Shaker Heights, a placid, progressive suburb of Cleveland, everything is planned – from the layout of the winding roads, to the colors of the houses, to the successful lives its residents will go on to lead. And no one embodies this spirit more than Elena Richardson, whose guiding principle is playing by the rules.

Enter Mia Warren – an enigmatic artist and single mother – who arrives in this idyllic bubble with her teenaged daughter Pearl, and rents a house from the Richardsons. Soon Mia and Pearl become more than tenants: all four Richardson children are drawn to the mother-daughter pair. But Mia carries with her a mysterious past and a disregard for the status quo that threatens to upend this carefully ordered community.

When old family friends of the Richardsons attempt to adopt a Chinese-American baby, a custody battle erupts that dramatically divides the town--and puts Mia and Elena on opposing sides. Suspicious of Mia and her motives, Elena is determined to uncover the secrets in Mia's past. But her obsession will come at unexpected and devastating costs.

Little Fires Everywhere explores the weight of secrets, the nature of art and identity, and the ferocious pull of motherhood – and the danger of believing that following the rules can avert disaster.
Affiliate Disclosure: This post contains affiliate links. In plain English, this means that I may receive a small commission (at no cost to you) if you purchase something through the links provided. This small income goes back into my blog, so I can continue to create fun content for you. I appreciate my readers and make it my goal to be upfront and honest. Thank you for supporting my blog!
"Sometimes, just when you think everything's gone, you find a way." Mia racked her mind for an explanation. "Like after a prairie fire. I saw one, years ago, when we were in Nebraska. It seems like the end of the world. The earth is all scorched and black and everything green is gone. But after the burning the soil is richer, and new things can grow." She held Izzy at arm's length, wiped her cheek with a fingertip, smoothed her hair one last time. "People are like that too, you know. They start over. They find a way."
In Little Fires Everywhere, Celeste Ng gives readers an intimate look into the lives the residents of Shaker Heights, a picture-perfect subdivision filled with manicured lawns and buried secrets. A free-spirited outsider and her daughter move to the neighborhood and threaten the seemingly flawless facade when a custody battle ensues, causing upheaval within the Richardson family.
I've seen so many readers love Ng's Everything I Never Told You, so I picked this book up, and I am so glad that I did. This book was a complete surprise for me. What I loved the most about this book was the character development. I felt like I knew each and every character so deeply and so completely.
Mia and Pearl rent a small duplex from Elena Richardson. Soon Pearl befriends the Richardson children, Trip, Moody, and Lexie. Even the youngest, Izzie seems to be bewitched by the Warrens, namely the artistic Mia. Everywhere they go is a source of inspiration for Mia, a renowned photographer. Though, they never stay in one location for very long. Mia pours herself into her art, handpicks a few photos to sell at a New York art gallery, and then they pack up and move again. Though this time, Mia promises Pearl they will stay.
To a parent, your child wasn't just a person: your child was a place, a kind of Narnia, a vast eternal place where the present you were living and the past you remembered and the future you longed for all existed at once. You could see it every time you looked at her: layered in her face was the baby she'd been and the child she'd become and the adult she would grow up to be, and you saw them all simultaneously, like a 3-D image. It made your head spin. It was a place you could take refuge, if you knew how to get in. And each time you left it, each time your child passed out of your sight, you feared you might never be able to return to that place again.
The perfectly planned Shaker Heights and the families residing there are a stark contrast to Mia and Pearl Warren, the mother and daughter who move into town. The Warrens's nomadic lifestyle challenges everything their landlords, the Richardson, and the rest of Shaker Heights hold dear: structure, order, and planning.
This book would be perfect for book clubs, as there is so much to talk about. The juxtaposition of affluence and poverty is used to highlight a power balance between the characters. Everything Mia and Pearl own comes from Goodwill, while the Richardson's appear to have it all in excess. Even the McCullough/Bebe custody battle begs the question of how far wealth will take you.
Another interesting point is the close relationship between Mia and Pearl. Even though they don't have much they have each other. Meanwhile, the Richardson's have the huge house, a great reputation, four health children. But the Mrs. Richardson's relationship with her children is nearly nonexistent. The suggestion in the novel is that they focus on all the unimportant things. In the 11 months Mia worked for the Richardson's knew the Richardson children more than her own mother.
There were a few slow moments in the novel, but this didn't take away from my overall enjoyment. Readers like me who enjoy character-driven stories will enjoy this book. The writing was also really good.
Audiobook comments:
I listened to the audio version and I loved the narrator, Jennifer Lim. I hadn't ever listened to her narrate a book before, but I really liked her style: not a flat delivery but not overly dramatic either.
* Thanks to Penguin Press & Penguin Audio for providing me for a copy for review. Receiving this book for free did not affect my opinion.