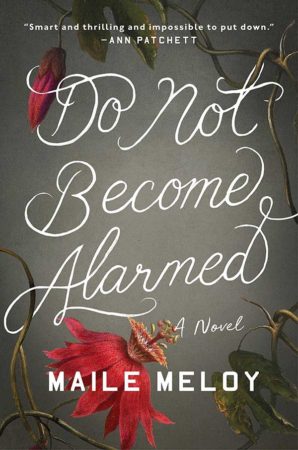 Do Not Become Alarmed
by
Maile Meloy
Published by
Penguin Audio
Publication date:
June 6, 2017
Genres:
Fiction
,
Suspense
Narrator:
Maile Meloy
Length:
8 hrs and 58 mins
352 pagesFormat:
Audiobook
The sun is shining, the sea is blue, the children have disappeared.

When Liv and Nora decide to take their husbands and children on a holiday cruise, everyone is thrilled. The adults are lulled by the ship's comfort and ease. The four children—ages six to eleven—love the nonstop buffet and their newfound independence. But when they all go ashore for an adventure in Central America, a series of minor misfortunes and miscalculations leads the families farther from the safety of the ship. One minute the children are there, and the next they're gone.

The disintegration of the world the families knew—told from the perspectives of both the adults and the children—is both riveting and revealing. The parents, accustomed to security and control, turn on each other and blame themselves, while the seemingly helpless children discover resources they never knew they possessed.

Do Not Become Alarmed is a story about the protective force of innocence and the limits of parental power, and an insightful look at privileged illusions of safety. Celebrated for her spare and moving fiction, Maile Meloy has written a gripping novel about how quickly what we count on can fall away, and the way a crisis shifts our perceptions of what matters most.
Affiliate Disclosure: This post contains affiliate links. In plain English, this means that I may receive a small commission (at no cost to you) if you purchase something through the links provided. This small income goes back into my blog, so I can continue to create fun content for you. I appreciate my readers and make it my goal to be upfront and honest. Thank you for supporting my blog!
What happens when one decision turns into your worst nightmare? Maile Meloy's newest novel explores this question when two cousins and their families go on a cruise to South America.
During an expedition off the ship, a group of passengers explore a local beach. A group of men tied to the drug ring kidnap several children who'd accidentally stumbled upon the aftermath of a murder. This happens when their mothers weren't paying attention. Nora and Liv's worlds come crashing down as the police struggle to come up with leads due to internal corruption.
Naturally once everyone gets over the initial shock and face reality, they start to play the blame game. Whose fault was it? Was it Nora's who sauntered off to the forest with the tour guide? Or Liv who fell asleep when she was supposed to be on watch?
The premise of this novel was very alluring—two American families go on what was supposed to be a relaxing vacation with their children but the children are taken, with little to no information on who took them. Instead of getting the story from the perspective of the parents, the author gives us the children's side of the story as well, which was an interesting angle. But at the same time, that took the suspense and mystery out of it.
The writing itself was very dull and lifeless. The characters were flat, lackluster, and extremely unlikable without any defining or redeeming qualities. I don't feel like any of them truly changed or evolved from beginning to end. The main thing that kept me from enjoying this book more was that I felt like the author was just telling me the story as opposed to allowing me to feel it. It very much felt like she was giving the reader a play-by-play of this happened and then this and then this.
Audiobook comments:
The author narrated this book. Her diction and speaking voice was pleasant and not a distraction. But being as though much of the novel is narrated by characters who speak Spanish, the accents she used weren't great. I think the audiobook would have benefitted from someone with more experience with accents.
* Thank you to Penguin Random House Audio for providing me with this audiobook for review. Receiving this audiobook for free did not affect my opinion.