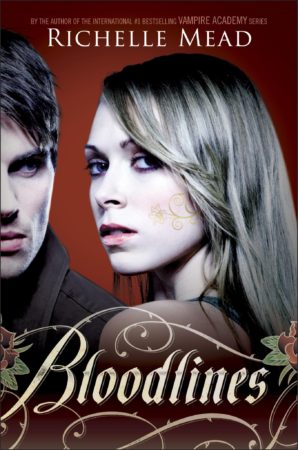 Bloodlines
by
Richelle Mead
Series:
Bloodlines #1
Published by
Listening Library
,
Razorbill
Publication date:
August 23, 2011
Genres:
Paranormal Romance
,
Young Adult
Narrator:
Emily Shaffer
Length:
12 hours and 53 minutes
448 pages pagesFormat:
Audiobook
,
eBook
,
Hardcover
Source:
Borrowed
,
Purchased
The first book in Richelle Mead's New York Times bestselling Bloodlines series—now in paperback
The first book in Richelle Mead's New York Times bestselling Bloodlines series

When alchemist Sydney is ordered into hiding to protect the life of Moroi princess Jill Dragomir, the last place she expects to be sent is a human private school in Palm Springs, California.

Populated with new faces as well as familiar ones, Bloodlines explores all the friendship, romance, battles, and betrayals that made the #1 New York Times bestselling Vampire Academy series so addictive--this time in a part-vampire, part-human setting where the stakes are even higher and everyone's out for blood.
Affiliate Disclosure: This post contains affiliate links. In plain English, this means that I may receive a small commission (at no cost to you) if you purchase something through the links provided. This small income goes back into my blog, so I can continue to create fun content for you. I appreciate my readers and make it my goal to be upfront and honest. Thank you for supporting my blog!
I first started reading the Bloodlines series back in 2012 (I think) when I discovered the amazingness of Richelle Mead's Vampire Academy series. I read The Indigo Spell shortly after its release but never got around to finishing the next book, The Fiery Heart. So when I needed a fun series to entertain me while I packed up my apartment in preparation for a move, I thought it was the perfect time for some Syndrian!
For those of you that didn't read Vampire Academy (read my review), Sydney is an Alchemist. What you need to know in a nutshell is that Alchemists know about the existence of the Moroi and dhampirs and they are there to basically act as a team to keep humans from finding out about them. They are religious and think that the Moroi (and even the dhampirs) are unnatural demonic beings.
Sydney is the heroine of the series, whom we met in the VA series when she worked with Rose as she tracked down Dimitri. She became rather fond of Rose and even began to like her, something she's had to keep hidden from her peers. In Bloodlines, she's assigned to help keep Jill Dragomir safe, as there have been threats to her life. Much to her dismay, she has to pose as family Jill and Eddie (Jill's guardian).
The best part of this series is Adrian. I was elated when he shows up in Bloodlines. His sharp and witty commentary adds so much to the story and helps to loosen up an extremely uptight Sydney. I liked watching him get under her skin!
I felt like Bloodlines was a good "setup" book much like many other series books from Richelle Mead. It sets the stages and leaves several storylines ripe for future exploration. In its own right, I thought it moved a little slow, perhaps due to being in Sydney's head. I really like Sydney but she isn't a very interesting narrator (at least in the beginning).
Audiobook Comments:
I don't have much to add by way of audiobook comments. This series is narrated by Emily Shaffer. Her narration style is straightforward, without a lot of flair. But I enjoy the tone of her voice even though she doesn't "put on a show."
* I borrowed the audiobook from my local library but I own the eBook and a physical copy, too. 🙂