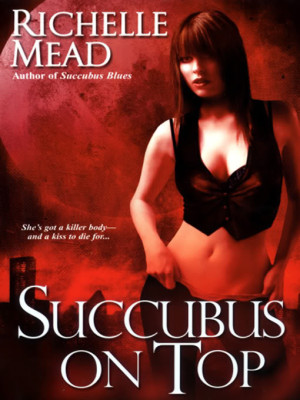 Succubus on Top
by
Richelle Mead
Series:
Georgina Kincaid #2
Published by
Kensington
Publication date:
January 1, 2008
Genres:
Paranormal Romance
Format:
eBook
Source:
Purchased
Love hurts, and no one knows it better than Georgina Kincaid. If she so much as kisses Seth Mortensen, the shy, sexy writer she's been dating, she'll drain his life force. Admittedly, the shape shifting and immortality perks of a succubus are terrific, but it's completely unfair that a she-demon whose purpose is seduction can't get down with the one mortal who accepts her for who she is. . .
It's not just her personal life that's in chaos. Doug, Georgina's co-worker at a local bookstore, has been exhibiting bizarre behavior, and Georgina suspects something far more demonic than double espressos. She could use an assist from Bastien, an irresistibly charming incubus and her best immortal friend, but he's giving Georgina some highly distracting come-hither vibes. Georgina is going to have to work solo on this one--and fast, because soon, Doug's life won't be the only one on the line. . .
Affiliate Disclosure: This post contains affiliate links. In plain English, this means that I may receive a small commission (at no cost to you) if you purchase something through the links provided. This small income goes back into my blog, so I can continue to create fun content for you. I appreciate my readers and make it my goal to be upfront and honest. Thank you for supporting my blog!
"I'm a succubus.  My entire existence relies on making people – men in particular – believe and see what they want in me. I can switch from simpering virgin to sultry dominatrix in a heartbeat. All it takes is a bit of shape-shifting and a dash of playacting."
Succubus on Top was a phenomenal follow-up up to Succubus Blues.  I am so in love with the Georgina Kincaid series and I'm only two books into the series.  The characters and the storyline are phenomenal.  Most of all I love Georgie's witty and quirky internal monologue.  It adds a lot of humor to the story's dark undertones.  Once again Richelle Mead adds her magical touch to a book and it becomes instant book crack.
To recap what's happened so far, Georgina Kincaid is a succubus, damned to sleep with men for all of eternity, suck out their life force (while at the same time slicing off a few years of their life) and steal their souls.  Even though she is immortal, she needs this life force in order to survive, shapeshift, etc.  However, for a long time she has been able to fly under the radar and do only the bare minimum, doing just enough to keep herself alive.  Georgie has a conscious and has only been sleeping with scuzzy, sleazy men.  That is, until the events in book one led her to pick up the succubus reins and actually do the work she's supposed to.  Now, in book two, she's back in the succubus game going after attractive, good men and seducing them.
There's just one problem.  Seth.  Georgie is with Seth.
Seth Mortensen and Georgie have just started dating. I hate to even call it dating because the devotion they have for each other and the connection between them runs so deep that it makes dating sound like too light of a term.  But I'll go with dating.  So, they're together – secretly.  But due to the nature of what Georgie is, they can't be together intimately. HUGE BUMMER – for them and for the reader.  I was sexually frustrated for them.  Succubus on Top focuses on Georgie and Seth's relationship as they try to navigate through the uncharted waters of succubus/human togetherness.  Come to find out – it's hard (in more ways than one).
"You can't honestly think you can have a future with him. Or that you two can stay chaste forever. For Christ's sake, even if you can keep your hands off him, no human male's going to stay celibate for long. Especially one with a large fan base."
"A small part of this was because I didn't have a good track record with serious relationships. The larger part was that doing much more than hand-holding with a human inevitably lead to me sucking away some of his life. But hey, all couples have their stumbling blocks, right?"
Georgie works at the local bookstore, Emerald City (sort of like a corporate bookstore like Barnes and Noble).  In her spare time she hangs out with her devilish gang, all of whom I found rather amusing and entertaining.  Hugh is an imp, whose main job is to collect souls for the dark side.  But he daylights as a plastic surgeon.  We have Peter, a vampire, who is domestically talented, loves hosting parties and makes a mean souffle.  Then there's Cody, another much younger vampire and Peter's apprentice, and he's super goofy.
So much happens in Succubus on Top.  There are several storylines going on at one time.  I don't say that in a bad way, it actually works quite well (as if I'd expected less from Richelle Mead).  Georgie notices that her friend, Doug, and his band are doing extremely well and garnering a lot of attention in the Seattle music world – like, really freakishly well.  But that's not all, Doug's personality has changed overnight to this cocky, energetic, happy-go-lucky guy with no fear.  Other members of the band and her coworkers also exhibit similar traits.  All of their talents are amplified and enhanced and Georgie starts to wonder whether there is something supernatural afoot.
If that's not enough for her to deal with, Georgie's best friend from centuries past, Bastien, shows up from Detroit with a plan to take down a radio talk show host.  Not just any talk show host, Dana Dailey, a right-wing conservative talk show host and head of this organization.  Bastien enlists Georgie's help in his Dana Dailey takedown, despite her reluctance. Both of them shapeshift into a blonde-haired brother and sister, Mitch and Tabitha,   in an attempt to fit in with their suburban surroundings.  Their first undercover reconnaissance involves a "Barbecue in November" themed party.  At this party, Georgie gets cornered by a group of suburban Stepford wives and they grill her on her stamping abilities.  This whole scene was so funny.  Georgie was so uncomfortable.  This was so not Georgie's style.
"Gee, it looks time consuming," I told them, wishing desperately that I was somewhere else. I was sure I could have held my own in a cigar and lawn mower conversation better than a stamping one."
"Do you guys work?" I asked, wondering at their frequent use of "all day." A century ago, I wouldn't have given it a thought.  But this was the age of the so-called modern woman. We weren't supposed to lounge around in parlors and pass out from wearing corsets."
In addition to the Doug and Bastien situations, Georgie is battling with her feelings for Seth and with the guilt that comes with her job as a succubus.
"I questioned whether I was in love yet. How would I know? What was love anyway? I ticked off a list as my hands held tightly to his back. Affection. Connection. Understanding. Acceptance. All these things he gave me. Those were parts of love. All these things he offered freely, no matter how terrible each new discovery about me was. I wondered whether I returned as much as I received. Did I have any right to be in this relationship? Somehow I doubted it, yet it made me want him all the more."
Georgie left the mortal world with guilt on her shoulders after she cheated on her husband.  When an imp made her an offer of immortality, she couldn't refuse it.  She wanted to escape her sad reality and start over. However, for centuries her life is filled with meaningless love connections and empty feelings.  Until Seth.  He lit up her world in an instant.  Seth and Georgie are on fire.  There is this sort of innocence to their relationship, not because they haven't had sex, but because neither of them know what to do with the depth of their feelings for each other.
"…being with you feels so right…like it's always been meant to be. You make me believe in a higher power for once in my life."
"The feel of Seth's body curled by mine under the covers was tantalizing, a cruel whisper of the restrictions around us."
All of these storylines come together and at the end I was left scrambling for book three, wanting more! Seth is one of my most favorite book boyfriends.  Why?  Well, I'll tell you.  He has this quiet demeanor, but when he speaks it is powerful. The way he communicates with Georgie is absolutely breathtaking.  He says some of the sweetest, most beautiful things to her that made my heart melt.  But it's his patience and self control that has me swooning.  He is so incredibly understanding and handles what she does exceptionally well.
I cannot wait to move on to book 3, Succubus Dreams.  I've been told that it is a doozy and will knock me on my behind and make scream and cry and drop dramatically on my bed yelling, "WHY WHY WHY!"  Sounds perfect.
Find the Georgina Kincaid Series Reading Order HERE along with all of Richelle Mead's other series.
Buy on Amazon Kindle
Add series on Goodreads