"Waiting On" Wednesday is a weekly event, hosted by Breaking the Spine.
REIGNITE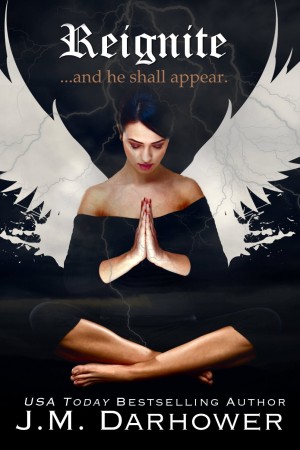 Reignite
by
J.M. Darhower
Series:
Extinguish #2
Published by
Self-Published
Publication date:
October 13, 2014
Genres:
Paranormal Romance
151 pages
The moment the short-lived apocalypse came to an end, life returned to normal. Mortals continued on with their oblivious existences while the earth healed and flowers again bloomed, the devastation instantly wiped away. It was as if it had never happened.

But it did.

Luce knows. He's cursed to remember every moment, forced to live with everything he has done. Suddenly finding himself out of confinement, he's faced with a decision: where to call "home". Free will turns out not to be the freedom he expects when the only thing he wants doesn't know he exists.

Serah woke up with no memory of where she came from or who she was before that moment. Struggling to adapt to the world as a mortal, she's haunted by a set of bright blue eyes that always seem to be watching her. She can't shake the feeling that he could be her salvation… if only she can remember him before it's too late.

Lucifer didn't fall from Grace alone. He's not the only angel with a grudge, nor is he the only one fascinated by his beautiful mortal.

The road to Hell is paved with good intentions...
Affiliate Disclosure: This post contains affiliate links. In plain English, this means that I may receive a small commission (at no cost to you) if you purchase something through the links provided. This small income goes back into my blog, so I can continue to create fun content for you. I appreciate my readers and make it my goal to be upfront and honest. Thank you for supporting my blog!
Release Date: October 13, 2014
Pre-Order:  KINDLE
Add on Goodreads
Why I'm waiting:  I AM SO FREAKING EXCITED FOR THIS BOOK!!!  I read Extinguish last year (Read My Review) and LOVED it. It's a paranormal romance between the world's most unlikely pair. It's sexy, tragic, and will mess with your mind.  I can't say enough good things about it! I will drop everything for this book!
QUESTION:
What books are you waiting for this week?