"Around the Book Blogosphere" is a feature to share posts from other book blogs or other book-related websites that I have enjoyed reading.  Book blogging is all about sharing the love, right?
✥  ✥  ✥
THE YOUNG ELITES by Marie Lu Chapter Spotlight!
I haven't read Marie Lu's Legend series, but the reviews on Goodreads are pretty good.  Parajunkee spotlighted The Young Elites, which is the first book in Lu's upcoming young adult series out on October 7th.  Check out Parajunkee's post to meet Raffaele and read a Chapter Excerpt.
"Some hate us, think us outlaws to hang at the gallows.
Some fear us, think us demons to burn at the stake.
Some worship us, think us children of the gods.
But all know us."
✥  ✥  ✥
Books That Need More Attention Blog Hop
Stuck in Books is hosting a blog hop where bloggers give away books that they think need more attention!  Follow along with all the blogs from October 1st through October 14th!  Here are some of the bloggers' posts:
✥  ✥  ✥
THE HARDEST BOOKS TO GET THROUGH
This week the Top Ten Tuesday topic (meme hosted by The Book and the Bookish) was "The Hardest Books to Get Through."  Bloggers were told that they could interpret that however they liked. I saw a lot of variety in the posts.
I loved Belle of the Literati's post! She did a lists of books that were emotionally draining (a.k.a. FEELINGS). I laughed at her post title, "I Just Have A Lot of Feelings."
✥  ✥  ✥
RAG TIME WITH UNCLE NEAL & JEFF
Black Heart Reviews have a HILARIOUS feature on their blog called Rag Time With Uncle Neal and Jeff "where two drunk dudes read mommy porn. All for your viewing pleasure."  This past week the guys read a scene from Alessandra Torre's The Girl in 6E.
✥  ✥  ✥
HOW DO YOU EXPERIENCE A BOOK?
Fiktshun wrote a great article on how she experiences a book.  I had to agree with a lot of what she had to say. It was very thoughtful and made me think about how I experience a book.  Read her article and tell me how YOU experience a book!
"I can't experience a book as I need to when the story doesn't replace reality. I can't experience a story when all I can see is the author behind the words. I can't read a book where there's too much telling – "He walked up the stairs, he opened the door, he stepped into the room, he closed the door, he turned to face me, he opened his mouth, he closed his mouth, he sighed, he raised his eyebrows, he sighed again, he walked away." I can't fall in love with a story when it feels more like a laundry list."
✥  ✥  ✥
BANTERFLUFF
Don't know what Banterfluff is? Neither did I until I read Snuggly Oranges' blog post this week.  Debby makes the case for fluffy books and how they should get more credit in the book world.  Check out her post and learn the definition of my new favorite word!
✥  ✥  ✥
The Book Cover Guessing Game
Happy Two-Year Blogoversary to Kelly at Effortlessly Reading.  She has been celebrating all week with fun posts and giveaways.  In this post she put together lists of 2014 Must Reads and 2015 GIMME THESE RELEASES.  There is also a cover guessing game and a GIVEAWAY! This Giveaway is still open so run over there and wish her a happy two years and enter!
✥  ✥  ✥
Great Imaginations is hosting a Holiday Edition Bookish Bingo! Check out their post for all the details.  If you're interested in participating, sign-ups end on October 15th!
✥  ✥  ✥
COVER REVEALS
* Click on the links to check out some of the cover reveals you may have missed! *
✥  ✥  ✥
THE TBR TAG!
Nereyda at Mostly YA Book Obsessed was tagged to do the TBR Tag.  I am not going to answer all the questions in this post. Perhaps I'll do it in a Sunday Morning Book Chat vlog in the future.  I thought this was such a fun post! I'd be interested in hearing your answers.  So…I TAG EVERYONE WHO READS THIS POST!
✥  ✥  ✥
R.K. LILLEY's "The Firsts"!
I've yet to read any of R.K. Lilley's books, but I thought this was a great idea.  She bundled the first novels in all of of her series together.  The set will only be available for a few more days, so get on it!
Check out The Book Avenue's Giveaway and Promo Spot!
Buy "The Firsts" by R.K. Lilley
 ✥ Don't miss a new release.  Keep up with my upcoming releases page! ✥
✥  ✥  ✥
Reviews I enjoyed reading!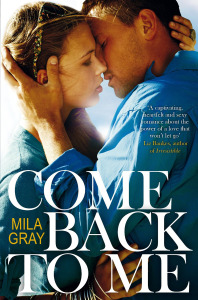 COME BACK TO ME by Mila Gray
Reviewed by Once Upon a Twilight — 5 stars
"Come Back to Me has a special place in my heart, the book is going to stay with me for a while. It had a perfect ending but it was bittersweet for me. I'd love another installment, maybe just a novella, just to take a peek at the characters and see how they're doing down the line because I'm not ready to let go just yet."
WHAT IF by Rebecca Donovan
Reviewed by Shh Mom's Reading — 3 stars
"So what I loved about this book….
written in alternating POV's I loved getting inside everyone's head and trying to figure out the mystery behind this book – written in both past and present allowed for me to really get to know each character, to get to know the story better and to understand why things in the story happened
the mystery itself…I had an idea about midway through the book what was happening but I loved that the author kept me guessing throughout
the characters – I adored them all! So well developed, so intriguing – they really touched a piece of my heart once the story started moving and I got to know each one better"
TATTOS AND TATA by Tara Sivec
Reviewed by The Book Avenue — 5 stars
"Tattoos and TaTas is a love letter to friendship. The soul mate that doesn't allow for a tax break but one that shapes the person you are, knows your secrets, and loves you no matter what."
WHATEVER LIFE THROWS AT YOU by Julie Cross
Reviewed by Fic Fare — 5 stars
"YOU GUYS!! Jason Brody is absolute perfection in fictional form. I adored him … there were times I just wanted hug and squeeze him, and there were definitely times where I could imagine doing other things!"
Becoming Caulder by Mia Sheridan
Reviewed by Waves of Fiction — 5 stars
"First and foremost, when I say that Becoming Calder is truly unique, I have to emphasize that it definitely stands apart from the current cookie-cutter, tortured soul, undeniable love novels out there saturating the market. This story is far from rinse and repeat and to keep an open mind when reading Calder and Eden's story is the key to unlocking the magic of their journey."
THE PRINCE by Tiffany Reisz
Reviewed by Belle of the Literati — Ball Status
"This book…this book gave me so much anxiety while reading because I love these f'ing characters so hard."
THE QUEEN OF ZOMBIE HEARTS by Gena Showalter
Reviewed by Book Rock Betty — HOT BOX!
"There were struggles and lives were lost.  I was legit sweating at the end over how intense it got!  I freaking cried, okay?  Gena told an amazing story and I am extremely satisfied with the resolution!  As always, there were some hilarious moments and nonstop banter between the characters!  I could not put this book down."
INEVITABLE DETOUR by S.R. Grey
Reviewed by The Book Hook Up — Top Shelf
"The romance was amazing right from the start. Farren is cold, angry, and secretive, but then the frosty personality seemed to all disappear within moments. At first I wasn't sure I liked it, but then I realized that Essa had an affect on Farren that changed him, just as he changed her.  Their romance was absolutely swoony, and Farren is divine.  D. I. V. I. N. E."
STEPBROTHER DEAREST by Penelope Ward
Reviewed by My Book Muse — 2 stars
"I feel like I was told how in lust and connected the two of them were instead of drawing those emotions on my own."
BURYING WATER by K.A. Tucker
Reviewed by The Readers Den — 4.5 starsI was a bit on edge reading Jesse's past POV chapters because as the reader you know the eventual outcome, but it gave depth and history to the story that wouldn't be there otherwise. Also, it had me rooting for the romance in the future. I ached for these two to have their much deserved happy ending!
EXQUISITE CAPTIVE by Heather Demetrios
Reviewed by Mostly YA Book Obsessed — 4.5 stars
"I was fascinated by the beautiful world that Demetrios' created!…alia was a character that I liked right away.  Even though she had this horrible fate being forced to be owned by someone and grant them wishes, she was determined to free herself and save not only her brother, but other Jinni's from having her fate."
FORBIDDEN BY Kimberley Griffiths Little
Reviewed by WinterHaven Books — 4 snowflakes
This story is full of creative imaginings, dance, action, courage, and a sweet romance that won me over.
Blue Lily, Lily Blue Trailer!
Once Upon A Twilight posted the trailer of Blue Lily, Lily Blue, the highly anticipated third book in Maggie Stiefvater's The Raven Cycle series!  Take a look.  
THE RAVEN CYCLE SERIES READING ORDER
Book 1 — The Raven Boys:  Goodreads | Amazon
Book 2 — The Dream Thieves:  Goodreads | Amazon
Book 3 — Blue Lily, Lily Blue:  Goodreads | Amazon
Book 4 — Untitled: Goodreads
✥  ✥  ✥
OTHER STUFF YOU NEED TO READ
✥  ✥  ✥
ENCORE!!!
 Hop on over to Once Upon a Twilight to hear Lorde's new single for the upcoming Hunger Games movie, Mockingjay!
Share the link to some of your favorite posts in the comments!
✥  ✥  ✥
See what you missed this week!!