What I'm Digging is a weekly feature in which I share my bookish finds with you. This can range from jewelry to clothes to home decorations. I find so many neat bookish things on Pinterest, Etsy, and elsewhere. I thought I would share my finds with you. Who doesn't love book-related goodies?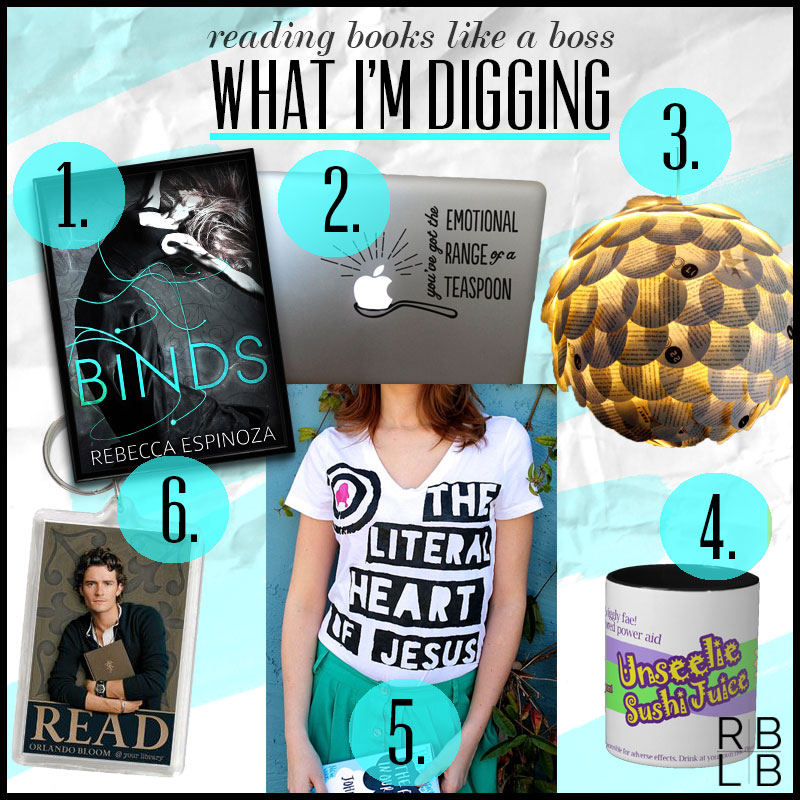 1.) Binds by Rebecca Espinoza
Binds is Rebecca Espinoza's debut novel and I LOVED LOVED it! It's an urban fantasy novel about a woman named Ophelia who is married to a politician and is later taken by an underground group planning on government takedown.  The people who take her are….different.  I want everyone to read it!
Add on Goodreads
FREE!!!!!!, Amazon
2.) Harry Potter Laptop Decal
This was one of my favorite Harry Potter lines.  This decal says, "…you have the emotional range of a teaspoon."  Oh Ron!
$12.50, Etsy (Seller: MarkedCo)
3.) 16 Inch Hunger Games Book Lamp
I outted myself on Facebook last week when I admitted that I hadn't read The Hunger Games series. I want to, I just haven't.  But even though I haven't read it, I STILL WANT THIS LAMP!  It features pages from the series! How cool!!
$54.50, Etsy (Seller: TheSkep)
4.) Unseelie Sushi Juice Coffee Mugs
If you don't know what Unseelie Sushi Juice is, then you need to go right here and one-click that shiz.  The mug is the prefect mug for Fever series fans.  Mmmmmm juice.
Read my Darkfever Review
$20.80, Zazzle
5.) The Literal Heart of Jesus T-Shirt
I know, I know more The Fault in Our Stars stuff.  But I LOVE this shirt and this book!
$28.50, Etsy (Seller:  AppraisingPagesShop)
6.)  "Orlando Bloom Wants You to Read" Keychain
I couldn't not put this on a Digging post.  I mean, it's Orlando Bloom.  And he's on a book-related keychain (They have this on a poster and a bookmark too).  When he's not getting in fights with Justin Bieber, he's reading a book, man!  Get it!  The ALA also has Kiera Knightley stuff.  Haha!
$7.00, American Library Association
Which of my picks this week would you choose?  Have you found any fun book-related goodies lately?