What I'm Digging is a feature in which I share my bookish finds with you. This can range from jewelry to clothes to home decorations. I find so many neat bookish things on Pinterest, Etsy, and elsewhere. I thought I would share my finds with you. Who doesn't love book-related goodies?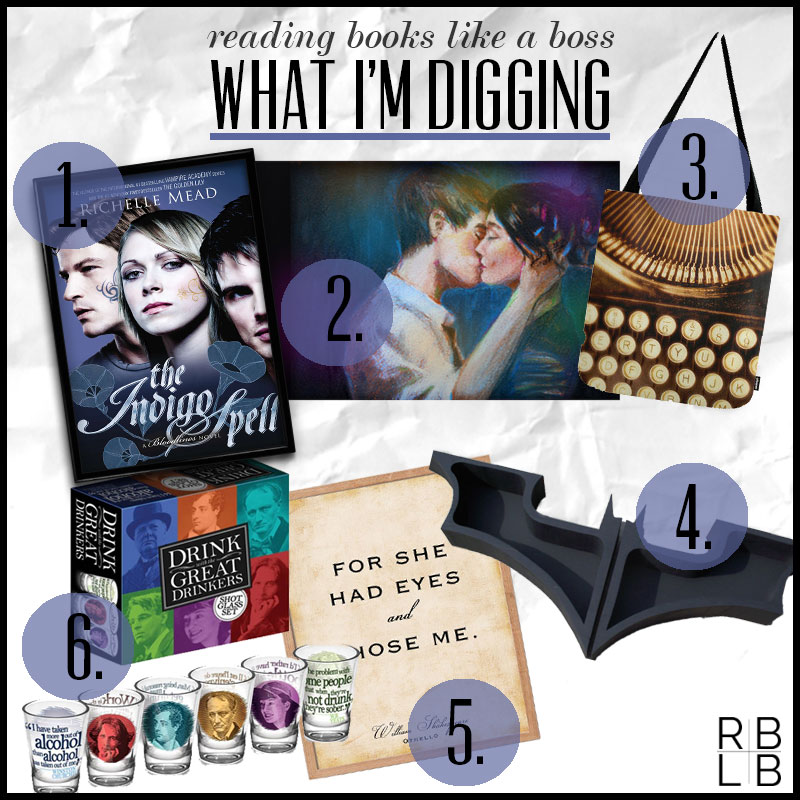 1.) The Indigo Spell by Richelle Mead
Adrian. Adrian. Adrian. I thought the first couple books in this series were good, but this book was freaking amazing. Adrian brought his game and the swoons. I mean, seriously: "Well, you can think what you want, so long as you remember-no matter how ordinary things seem between us-I'm still here, still in love with you, and care about you more than any other guy, evil or otherwise, ever will."
Amazon: US • UK • CAN | iBooks | GR
$7.99, Amazon
2.) Maggie Stiefvater Art!!
If you didn't know, Maggie Steifvater is a very talented artist. She recently opened up her own store on Society where you can buy an assortment of things with her art printed on it. How cool is that? I fell in love with "The Kiss" print. I'm sort of obsessed with it.
$22.88 Society6
3.) Typewriter Tote Bag
Totally dig this typewriter tote bag. It comes in a couple sizes (16×16 and 18×18)
$32.00, Etsy (Seller: sixthandmain)
4.) Batman Bookshelf
Na-na-na-na-na-na-na-na-na Batman bookshelf!! I couldn't resist. I am so lame. This bookshelf is handmade, measuring about 56 x 20″ x 5 1/2″.
$219.95, Etsy (Seller: GoodShepardwoodwork)
5.) Othello Print
This quote from Shakespeare's Othello is perfect for the romantics. 🙂
$219.95, Etsy (Seller: SapphoandTheMoon)
6.) Author Shot Glasses!
Get drunk with your favorite authors! Come to think of it, I would love some shot glasses with Katja Millay, Karen Marie Moning, Tarryn Fisher, Richelle Mead, and Taylor Jenkins Reid's head on them.
$16.95, Gone Reading
Which of my picks this week would you choose?  Have you found any fun book-related goodies lately?