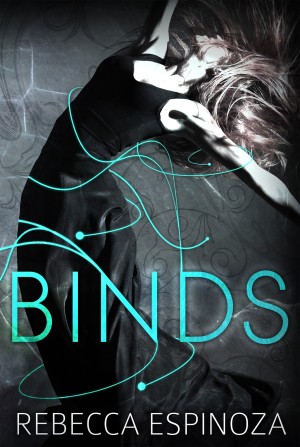 Binds
by
Rebecca Espinoza
Series:
Binds #1
Published by
Self-Published
Publication date:
April 6, 2013
Genres:
Romance
,
Urban Fantasy
234 pagesFormat:
eARC
Source:
ARC via author
Ophelia Brand's life is in shambles. Married to an abusive man and forced to act like the perfect politician's wife in public, her freedom has been completely stripped away. Alone and without purpose, Ophelia feels as if there isn't much in this world to live for. Everything changes when an employee kidnaps her from a state dinner. Ophelia is thrust into a new world filled with people who claim to be an ancient race of Mages. They also claim that she is one of them.

While the country falls into the hands of a tyrannical dictator, Ophelia finds herself torn between the friendly Reece who wants nothing more than to protect her, and Spencer, the leader of the resistance who sees her as a tool to fight the war. Tensions run high as Reece and Spencer both try to help her master her powers and unravel the spells that restricted her from using them. As revelations of her past come to light, and the war is brought to her feet, Ophelia must quickly make a choice of who to trust.

Binds is the first in a series of adult urban fantasy novels with sexy Mages, a sugar skull army, and an unfortunate set of Hello Kitty pjs.
Affiliate Disclosure: This post contains affiliate links. In plain English, this means that I may receive a small commission (at no cost to you) if you purchase something through the links provided. This small income goes back into my blog, so I can continue to create fun content for you. I appreciate my readers and make it my goal to be upfront and honest. Thank you for supporting my blog!
Book Review:
Stop what you're doing right now and GO READ THIS BOOK!  This book is certified grade A unputdownable.  I was shocked at how quickly it sucked me in.  I cannot say enough good things about it.  What's more is that this is Rebecca Espinoza's freaking debut novel.  What?!?  Mind blown. She is immensely talented.  Not only is the storyline brilliant, the writing and character development is spectacular.  If you're new to urban fantasy, start with Binds.
Ophelia Brand is married to Donovan Brand, the son of a crazy dictator who is trying to rid the world of all the Mages (those with magical abilities).  I'm just going to come out and say it.  Donovan is a mother flipping genuine douchecanoe (MFGD).  Page one of chapter one, I had had enough of of Donovan.  Next.  Donovan beats Ophelia Tony Rawlings style because he's a MFGD.  Anyway, Ophelia's every move is monitored by the "staff" and she has absolutely no freedom.  Despite being in this terrible and controlling marriage for years, Ophelia is surprisingly strong and resilient.  Her determination to move forward and make a better life for herself is admirable.  Basically, Phee kicks ass.  She is also extremely hilarious and makes "larper" jokes.  So naturally, she is now one of my favorite heroines.
"Why is everyone so hot?" I don't even know how those words have slipped out of my mouth but I've said them, and directly to the hottest of them all, Mystery Guy. (I'm assume he must be Spencer).
Thankfully, we don't have to deal with Donovan for very long because Reece comes to her rescue (hello, white knight) and takes Ophelia away to Spencer's secret lair.  Reece is part of an underground resistance movement that is opposed to current regime's rules and regulations regarding Mages.  So why bother kidnapping Ophelia? Well, because she's got the magic touch.  Partly due to her mother putting a Bind on her magic and partly due to her sheltered adulthood, Ophelia had no idea of the magic and power that lives inside of her.
At the head of this resistance movement is Spencer.  He is a dark and mysterious man who is willing to do anything for the good of his people.  Since the New World Order took over, Mages have been forced from their homes and into reformatories.  When we first see Spencer, he's cold and distant, yet I was drawn to him.  As the story went on, I loved him more and more. Maybe that's because Spencer calls her Princess, and that makes me melt.  But then, Reece is so sweet and helpful. He cares for her so deeply without question. Which one do I want Phee to be with?
"Finally having one other person in this world who cares feels like being tossed a scrap of food when you haven't eaten in weeks and then having hope that you may just survive the famine after all."
Rebecca Espinoza has crafted this creative, stunning, and captivating world of magical beings.  I am absolutely blown away by how great this book is.  The story flowed effortlessly and there was not one moment where I felt the plot lulled or dragged on.  And the plot twists?  Wow!  I did NOT see the end coming at all. Granted, I suck at predicting things, but still the revelations in the last 15% knocked me on my booty!
About the Author:
Rebecca Espinoza, an Army wife, has lived in 8 different houses and 5 different states in the past 10 years, and she can't wait for the next move. She is skilled in the arts of basket weaving, origami, and bullshitting. She is a book thief and likely to pilfer any she sees lying around in friends' houses, so keep an eye out if you invite her in. She currently resides in beautiful Wahiawa, Hawaii (Army wives will get this joke) with her two sons and dog, Tosh.0 (her most favorite person in the world…the dog, not the comedian), and her husband pops in from the field, missions, or deployment every now and then to say hello. She tends towards the sarcastic when referring to herself in third person. Rebecca is a Turtle, are you?
Follow Rebecca:
Facebook | Twitter | Goodreads
YOU MAY ALSO LIKE THESE POSTS: