"Waiting On" Wednesday is a weekly event, hosted by Breaking the Spine.
A MILLION MILES AWAY
by Lara Avery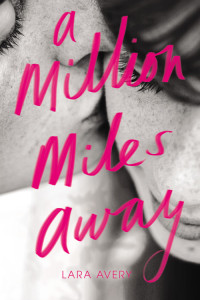 When high school senior Kelsey's identical twin sister, Michelle, dies in a car crash, Kelsey is left without her other half. The only person who doesn't know about the tragedy is Michelle's boyfriend, Peter, recently deployed to Afghanistan. But when Kelsey finally connects with Peter online, she can't bear to tell him the truth. Active duty has taken its toll, and Peter, thinking that Kelsey is Michelle, says that seeing her is the one thing keeping him alive. Caught up in the moment, Kelsey has no choice: She lets Peter believe that she is her sister.
As Kelsey keeps up the act, she crosses the line from pretend to real. Soon, Kelsey can't deny that she's falling, hard, for the one boy she shouldn't want.
Release Date: July 7, 2015
Amazon: US • UK • CAN | iBooks | GR
Why I'm excited:  This is another book that I have been anticipating for months and months. I always love a tragic story so when you toss in a few lies and a love story, it makes me pay attention. Kelsey lies to the hero for a long time so I'll be interested to see how the author endears the reader to her character. Lying about someone's death is going to be one hell of an obstacle. Is it July yet?
QUESTION:  
What books are you waiting for this week?