"Waiting On" Wednesday is a weekly event, hosted by Breaking the Spine.
MARROW
by Tarryn Fisher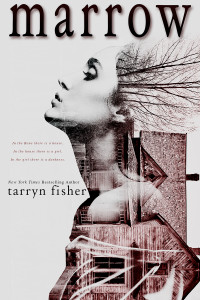 In the Bone there is a house.
In the house there is a girl.
In the girl there is a darkness.
Margo is not like other girls. She lives in a derelict neighborhood called the Bone, in a cursed house, with her cursed mother, who hasn't spoken to her in over two years. She lives her days feeling invisible. It's not until she develops a friendship with her wheelchair-bound neighbor, Judah Grant, that things begin to change. When neighborhood girl, seven-year-old Neveah Anthony, goes missing, Judah sets out to help Margo uncover what happened to her.
What Margo finds changes her, and with a new perspective on life, she's determined to find evil and punish it–targeting rapists and child molesters, one by one.
But hunting evil is dangerous, and Margo risks losing everything, including her own soul.
Tarryn recently announced that MARROW is DONE!!!
Amazon: US • UK • CAN | iBooks | GR
Why I'm excited:  This book is one of my most anticipated book releases of 2015!! Last year, Mud Vein blew me away and ended up on my all-time favorites list.Fisher's Love Me With Lies series (also a favorite) and Mud Vein had love stories woven through the pages.
Marrow is sure to steal my breath away but in a completely different way. Margo is a serial killer whose mission is to "find evil and punish it—targeting rapists and child molesters, one by one." CHILLS!! Tarryn Fisher is a beautiful writer, whose stories always seem to capture my heart. I cannot WAIT to #MeetMargo and #ReadMarrow.
QUESTION:  
What books are you waiting for this week?