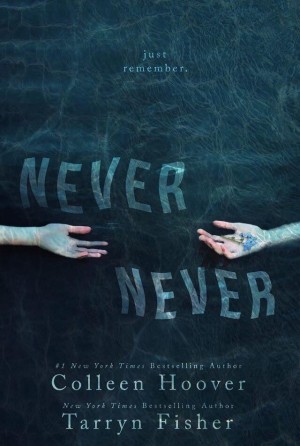 Never Never
by
Colleen Hoover
,
Tarryn Fisher
Series:
Never Never #1
Published by
Self-Published
Publication date:
January 8, 2015
Genres:
Romantic Suspense
,
Thriller
,
Young Adult
140 pagesFormat:
eARC
Source:
ARC e-book
 

Best friends since they could walk.
In love since they were fourteen.
Complete strangers since this morning.

He'll do anything to remember.
She'll do anything to forget.

 

 
Affiliate Disclosure: This post contains affiliate links. In plain English, this means that I may receive a small commission (at no cost to you) if you purchase something through the links provided. This small income goes back into my blog, so I can continue to create fun content for you. I appreciate my readers and make it my goal to be upfront and honest. Thank you for supporting my blog!
Book Review:
Never Never is the brain child of New York Times Bestselling authors Colleen Hoover and Tarryn Fisher. Both have different writing styles and types of novels so I was intrigued to read the product of their collaboration. Unfortunately, I was underwhelmed by this book, and even though this is part one I still expected more from it.
Never Never takes the reader on a mysterious journey with Charlie and Silas as they try to remember their pasts and their identities. Both awaken in the middle of their school day with no recollection of who they are, who their families are, or even what they look like. Bonded by their lack of memory, Charlie and Silas work together to investigate what happened to them, grasping at clues to try to uncover their past.
How odd to be made of flesh, balanced on bone, and filled with a soul you've never met.
Charlie is the defiant and independent female lead, much like Tarryn Fisher's other female leads. Silas is the school quarterback and the guy who was very much in love with Charlie. Or was he? The more they delve into who Charlie and Silas were, the more apparent it becomes that things weren't as they seemed. Both were keeping secrets.
Tarryn Fisher has written some of my all-time favorite books and Colleen Hoover's books introduced me to this wonderful book community that has become such a big part of my life. Having read both of these authors' books before, I didn't think the writing was at the same level as their past works, nor was the storytelling.
Never Never didn't capture my attention from the beginning like I had hoped. While I was definitely drawn to the mystery, I felt like much of the novel was Charlie and Silas coming up with more and more questions. Not much happened in this book apart from the characters running in circles searching for answers. While I understand that is is one a part of book, I was expecting to have a little bit more in terms of plot development after 140 pages.
Since this is considered a romance, I have to comment on Charlie and Silas's love story. I didn't feel the chemistry between Charlie and Silas. Charlie kept Silas at arm's length, always pushing him away, despite developing feelings for him. Given that, I didn't understand Silas's desire to want to make Charlie fall in love with him. This book just didn't make me feel much either way and because of that I can't rate it highly.
I really liked that the authors set the story in New Orleans. I visited NOLA in February 2014 and fell in love with the city. I loved that they incorporated the city's charming mystique, and I definitely think the setting will play a huge role in the next part of the series.
I rated this book on the merits of what I've been given.  Even though I didn't love this book, I still want to read the next book so I can find out what happens next.
Note: The Never Never series is being billed as a novella series but it is more accurately a serial series. A novella comes with the expectation that it will have a distinct beginning, middle and end (a small story arc). In part one, there isn't a complete story arc. Never Never ends in the middle of a scene. Many have called it a cliffhanger but to me it is more of a to-be-continued ending.
2 stars
*I received a copy from the authors in exchange for an honest review.
Amazon: US • UK • CAN | iBooks | GR