What I'm Digging is a weekly feature in which I share my bookish finds with you. This can range from jewelry to clothes to home decorations. I find so many neat bookish things on Pinterest, Etsy, and elsewhere. I thought I would share my finds with you. Who doesn't love book-related goodies?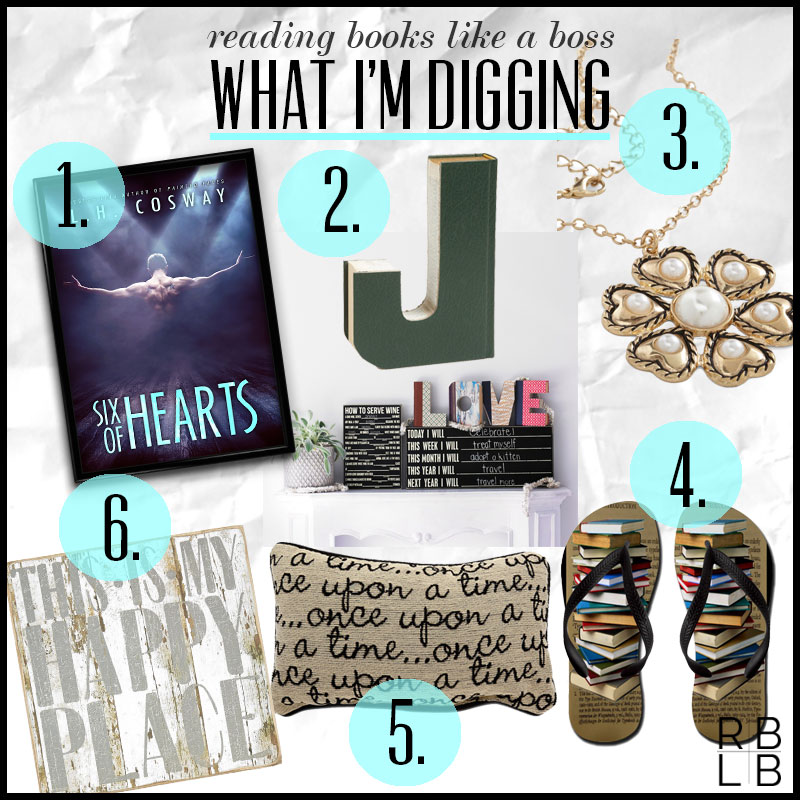 1.) Six of Hearts by L.H. Cosway
I am such a huge fan of L.H. Cosway's books!  Six of Hearts is her newest release that JUST release yesterday.  It tells the story of an illusionist accused of murder and his budding romantic relationship with his attorney's daughter.  It's hot, sweet, and addictive!
Add on Goodreads
$3.99, Amazon
2.) "One-of-a-Kind" Recycle Bookshelf Art
…because I don't have enough books on my shelf.
$14.00, Nordstrom
3.) Six of Hearts Necklace
In honor of Six of Hearts by L.H. Cosway, I found this necklace. It seemed appropriate.
$4.99, ModCloth
4.) Book Flippy Floppies
Book-themed flip flops! I need these!!
$17.99, Cafe Press
5.) "Once Upon a Time" Pillow
This pillow would be perfect for a reading room.  Someday, I'll have a reading room.  🙂
$24.95, Disney
6.) "This is My Happy Place" Sign
Another item that I need in my non-existent reading room!
$15.90, Nordstrom
Which of my picks this week would you choose?  Have you found any fun book-related goodies lately?