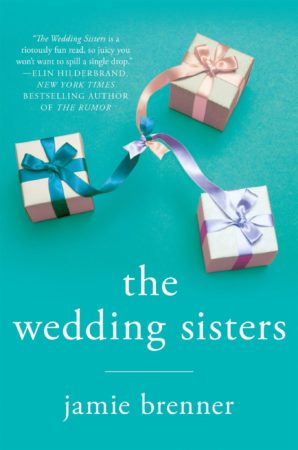 The Wedding Sisters
by
Jamie Brenner
Published by
St. Martin's Griffin
Publication date:
June 7, 2016
Genres:
Contemporary Romance
,
Women's Fiction
317 pagesFormat:
eARC
Source:
Publisher
Meryl Becker is living a mother's dream. The oldest of her three beautiful daughters, Meg, is engaged to a wonderful man from one of the country's most prominent families. Of course, Meryl wants to give Meg the perfect wedding. Who wouldn't? But when her two younger daughters, Amy and Jo, also become engaged to celebrated bachelors, Meryl has to admit that three weddings is more than she and her husband, Hugh, can realistically afford.

The solution? A triple wedding! At first, it's a tough sell to the girls, and juggling three sets of future in-laws is a logistical nightmare. But when Hugh loses his teaching job, and Meryl's aging mother suddenly moves in with them, a triple wedding is the only way to get all three sisters down the aisle. When the grand plan becomes public, the onslaught of media attention adds to Meryl's mounting pressure. Suddenly, appearances are everything - and she will do whatever it takes to keep the wedding on track as money gets tight, her mother starts acting nutty, and her own thirty year marriage starts to unravel.

In the weeks leading up to the nuptials, secrets are revealed, passions ignite, and surprising revelations show Meryl and her daughters the true meaning of love, marriage and family. Jamie Brenner's The Wedding Sisters invites readers to the most unpredictable wedding of the year.
Affiliate Disclosure: This post contains affiliate links. In plain English, this means that I may receive a small commission (at no cost to you) if you purchase something through the links provided. This small income goes back into my blog, so I can continue to create fun content for you. I appreciate my readers and make it my goal to be upfront and honest. Thank you for supporting my blog!
Jamie Brenner's The Wedding Sisters is a contemporary family drama centering around the rocky road to three sisters' weddings and their mother's desperation to make it all happen without a hitch. This book was really fun to read. While the plot itself is a little far-fetched, the story has a great message in the end.
Brenner introduces us to the Becker family—Hugh and Meryl and their three daughters; Meg, Amy, and Jo. Meg is engaged to the son of a well-known politician whose family comes from old money. Amy is set to marry her boyfriend of five years whose proposal seems to have come out of left field. And poor Jo. She's heartbroken after a sudden break-up and finds comfort in her best friend who's always been in love with her. In the beginning, it appears as though the girls have found happiness. But as Brenner peels back the layers on their lives, their reality is far from perfect.
This book would make a really great move, perhaps as a comedy. The way that it's written with the reader being privy to each sister's relationship and uncovered secrets would play out nicely on film. Meryl's character reminded me a lot of the mom in Pride and Prejudice with her excitement over her girls' engagements, almost blinded by what was really going on.
I don't know what about Jo's story that I found so compelling, but I just couldn't wait to hear what happened next! She gets her heartbroken by her college best friend turned live-in girlfriend. But Jo's the impulsive one of the bunch and jumps into bed with her guy best friend who's been in love with her since he first met her. Did I mention that he's Danish royalty?
It took me quite a bit to get into this one. In the beginning, the way the characters and plot moved along felt like the author was making a play-by-play of events, rather than telling me a story. But what turned it around for me was getting to know the girls and the family dynamic. You'll have to read it to find out who, if anyone, makes it to the "you may now kiss the bride" part.
* I received an advance copy from the publisher in exchange for an honest review.